Urządzamy przestrzeń wokół domu
Otoczenie domu to bardzo wymagająca przestrzeń, której zagospodarowanie wiąże się z wykorzystaniem rozmaitych praktycznych rozwiązań, także z betonu. Kostki brukowe, płyty tarasowe, murki, palisady, obrzeża czy efektowne bryły z betonu architektonicznego sprawiają, że aranżacja jest kompletna i gotowa do użytkowania. Dlaczego i jak warto korzystać z ich walorów?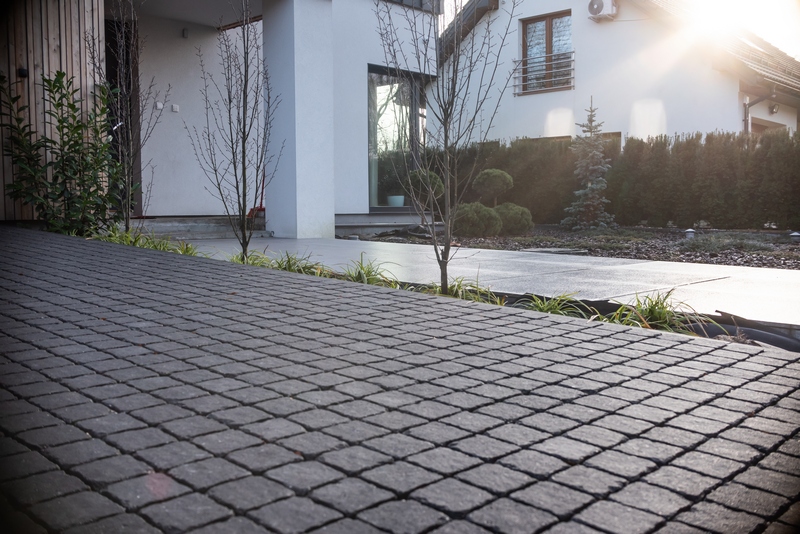 Kostka na podjazd i do ogrodu
Kostki brukowe należą do najpopularniejszych zewnętrznych materiałów nawierzchniowych. Dobrze radzą sobie z kaprysami pogody i innymi niekorzystnymi zjawiskami, tworząc jednocześnie stabilne podłoże. Trzeba jednak pamiętać, by rodzaj użytej kostki był zgodny z jej przeznaczeniem (np. na podjazdy), a układanie było poprzedzone właściwym przygotowaniem gruntu, obejmującym m.in. wykonanie podbudowy. Materiały z betonu oferują przy tym bogactwo możliwości kreacyjnych w postaci różnorodności kształtów, kolorów czy efektów wykończenia powierzchni. Miłośnikom uroku staromiejskiego bruku do gustu z pewnością przypadnie motyw postarzania w postaci subtelnych, zamierzonych nierówności i obtłuczeń. Jeśli zależy nam na powierzchni, w której podkreślona zostanie chropowata struktura kamienia naturalnego, warto zdecydować się na kostki płukane. Nieco delikatniejszą chropowatość znajdziemy na powierzchniach śrutowano-szczotkowanych łączących oryginalny wygląd z właściwościami antypoślizgowymi. Możemy też wejść w świat kolorowych melanży, uzyskanych w specjalnych procesach barwienia lub zaakcentować elegancką prostotę w postaci jednobarwnych, nowoczesnych kostek. Dobrze jest również pomyśleć o strefach, w których ścieżki czy podjazdy ułożone są z elementów umożliwiających odpływ wody do gruntu, np. ażurowych kostek, płyt lub ekologicznych krat.
Płyty tarasowe nie tylko na taras, nie tylko z betonu
Większe formaty doskonale sprawdzają się na tarasach i placach, ale chętnie tworzymy z nich też ścieżki czy utwardzone nawierzchnie np. pod altanami. Podobnie jak w przypadku kostek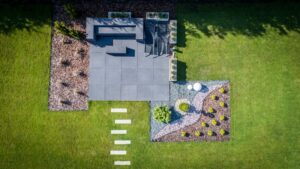 brukowych, również tu dysponujemy niebanalnymi rozwiązaniami. Wśród płyt z betonu dominują dwa kierunki: nowoczesny minimalizm przejawiający się w jednolitej kolorystyce i dużych, na ogół gładkich powierzchniach oraz motywy inspirowane światem przyrody, uzyskane dzięki technologii zwanej wet-cast (polega ona na wypełnianiu ciekłą mieszanką betonową specjalnych form nadających płytom określone kształty i faktury).
Jeśli chcemy odejść od betonowego budulca, sięgnijmy po płyty ceramiczne, a konkretnie gresy porcelanowe. Oferują one własne, nietuzinkowe interpretacje najpopularniejszych trendów aranżacyjnych (efekty drewna, kamienia, betonu), zapewniając jednocześnie doskonałe parametry wytrzymałości oraz komfort użytkowania i łatwość pielęgnacji.
Praktyczne zwieńczenie posesji
Ogrodzenia są dziś nieodłącznym elementem wykończenia większości posesji. Wyznaczają granice działki, dają mieszkańcom poczucie intymności i bezpieczeństwa, zapobiegają wej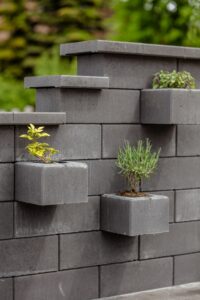 ściu niepożądanych osób. Niezwykle istotne jest więc wykorzystanie przy ich budowie pewnego materiału. Wyroby betonowe z powodzeniem łączą niezbędną wytrzymałość z atrakcyjnym wyglądem, stając się solidnym zwieńczeniem działki. Są bardzo przydatne również bezpośrednio w jej obrębie – dzięki nim z łatwością wydzielimy poszczególne strefy, zabezpieczymy obrzeża schodów, ukryjemy mniej atrakcyjne miejsca (np. część gospodarczą czy śmietnik), albo przeciwnie – efektownie wyeksponujemy zadbane rabaty lub przestrzeń rekreacyjną.
Przydatna zabudowa
Starajmy się zawsze patrzeć na projekt kompleksowo. Powierzchnię ścieżek i tarasów powinno się zwieńczyć odpowiednimi obrzeżami, dotarcie do niektórych miejsc wymaga obecności schodów, murki i ogrodzenia wydzielają przestrzeń zarówno na granicy działki, jak i w jej obrębie, a kwietniki czy ogrodowe meble sprawiają, że staje się ona jeszcze bardziej przyjazna. Jak połączyć te wszystkie elementy ogrodowej układanki w harmonijną, przemyślaną całość? Sięgając po systemy składające się z produktów o różnym przeznaczeniu, jak płyty, palisady, stopnie schodowe czy bloczki ogrodzeniowe, ale spójnym designie.
Nie zapominajmy, że nasze otoczenie powinno zachowywać funkcjonalność i urodę także po zmroku. Oświetlenie zewnętrzne to znacznie więcej niż przyjemny dla oka dodatek. Nowoczesne lampy 12 Volt wraz z praktycznymi akcesoriami zapewniają wygodne, bezpiecznie i ekonomiczne sterowanie oświetleniem w konkretnych miejscach, określonym czasie i dopasowanym do otoczenia stylu.