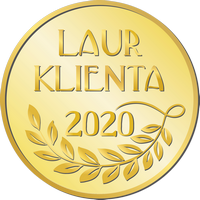 Dziękujemy za Laur Klienta
"Jakość i innowacyjność branży budowlanej" to bardzo ważny element naszej codziennej pracy. To także kategoria, w ramach której zostaliśmy uhonorowani ZŁOTYM GODŁEM w ogólnopolskim konkursie Laur Klienta 2020. Dziękujemy wszystkim uczestnikom sondażu popularności marek, produktów i usług za wyróżnienie.
Dziękujemy też naszym pracownikom, partnerom oraz klientom, dzięki którym wyjątkowy rok 2020 obfitował w ważne kroki na drodze dalszego rozwoju firmy Libet. Pomimo licznych, zupełnie nowych wyzwań, udało nam się w tym okresie zaproponować kolejne ciekawe rozwiązania produktowe, a jednocześnie rozszerzyć zakres usług (projektowych) i wzbogacić kanały dystrybucji o sprzedaż online. Cieszymy się Laurem, ale nie spoczywamy na laurach i cały czas pracujemy nad atrakcyjnymi innowacjami w naszej ofercie i nie tylko.