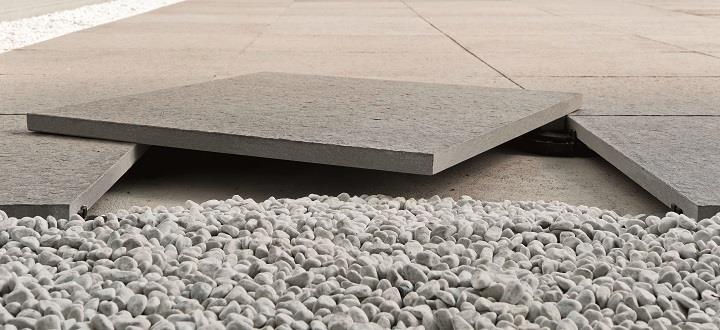 Nowe wsporniki w ofercie Libet
Wsporniki tarasowe w dużym stopniu ułatwiają zabudowę tarasu. Nasza dotychczasowa oferta cieszyła się sporym zainteresowaniem, dlatego w najnowszym sezonie udostępniliśmy szerszą gamę podstawek pod płyty. Udoskonaliliśmy również technologię, w jakiej są one produkowane. Rozszerzona została zarówno oferta regulowanych jak i nieregulowanych wsporników. Dzięki temu wsporniki Libet będzie można stosować bez względu na wysokość tarasu wentylowanego.
Nowa oferta na wsporniki nieregulowane
Szersza oferta wsporników nieregulowanych została wprowadzona jako odpowiedź na liczne zapytania, jakie do nas wpływały. Polacy coraz chętniej tworzą tarasy wentylowane. Są one nie tylko dużo łatwiejsze w zabudowie, ale również bardziej wytrzymałe niż tarasy i balkony tworzone w sposób tradycyjny.

Nasze najniższe wsporniki sprawdzą się zwłaszcza przy remoncie starszych obiektów, w których nie ma dostatecznie dużo miejsca na wyższe konstrukcje. Co równie ważne – wsporniki można piętrować, czyli układać jeden na drugi, uzyskując tym samym pożądaną wysokość podniesienia.
Nowa oferta na wsporniki regulowane
Wspornik 17-30 mm to, według słów naszego eksperta Kamila Drewczyńskiego, najbardziej wyczekiwana nowość tego sezonu. "Możliwość szybkiej i dużej regulacji wysokości w tak niskim wsporniku to wysoki komfort pracy, a ten przekłada się na wydajność ekipy budowlanej, a więc i realne oszczędności" – podkreśla ekspert Libet.
Wsporniki z nowej oferty można swobodnie regulować w zakresie 17-30 mm, bez dawania podkładek lub łączenia różnych wymiarów podstawek. Jest to wyjątkowo ważne zwłaszcza przy większych płytach tarasowych, które mają założoną większe tolerancje wymiarowe. W takich przypadkach regulowany wspornik można z łatwością dopasować do wybranej wysokości w danym zakresie.
Udoskonalona budowa wsporników
Testując nowe rozwiązania postawiliśmy na udoskonalenie konstrukcji oferowanych wsporników. Zwiększona została ich stabilność dzięki poszerzenie podstawy. Wzmocniliśmy całą konstrukcję dodając po bokach wręgi. Usztywniony został również pierścień, którym reguluje się wysokość wspornika.
W nowych wspornikach dodane zostały:
otwory pod kołki montażowe, które ułatwia przymocowanie wspornika do nawierzchni, gdy tylko będzie taka potrzeba;
otwory wylotowe, które ułatwiają odpływ wody z tarasu wentylowanego;
znaczniki nacięcia, które ułatwiają dostawienie wspornika do ściany. Pokazują tez max przycięcia.
Oprócz tego wzmocnione zostało wnętrze wspornika poprzez dodanie wręgów wewnętrznych. Zwiększają one nośność wspornika oraz jego stabilność. Wszystko to przekłada się na większą odporność na obciążenia statyczne i dynamiczne.