Design w parze z jakością – kostka Via Trio w wersji balck&white
Popularny system kostek Via Trio firmy Libet ma teraz nową odsłonę – w ramach kolekcji Monocolor występuje w dwóch szlachetnych, kontrastowych opcjach kolorystycznych. To odpowiedź na potrzeby osób szukających funkcjonalnych rozwiązań połączonych z modnym, nowoczesnym designem.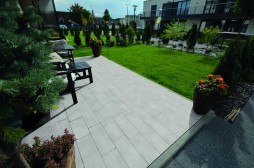 Minimalistyczne, oszczędne w wyrazie aranżacje są obecnie na topie. Proste formy i monochromatyczna kolorystyka należą do głównych wyznaczników stylu nowoczesnego. Doskonale w ten trend wpisuje się linia Monocolor, która bazuje na jednobarwnych elementach dostępnych w większości przypadków w dwóch kontrastowych kolorach – czystej pergaminowej bieli i głębokiej antracytowej czerni. W tej grupie produktów odnajdziemy między innymi system kostek Via Trio, który udowadnia, że nawet jednolita nawierzchnia nie musi być monotonna. System składa się z trzech komplementarnych elementów o kształcie prostokąta i wymiarach 18 x 27 cm, 18 x 36 cm oraz 18 x 45 cm. Dzięki temu otrzymujemy połączenie spójnej, konsekwentnej stylistyki z szerokimi możliwościami kreatywnego kształtowania przestrzeni. Dostępne formaty i barwy można ze sobą bowiem miksować, aranżując niepowtarzalne układy. To świetny sposób na podkreślenie pewnych fragmentów posesji, zaznaczenie stref i szlaków komunikacyjnych, a także na niebanalną dekorację.
Co ważne, designerski wygląd kostek Via Trio idzie w parze z wysokimi walorami użytkowymi. Elementy o grubości 8 cm mogą być wykorzystane nie tylko do budowy efektownych ścieżek czy tarasów, ale także intensywniej użytkowanych miejsc, jak podjazdy i parkingi, przeznaczone dla ruchu lekkiego do 3,5 t (a przy wykonaniu odpowiedniej podbudowy także dla ruchu ciężkiego do 11,5 t). Warto też wspomnieć, że przy produkcji kostek stosowana jest technologia ALS, która wpływa na zmniejszenie przepuszczalności wody i ograniczenie powstawania plam, wykwitów czy zazieleń. W przypadku jasnej barwy zaleca się impregnację, co pozwoli zachować czystość i oryginalny kolor przez bardzo długi czas.