Dlaczego warto postawić na szlachetne kostki brukowe?
Wybierając materiały nawierzchniowe zwykle zwracamy uwagę na ich trwałość, funkcjonalność oraz  oczywiście estetykę. Wymagania związane z tymi aspektami doskonale spełnia kostka brukowa. Aby jednak wykonana z niej powierzchnia była maksymalnie atrakcyjna i użyteczna, warto postawić na wyroby najwyższej jakości, takie jak szlachetne kostki brukowe z linii Libet Decco. Czym się charakteryzują?
Funkcjonalne i wytrzymałe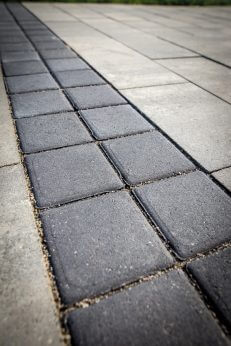 Kostki brukowe od lat stanowią podstawę do tworzenia trwałych nawierzchni, które świetnie sprawdzają się nawet w najbardziej wymagających przestrzeniach. Są one w stanie wytrzymać nawet bardzo duże obciążenia, dlatego mogą być wykorzystywane nie tylko przy wykańczaniu ścieżek i tarasów na posesjach prywatnych, ale też rozległych placów czy parkingów w przestrzeni publicznej. Oczywiście niezwykle ważny jest tu dobór produktów zgodnie z ich przeznaczeniem oraz profesjonalne układanie wg zasad sztuki brukarskiej. Specjalne systemy ochrony, stosowane już na etapie produkcji, zapewniają im odporność na mróz i zmienne warunki atmosferyczne, a także ograniczają powstawanie przebarwień, wykwitów oraz plam. Jest to przy tym produkt łatwy do utrzymania w czystości, który nie wymaga szczególnych zabiegów pielęgnacyjnych. Jeśli zależy nam na najlepszych rozwiązaniach, sięgnijmy po produkty z kolekcji Libet Decco. Wchodzące w jej skład kostki powstają ze szlachetnych kruszyw wysokiej jakości. Ponadto posiadają one bardzo przydatne właściwości, takie jak antypoślizgowość czy zmniejszona nasiąkliwość, co przekłada się na trwałość, atrakcyjność i komfort użytkowania.
Ogromy potencjał kreacyjny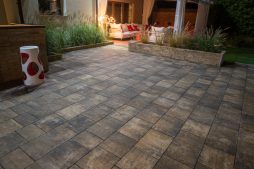 Kostki Libet Decco to nie tylko gwarancja funkcjonalnej nawierzchni na lata, ale też nieograniczone możliwości aranżacji otoczenia obiektów prywatnych i publicznych. W ramach kolekcji znajdziemy pięć grup produktowych, z których każda posiada swój własny styl, uzyskany dzięki ściśle określonej technologii obróbki. Dzięki temu mamy do dyspozycji rozmaite faktury, kształty i kolory, a wśród nich  m.in. efekt postarzania, delikatna chropowatość czy minimalistyczne gładkie powierzchnie.