Dlaczego warto wybierać żarówki LED?
(artykuł gościnny)
Żarówka LED to obecnie najpopularniejsze źródło światła w naszych domach, mieszkaniach czy firmach.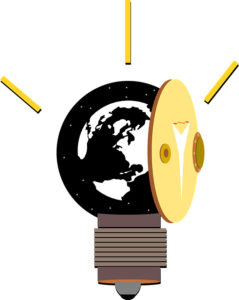 Wyposażone w diody elektroluminescencyjne emitujące promieniowanie w zakresie światła widzialnego, z powodzeniem stosuje się w oprawach i żyrandolach każdego rodzaju. Diody zasilane są prądem o bezpiecznym niskim napięciu, dlatego większość żarówek LED posiada układ zasilający ukryty w obudowie. Taka konstrukcja pozwala nam podłączyć je zarówno do instalacji 230V, jak i 12V czy 24V.
Popularność żarówki LED
Za początek rozpowszechnienia światła LED uważa się rok 1972, w którym George Craford skonstruował najbardziej zbliżoną do obecnych diodę LED. Za przełom w zakresie źródeł światła stosowanych w oświetleniu domowym uznaje się natomiast 2009 rok. Wtedy pojawiające się na rynku energooszczędne żarówki sprawiły, że Unia Europejska, zaczęła dążyć do całkowitego wycofania ze sprzedaży energochłonnych tradycyjnych rozwiązań.
Żarówki LED i ich zalety
Wprowadzenie technologii LED przyniosło ze sobą wiele korzyści, jednakowo pod względem energooszczędności, jak i trwałości źródeł światła. Stosując obecnie żarówki LED, liczymy się z oszczędnością energii sięgającą nawet 90% w porównaniu do tradycyjnych, wyposażonych żarnik wolframowy. Ponadto, wyróżniają się one bardzo udaną konstrukcją, która pozwala im pracować nawet do 50 tysięcy godzin. Jest to nawet kilka razy dłużej niż w przypadku klasycznych rozwiązań, nawet tych energooszczędnych.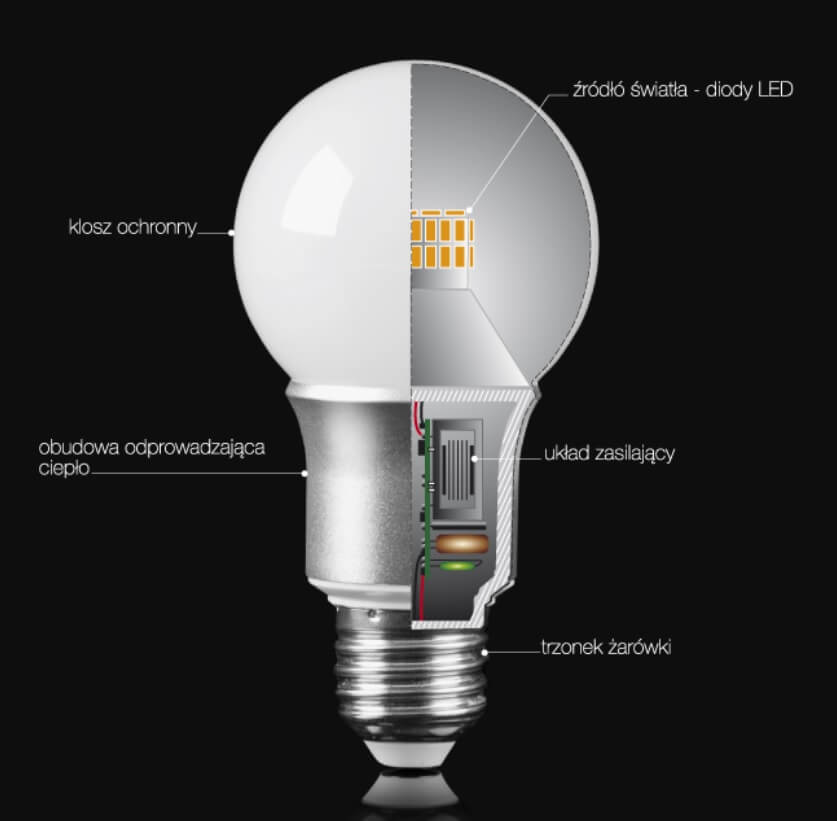 Rodzaje żarówek LED
Dziś sklepy z oświetleniem oferują nam nawet kilkaset różnych modeli żarówek, jak i gwintów, w które mogą zostać wyposażone. Najpopularniejsze z nich to oczywiście żarówki LED E27 z dużym gwintem. Spotkać możemy je w różnych oprawach świetlnych czy lampach stojących. Kolejne bardzo popularne rodzaje posiadające gwint Edisona to te o oznaczeniu E14. Żarówki z małym gwintem są najczęściej spotykane w żyrandolach czy lampach stojących.
Halogeny i ich odpowiedniki LED
Żarówki halogenowe tak często stosowane w oprawach również zostały w pełni zastąpione przez ich nowoczesne i energooszczędne zamienniki. Dziś najczęściej wykorzystywane oświetlenie w oczkach sufitowych jest również ledowe. Przy instalacjach zasilanych standardowym prądem o napięciu 230V możemy spotkać modele LED GU10, natomiast w przypadku instalacji 12V, wykorzystamy żarówki MR16. One również mają nam do zaoferowania energooszczędność sięgającą nawet 90% oraz trwałość na poziomie nawet kilkudziesięciu tysięcy godzin.
Czy warto wybierać jeszcze tradycyjne żarówki?
Żarówki wyposażone w żarnik wolframowy to obecnie rzadkość na rynku. Spotkać możemy je najczęściej jako dekoracyjne źródła światła o bardzo designerskim wyglądzie. Nawiązują do stylu Retro i doskonale sprawdzą się we wnętrzach zaprojektowanych w tradycyjnym stylu. Warto również pamiętać o ich bardzo ciepłej barwie. Żarówki LED najczęściej emitują światło w barwie 2700-6500K, natomiast w przypadku żarówek wolframowych mieliśmy do czynienia z bardzo ciepłym światłem w temperaturze jedynie 2200K.
Materiał opracowany przez eksperta strony Żarówka-LED