Dobry projekt to podstawa – dlaczego przy projektowaniu przestrzeni wokół domu warto sięgnąć po pomoc ekspertów
Projektowanie przestrzeni wokół domu tylko z pozoru wydaje się proste. Aby uniknąć niepotrzebnych błędów i eksperymentów, które w razie niepowodzenia mogą okazać się bardzo kosztowne, warto od razu powierzyć wykonanie projektu profesjonaliście. Jego wiedza i doświadczenie pomogą zamienić nasz ogród w piękne i funkcjonalne miejsce wypoczynku, którym będziemy cieszyć się przez długie lata.
Ogród to tak naprawdę przedłużenie naszego domu. Właściwie zaprojektowany pozwoli nam dobrze wykorzystać dodatkową przestrzeń, szczególnie w ciepłe dni, gdy wiele godzin spędzamy na zewnątrz. Przystępując do prac nad jego wykonaniem warto pamiętać, że jest to zwykle kosztowna inwestycja, która będzie nam służyć przez wiele lat. Właśnie z tych powodów warto zadbać, by otoczenie domu nie zostało zagospodarowane przypadkowo. Aby uniknąć błędów i niespodzianek, które mogą się pojawić na każdym etapie prac, warto skorzystać z pomocy ekspertów – projektantów czy architektów krajobrazu.
Dobry projekt pozwala uniknąć błędów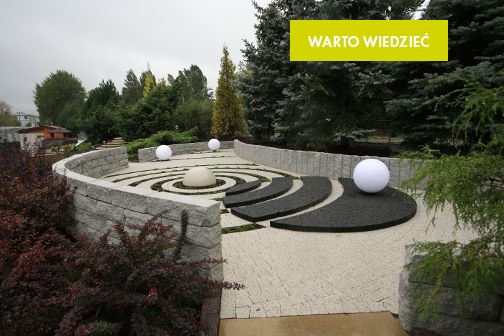 Projekt aranżacji przestrzeni zawiera m.in. szkic koncepcyjny, czyli ogólny wygląd przestrzeni wokół domu, wraz ze wskazaniem usytuowania elementów małej architektury oraz ich szczegółowych wymiarów. Znajdują się w nim także informacje o wszystkich użytych materiałach nawierzchniowych – kostkach brukowych, płytach czy elementach uzupełniających, takich jak stopnie schodowe, palisady, itp. Dodatkowo ekspert pracując nad projektem z pewnością  w pełni wykorzysta zalety i możliwości, jakie daje teren, który mu powierzyliśmy. Uwzględni m.in. położenie działki, jej nasłonecznienie i rozrost roślin oraz w optymalny sposób wytyczy ścieżki. Wielość aspektów, jakie należy rozważyć przy aranżowaniu przydomowej przestrzeni, pokazuje jak ważny jest właściwy projekt, który powinien powstać jeszcze przed rozpoczęciem jakichkolwiek prac.
Specjalista pomoże stworzyć ogród marzeń
Dobry projektant nie tylko posiada cenną wiedzę, ale również słucha swojego klienta, uwzględniając jego oczekiwania. Taka współpraca pozwala na stworzenie ogrodu, w którym w przyszłości będziemy się czuć komfortowo, który będzie odpowiadał naszym potrzebom i  jednocześnie stanie się piękną wizytówką domu. Korzystanie z pomocy ekspertów ma też inną istotną zaletę – pozwala na uniknięcie błędów związanych z fantazją inwestorów. Często zdarza się, że właściciel posesji ma określoną wizję, która nie zawsze odpowiada ukształtowaniu działki czy otaczającej ją infrastrukturze. Dlatego właśnie tak ważne jest sięgnięcie po wiedzę i doświadczenie fachowców. Dzięki ich pomocy możliwe jest zachowanie równowagi pomiędzy oczekiwaniami klientów a walorami funkcjonalnymi i estetycznymi przestrzeni wokół domu. Decydując się na zakup określonych produktów nawierzchniowych warto zorientować się, czy możemy skorzystać z darmowej pomocy architektów krajobrazu, np. współpracujących z firmą Libet. Eksperci ci nie tylko posiadają wiedzę na temat projektowania przestrzeni, ale też doskonale znają poszczególne produkty i ich właściwości, dzięki czemu będą w stanie zaprojektować nie tylko piękną, ale też funkcjonalną przestrzeń.