Elegancja, trwałość, wygoda – ogrodzenia Maxima i Split z linii Libet Completto
Ogrodzenie to ważny element wykończenia posesji. Stworzone na bazie odpowiednich materiałów zapewnia jej mieszkańcom bezpieczeństwo, prywatność i komfort użytkowania. Niejednokrotnie stanowi przy tym wizytówkę całego terenu. Powinno być więc atrakcyjne wizualnie i spójne z wyglądem budynku, który otacza. Kolekcja Libet Completto zawiera rozmaite propozycje wyrobów betonowych, dostosowanych do popularnych obecnie trendów aranżacyjnych. Należą do nich ogrodzenia Maxima i Split.
System ogrodzeniowy Maxima oferuje znakomite połączenie nowoczesnego designu z ponadczasową funkcjonalnością. W jego skład wchodzą antracytowe bloki (dwa rozmiary) o gładkich bokach, zwieńczone mi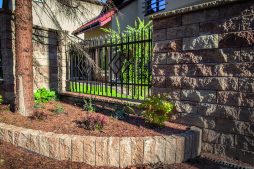 nimalistycznym, płaskim daszkiem. Odpowiednio wykorzystane doskonale uzupełnią aranżacje, w których zastosowano betonowe płyty tarasowe czy gresy porcelanowe.
Druga propozycja z kolekcji Libet Completto, czyli ogrodzenie Split, to praktyczny zestaw bloczków
(2-, 3- lub 4-stronnie splitowanych) i daszków (dwuspadowy, 2-stronnie splitowany, prosty 4-stronnie splitowany), wyróżniających się intrygującą, nieregularną fakturą. W połączeniu z bogatą paletą dostępnych kolorów umożliwia ona tworzenie konstrukcji, obok których trudno jest przejść obojętnie.
Ogrodzenia Split i Maxima świetnie komponują się z innymi materiałami, np. drewnianymi przęsłami czy metalowymi bramami, dzięki czemu sprawdzą się jako element posesji utrzymanych w różnych stylistykach. Produkty posiadają też swoje odpowiedniki w innych pozycjach z oferty Libet (stopnie schodowe Split i Maxima, płyty systemu Maxima, palisada Split) Do tego, w obu wariantach ogrodzeniowych zastosowano nowoczesny system ALS (Anti Liquid System), ograniczający występowanie na ich powierzchni plam i wykwitów.