Harmonia w estetycznej oprawie – palisady
Obecne we współczesnych, stylowych ogrodach palisady to rozwiązanie, które z powodzeniem łączy atrakcyjny wygląd z praktycznym zastosowaniem. Znaleźć je można w kolekcji Libet Completto, w ramach której tworzą szeroki wachlarz aranżacyjnych możliwości realizacji unikalnych układów obrzegowania.
Funkcjonalność i oryginalny design w jednym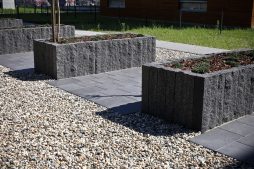 Palisady spełniają w przydomowych przestrzeniach ważne funkcje, wprowadzając do nich harmonię i porządek. Sprawdzają się przy wydzielaniu w ogrodzie stref o różnym przeznaczeniu, wyznaczają granice działki, stanowią atrakcyjną alternatywę dla elementów krawężnikowych. To także znakomity sposób na umocnienie skarp i zabezpieczenie ich przed osuwaniem się ziemi. A dzięki dostępności rozmaitych formatów i faktur, stanowią również dobry budulec do stawiania eleganckich rabat, kwietników lub innych konstrukcji, zwłaszcza takich, które mają być solidną i estetyczną oprawą dla roślinności.
Wyjątkowe rozwiązania Libet Completto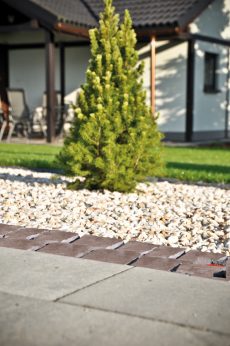 Bliskość świata przyrody bardzo dobrze widać w samym dizajnie propozycji Completto, który niejednokrotnie jest inspirowany wyglądem konkretnych, naturalnych surowców. Tak jest m.in. w przypadku nowości 2017, Palisady Trawertyn, której charakterystyczna porowata faktura nawiązuje do kamienia o tej samej nazwie. Taki naturalny efekt, uzyskany za sprawą specjalnej technologii produkcji (wet-cast) jest także wyróżnikiem Palisady Madera. Tym razem jednak unikatowe wzornictwo na powierzchni do złudzenia przypomina motywy typowe dla faktury drewnianej deski. Oba produkty dostępne są w dwóch, przyjemnych dla oka opcjach kolorystycznych i wprowadzają do każdej aranżacji wyjątkowy klimat. W otoczeniu zieleni doskonale odnajdują się również Palisady Split. Dostępne w trzech rozmiarach, umożliwiają realizację rozmaitych konstrukcji z nieregularnym rysunkiem na wzór kamienia w roli głównej. Funkcjonalność wszystkich wymienionych rozwiązań zwiększa fakt, że można je połączyć z innymi materiałami w spójne, kompleksowe systemy. Trawertyn i Madera posiadają swoje odpowiedniki w asortymencie płyt tarasowych i stopni schodowych, a elementy splitowane znaleźć można pod postacią ogrodzenia, schodów oraz cegły.
Miłośnikom praktycznych rozwiązań można też polecić palisadę Rustykalną oraz Palladio. Pierwsza składa się z trzech połączonych części o nierównomiernej naturalnej strukturze, druga charakteryzuje się smukłą sylwetką i efektem wizualnym zestawienia ze sobą sześciu mniejszych, wąskich palisad. Umożliwiają one wykonanie ciekawych form obrzegowania z wykorzystaniem stosukowo niewielkiej ilości produktów. Produkty Libet Completto oferują nieograniczone możliwości kreacyjne. Odpowiednio wkomponowane w całościowy projekt aranżacyjny, uwzględniający materiały nawierzchniowe, roślinność, małą architekturę, taras i samą bryłę budynku, stanowią niebanalne zwieńczenie posesji w bardzo praktycznym wydaniu.