Jak dostosować kostkę brukową do stylistyki budynku?
Ogród, podjazd czy taras to niezwykle ważne elementy otoczenia domu, które wpływają na finalne postrzeganie wyglądu samego budynku oraz całej posesji. W trakcie ich wykańczania warto zadbać o odpowiedni dobór materiałów nawierzchniowych. Dostępne w specjalnych kolekcjach oferują bogactwo faktur, rozmiarów i kształtów, dzięki czemu łatwo je dopasować do stylistyki otoczenia.
Styl klasyczny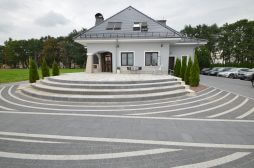 Klasyka nie wychodzi z mody, dlatego decydując się na rozwiązania w tym stylu możemy mieć pewność, że mimo upływu czasu nasz dom i ogród będą niezmiennie zasługiwały na miano gustownych. Aby zyskały status miejsc prawdziwie stylowych, niezbędne jest zastosowanie materiałów o wyjątkowych walorach estetycznych. Godne polecenia są tu produkty z grupy Elegante wytwarzane przy użyciu najlepszych surowców, takich jak marmur i granit. Wyrazista powierzchnia to efekt wypłukiwania pod ciśnieniem drobin betonu z warstwy wierzchniej. Kostka przybiera dzięki temu strukturę przełomu kamienia naturalnego.
Styl skandynawski
Dużą popularnością, zarówno przy wykańczaniu wnętrz, jak i przestrzeni zewnętrznej, cieszy się obecnie scandi. Umiłowanie prostoty i naturalności, charakterystyczne dla krajów nordyckich, przekłada się na stonowane, spokojne i praktyczne aranżacje. Nie ma tu miejsca na przepych i zbędne dekoracje. Doskonale odnajdą się w takim otoczeniu kostki z grupy Monocolor. Jednobarwne elementy, w większości przypadków utrzymane w dwóch kontrastowych kolorach (jasna pergaminowa biel i intensywna antracytowa czerń), pozwolą stworzyć nowoczesne, minimalistyczne nawierzchnie, które doskonale wpiszą się w styl skandynawski.
Styl vintage
Miłośnicy tradycji chętnie sięgają po rozwiązania odwołujące się do minionych epok i produkty noszące ślady upływu czasu. Urok budynków wzorowanych na historycznych gmachach, np. w stylu polskiego dworku lub kolonialnym, podkreśli nawierzchnia postarzana. Efekt ten wykorzystano na kostkach brukowych Libet Decco Antico. Za sprawą młoteczkowania i obijania poszczególnych elementów, uzyskuje się unikalną powierzchnię przy zachowaniu wysokiej trwałości i wytrzymałości.
Styl rustykalny i naturalistyczny
Wiejskie posesje i ogrody oparte na naturalności charakteryzują się dużą swobodą aranżacyjną i pozorną przypadkowością. W przestrzeń intensywnie obsadzoną różnorodnymi gatunkami roślin świetnie wpisują się malowniczo wijące się, romantyczne ścieżki oraz tarasy o nieregularnym kształcie. Niezwykle ważna w takim otoczeniu jest kolorystyka. Odpowiedni klimat stworzą ciepłe barwy ziemi, różne odcienie beży, brązów i czerwieni. Zamiast jednolitej tonacji, warto wprowadzić intrygujące melanże kolorystyczne. Można je uzyskać, wykorzystując różnobarwne kostki z grupy Colormix. Pamiętać przy tym należy, że dla osiągnięcia pożądanego efektu niezbędne jest stosowanie na etapie układania tzw. zasady trzech palet.
Styl nowoczesny
Coraz częściej inwestorzy decydują się na odważną nowoczesną architekturę. Wymaga ona odpowiedniej oprawy. Modernistyczne budynki o prostej bryle i dużych przeszkleniach lubią minimalistyczne otoczenie. Dotyczy to zarówno formy, jak i kolorystyki. Odpowiedzią firmy Libet na takie zapotrzebowanie, jest grupa produktów Monocolor. Gładka powierzchnia surowego betonu oraz dwie wyraziste barwy (pergaminowa biel i antracyt) czynią z nich idealne narzędzie do kreowania nowoczesnych przestrzeni prywatnych i publicznych.
Styl fusion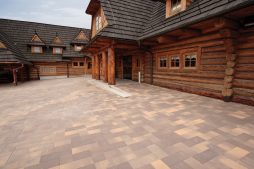 Grupy produktów w ramach kolekcji Libet Decco nie mają oczywiście sztywno przypisanej stylistyki. Bogactwo kształtów, formatów i kolorów w ramach każdej z nich sprawia, że tak naprawdę można je dopasować do projektów o zróżnicowanym charakterze. Pamiętać należy, że najbezpieczniejszym rozwiązaniem jest poruszanie się w obrębie spójnej estetyki i korzystanie z ograniczonej palety barw i wzorów. Istnieje jednak nurt, który stawia na łączenie odmiennych stylistycznie elementów i odważne zestawianie starego z nowym. Podążając za filozofią fusion, możemy więc np. zastosować postarzaną kostkę brukową przy nowoczesnym budynku lub zestawiać w ramach jednej nawierzchni produkty o różnym wykończeniu czy formacie.W efekcie powstać mogą ciekawe, oryginalne aranżacje. Nie jest to jednak zadanie proste, wymaga dużego wyczucia i dobrego smaku.