Jak montować oświetlenie Libet Light w ogrodzie?
Lampy zewnętrzne 12 Volt to szybki i bezpieczny sposób na oświetlenie ogrodu. Prace montażowe nie wymagają posiadania uprawnień elektryka ani skomplikowanych narzędzi. W systemie opraw świetlnych Libet Light poszczególne elementy znakomicie ze sobą współgrają, tworząc efektowną i efektywną całość. Zobaczmy, jak łatwo rozświetlić przestrzeń wokół domu.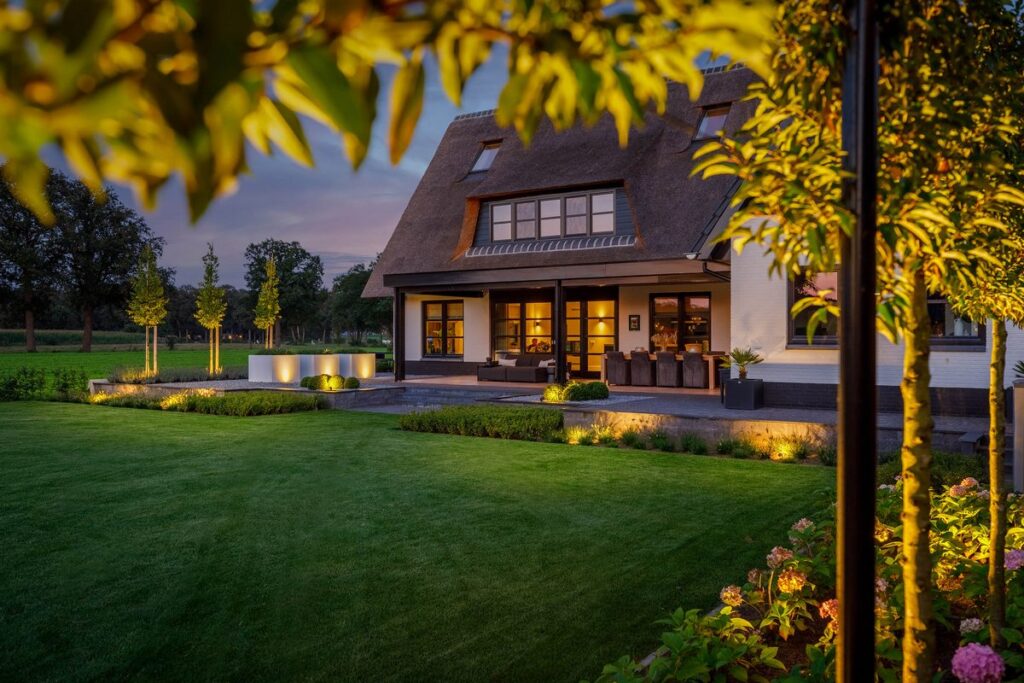 Dobry plan
Najlepiej oczywiście zacząć od planu. Podjazd, ścieżka, altana, schody, taras, wejście do budynku, a może także oczko wodne, roślinność i ogrodzenie? Odpowiedzmy sobie na pytanie, co i jak chcemy eksponować po zmroku. Ułatwi nam to nie tylko późniejszy wybór najlepiej pasujących lamp zewnętrznych, lecz także skompletowanie akcesoriów do oświetlenia (np. wystarczająca długość kabla czy liczba konektorów) oraz przygotowanie posesji. Jeśli planowana instalacja opraw świetlnych stanowi część większych metamorfoz otoczenia, których przygotowanie zlecamy projektantowi, możemy poprosić o uwzględnienie jej w tworzonej koncepcji aranżacji. Dzięki temu otrzymamy spójną, kompleksową wizję zagospodarowania całej posesji.
Podłączenie systemu
Mamy już projekt, oprawy oświetleniowe 12 Volt wraz z akcesoriami oraz trochę wolnego czasu? Możemy więc przystąpić do działania.
Przykładamy konektor Y lub konektor M* do transformatora
* W zależności od modelu transformatora (konektor M dla wersji 100 i 150 Touch)

Wsuwamy kabel w konektor Y
Zaciskamy kabel, przekręcając gałkę w konektorze
Montujemy (zawieszamy) transformator w dogodnym miejscu (np. na elewacji) na wysokości minimum 50 cm. Transformator może być montowany na zewnątrz
Instalujemy czujnik zmierzchu (na zewnątrz, w miejscu, gdzie operuje światło dzienne)
Rozwijamy kabel i prowadzimy go po posesji wg planu instalacji lamp
W miejscach, w których chcemy montować oprawy, zaciskamy na kablu konektor F
Podłączamy do konektora F wybraną oprawę* (zgodnie z dołączoną do niej instrukcją)
*Możemy też w tym miejscu stworzyć odgałęzienie instalacji, łącząc konektor F z konektorem M, w który następnie wpinamy nową "nitkę" kabla
W razie potrzeby uzupełniamy system oświetlenia o dodatkowe akcesoria, jak czujnik ruchu czy zdalny odbiornik z pilotem
Sprawdzamy działanie systemu
Maskujemy kabel, wkopując go w ziemię na głębokość 20 cm lub przysypując np. ozdobnymi kruszywami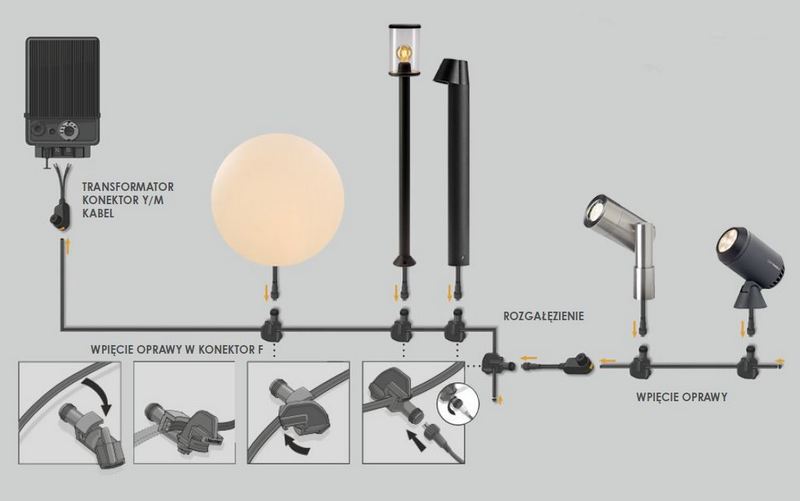 Jak montować lampy?
Sposób mocowania samych opraw zależy od tego, na jaki model lampy ogrodowej postawiliśmy. Dzięki dołączonym akcesoriom nie wymagają one jednak skomplikowanych prac. Przykładowo, stojące słupki świetlne i oprawy ozdobne z łatwością wbijemy w ziemię za pomocą specjalnych szpikulców. Do dyspozycji mamy też m.in. lampy przykręcane do ściany, wpuszczane w podłoże czy umieszczane w otworach kostki brukowej jako praktyczne oprawy najazdowe.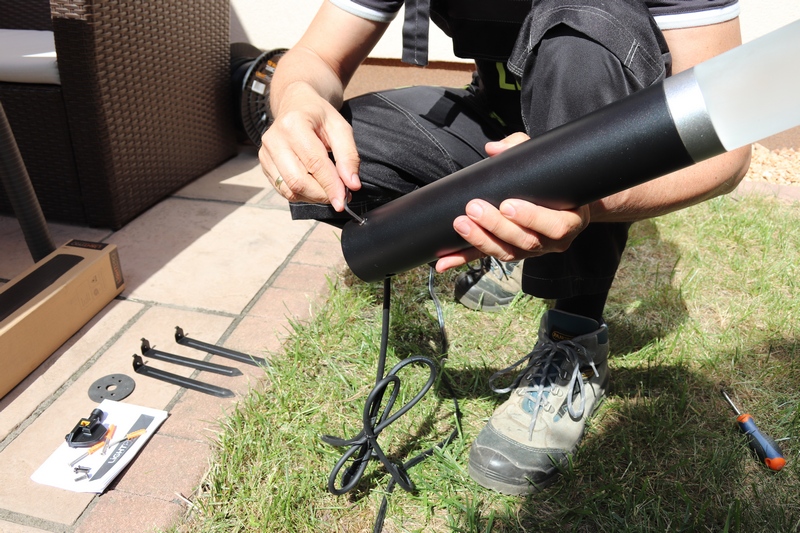 Światło pod kontrolą
Szczególnie w rozbudowanych projektach zagospodarowania posesji warto korzystać z dodatkowych udogodnień. Należą do nich zdalne odbiorniki umożliwiające tworzenie kilku (nawet dziewięciu) niezależnych stref, którymi steruje się osobno przy użyciu pilota. W ten sposób mamy pełną kontrolę nad iluminacją w konkretnych miejscach. W niektórych, newralgicznych lokalizacjach nieocenionym wsparciem będzie też czujnik ruchu. To prosty, sprawdzony sposób uruchamiania światła dokładnie wtedy, gdy jest ono potrzebne, a jednocześnie źródło bezpieczeństwa i oszczędności. Technologiczną wisienkę na torcie możliwości Libet Light stanowi aplikacja "LIHGTPRO NXT", dzięki której możemy sterować oświetleniem za pomocą smartfona. Czas rozświetlić otoczenie.