Jak prawidłowo wykonać elewację wentylowaną?
Fasady wentylowane cieszą się stale rosnącą popularnością. Trudno się dziwić, bo jest to rozwiązanie trwałe, dobrze chroniące konstrukcję budynku i zapewniające optymalne warunki użytkownikom wnętrz. Aby jednak cieszyć się piękną elewacją przez lata, należy prawidłowo ją wykonać używając do tego wysokiej jakości materiałów. W roli okładziny zewnętrznej doskonale sprawdzą się gresy porcelanowe z kolekcji Libet Ceramic.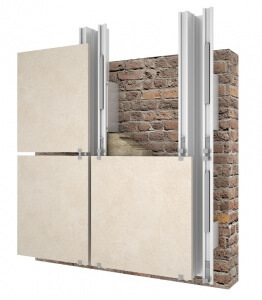 Elewacja wentylowana przestała już być domeną wyłącznie bardzo prestiżowych budynków. Coraz częściej jest stosowana również na mniejszych obiektach użyteczności publicznej, takich jak np. szkoły i przedszkola. Decydują się na nią również właściciele domów jednorodzinnych, którym zależy na wyjątkowym efekcie wizualnym i zastosowaniu najlepszych rozwiązań technologicznych. W porównaniu z innymi rozwiązaniami fasady wentylowane są o wiele trwalsze, a w przypadku uszkodzenia fragmentu dają możliwość wymiany pojedynczych elementów.
System elewacji wentylowanej tworzy podkonstrukcja, warstwa izolacyjna oraz okładzina zewnętrzna. Istotą tej technologii jest szczelina wentylacyjna pozostawiona pomiędzy przylegającą do ściany budynku izolacją a warstwą wykończeniową. Pozwala to uzyskać tzw. efekt komina, a dzięki  wentylacji, która się w ten sposób wytwarza, ściana jest chroniona przed zgubnym działaniem nadmiaru wilgoci. Elewacja w tym systemie zapewnia nie tylko dobrą izolację termiczną, ale także akustyczną, a przy zastosowaniu odpowiednich produktów – również ochronę przeciwpożarową. Poprawne wykonanie elewacji wymaga przymocowania rusztowania aluminiowego zgodnie z wytycznymi producenta. Jako warstwę izolacyjną wykorzystuje się najczęściej wełnę mineralną. Okładzinę montuje się do podkonstrukcji łącznikami mechanicznymi. W zależności od wybranego materiału wykończeniowego i tego, jaki efekt chcemy uzyskać, możemy wybrać mocowanie widoczne albo ukryte. Aby zachować sprawną wentylację należy pozostawić właściwie rozmieszczone otwory nawiewne.
Kluczowy zarówno dla trwałości elewacji, jak też jej wyglądu, jest wybór materiału okładzinowego. Możliwości są tu naprawdę duże: począwszy od drewna, poprzez metal, aż po włóknocement i ceramikę. Każdy z nich daje inny efekt estetyczny i charakteryzuje się innymi właściwościami. Warto zwrócić uwagę na gresy porcelanowe z kolekcji Libet Ceramic, które dzięki niewielkiej wadze i stabilności wymiarowej znacznie ułatwiają montaż. Są odporne na zarysowania, promieniowanie UV, warunki atmosferyczne, działanie środków chemicznych i ogień. Pozwolą nam cieszyć się niezmienionym wyglądem elewacji przez długie lata i nie wymagają kłopotliwej konserwacji. Zachowując wszystkie powyższe zalety mogą doskonale imitować inne materiały – drewno, beton czy kamień.