Jak stworzyć estetyczne i funkcjonalne schody?
Zapewniają komfortowe dojście do budynku lub na taras, stanowią praktyczny łącznik między różnymi poziomami gruntu w ogrodzie, umożliwiają niebanalne zagospodarowanie przestrzeni… Na co zwrócić uwagę, planując inwestycję w schody zewnętrzne?
Odpowiedni materiał to podstawa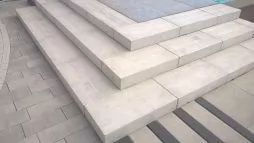 Zewnętrzne elementy aranżacji posesji narażone są na szereg szkodliwych czynników. Deszcz, mróz, niekorzystne warunki gruntowe czy zbyt intensywna eksploatacja to problemy, których nie da się w pełni wyeliminować. Dlatego bardzo ważne jest, by takie konstrukcje jak schody były wykonane z trwałych, wysokiej klasy surowców, a do tego fachowo zamontowane. Na finalny efekt niemały wpływ ma też spójność wybranego designu z bryłą budynku i całym otoczeniem. Na jaki materiał zatem się zdecydować, by stworzyć wytrzymałe, estetyczne i bezpieczne wejście do domu i nie tylko? Bardzo popularnym rozwiązaniem są betonowe stopnie, takie jak Madera, Trawertyn, Split czy Maxima z kolekcji Libet Completto. Pierwsze trzy propozycje to niebanalne nawiązania do naturalnych powierzchni drewna (Madera) i kamienia (Trawertyn, Split), natomiast minimalistyczny wygląd stopnia Maxima stanowi bardzo dobre uzupełnienie modernistycznych projektów. Osoby poszukujące oryginalnych pomysłów mogą postawić też na inne wyroby betonowe – kostki brukowe lub płyty tarasowe tworzą bardzo ciekawe zwieńczenie powierzchni schodów, natomiast palisady to świetny sposób na atrakcyjne wykończenie części brzegowych całej aranżacji. A dzięki szerokiej palecie dostępnych form, faktur i kolorów każdy z produktów można dopasowana do charakteru posesji.
Precyzyjny montaż kluczem do sukcesu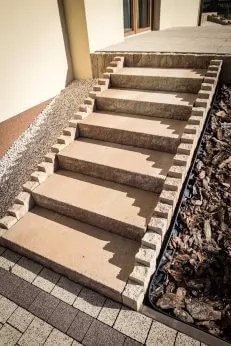 Montaż schodów zewnętrznych – szczególnie w przypadku małych elementów – jest zadaniem żmudnym i dość czasochłonnym, jednak efekt końcowy wynagradza poniesiony trud. Przed przystąpieniem do właściwego układania wybranych produktów konieczne jest wykonanie kilku podstawowych czynności, takich jak pomiary w terenie, zaplanowanie liczby stopni oraz długości całego biegu schodowego (warto też pamiętać, że optymalna wysokość stopni wynosi 15 cm).
Na skuteczność prac bardzo duży wpływ ma odpowiednie przygotowanie podłoża oraz stosowanie się do zasad sztuki brukarskiej na każdym kolejnym etapie. Dlatego warto zlecić wykonanie ich profesjonalistom.