Jak ułożyć płyty chodnikowe w ogrodzie?
Płyty chodnikowe w ogrodzie to tylko z pozoru niestandardowy pomysł. Materiał ten świetnie sprawdza się do tworzenia ogrodowych ścieżek, tarasów oraz innych nawierzchni (np. pod ogrodową altankę). Jako płyty chodnikowe możemy w tych miejscach z powodzeniem potraktować także wszystkie płyty tarasowe. Z reguły nie są to elementy przeznaczone pod ruch kołowy, natomiast z powodzeniem można je stosować wszędzie tam, gdzie nie będą wjeżdżać żadne auta. Przyjrzyjmy się zatem temu, jakie płyty wybrać i jakie są dostępne techniki montażu.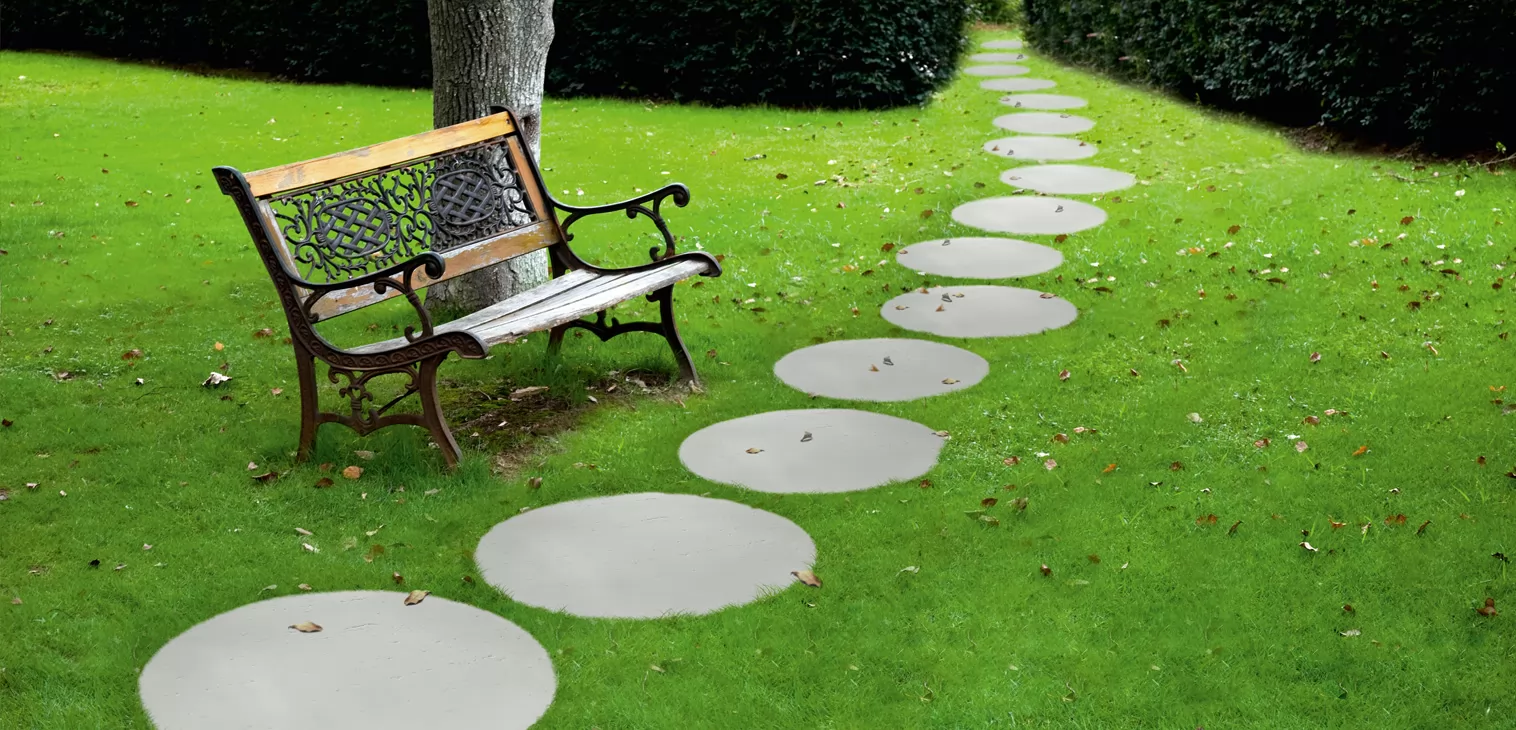 Jakie płyty wybrać?
Technika montażu w pewnym stopniu zależy od materiału, jaki wybierzemy. Do wyboru mamy płyty betonowe lub ceramiczne. Poniżej prezentujemy wyjaśnienie, czym będą się one różnić podczas zabudowy.
Rodzaje płyt chodnikowych:
Betonowe płyty wibroprasowane – ze względu na swoją dość dużą wagę za ich pomocą najłatwiej jest stworzyć stabilną powierzchnię, przy wykonaniu równej podbudowy nie klawiszują. Jednak ze względu na ciężar, wymagają sporej siły podczas układania i przenoszenia.
Płyty chodnikowe betonowe wykonane w technologii wet-cast – lżejsze płyty o ciekawej fakturze lub nietypowych kształtach. Wymagają wcześniejszego

zaimpregnowania

i sporej uwagi podczas zabudowy. Odwdzięczają się pięknymi, nawiązującymi do natury fakturami. Duża różnorodność tych płyt ułatwia wizualne połączenie tarasu oraz ogrodu.
Płyty ceramiczne – lekkie i łatwe w zabudowie płyty z gresu ceramicznego. Bardzo ważna jest ich prawidłowa stabilizacja, aby podczas użytkowania nie klawiszowały. Są antypoślizgowe i plamoodporne. Bardzo dobrze imitują naturalne drewno, kamień lub wygląd betonu. Polecane nawet najbardziej wymagającym klientom.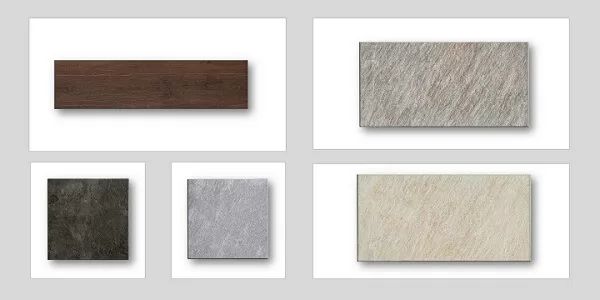 Jak zatem widać różne płyty chodnikowe do ogrodu wymagają skupienia się na nieco innych aspektach. Jednak podstawowe techniki montażu będą takie same. Warto jednak wykorzystać zalety wybranego materiału i zminimalizować ich ewentualne niedogodności. Zwrócić uwagę należy przede wszystkim na odpowiednią stabilizację i impregnację wtedy, gdy jest ona wymagana.
Trakcyjny sposób układania płyt chodnikowych
Ta metoda nie różni się znacznie od sposobów układania kostki brukowej. Kluczem do sukcesu  jest prawidłowe wykonanie dobrej podbudowy oraz zachowanie odpowiednich odstępów. Równie ważny jest materiał, który do tego celu wykorzystamy.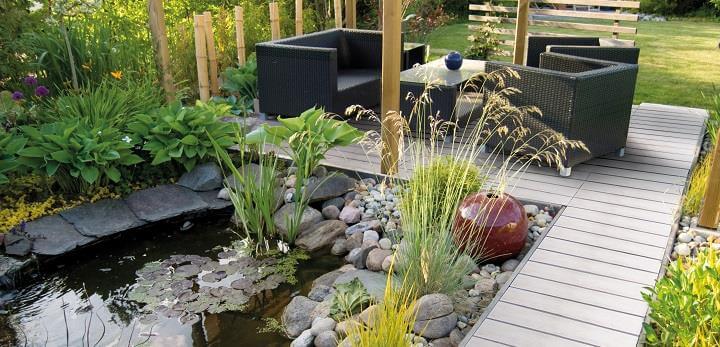 Często zalecane jest zastosowanie mieszanki piaskowo-cementowej. Ta metoda z pozoru wydaje się mieć wiele zalet. Jednak nie do końca będzie ona dobra dla betonowych płyt. Taka podsypka może brudzić płyty. Odprowadzanie wody jest wolniejsze, dlatego dużo częściej w tym przypadku dochodzi do powstawania wykwitów wapiennych i innego rodzaju plam. Z tego też powodu najlepiej wykonać podbudowę z kruszyw dobrze się klinujących.
Pod płyty ceramiczne można dodatkowo zastosować specjalne podkładki. Pomogą one wyznaczyć odpowiednie odstępy między poszczególnymi elementami i ustabilizują nawierzchnię. Ułatwią również późniejszą ewentualna wymianę płyt.
Zaprawa drenażowa pod płyty chodnikowe
Zaprawa drenażowa jest polecana zwłaszcza w przypadku płyt betonowych wykonanych w technologii wet-cast, dla płytek ceramicznych oraz innych smukłych i długich płyt. Ułatwia ona i przyspiesza odprowadzanie wody do gruntu.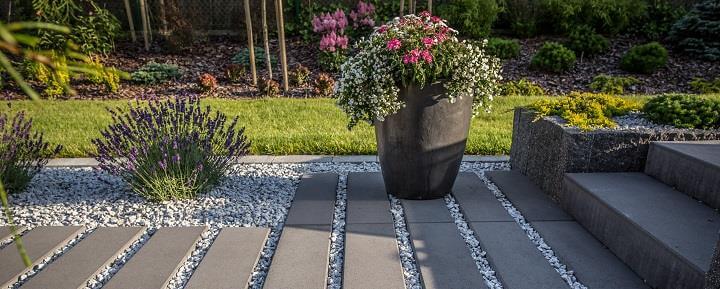 Jest to metoda idealna dla wszystkich tych, którzy oczekują pełnej gwarancji stabilności zabudowanych elementów. Płyty zamontowane na zaprawie drenażowej nie klawiszują. Dotyczy to nawet długich i wąskich płyt przy nacisku punktowych. I co równie ważne – użycie zaprawy drenażowej minimalizuje powstawanie wykwitów wapiennych. Przy jej zastosowaniu koniecznie trzeba zwrócić uwagę na wykorzystanie odpowiedniej fugi, która równie dobrze będzie przepuszczać wodę w głąb.
Układanie płyt chodnikowych na trawie
Nazwa tej metody może być nieco myląca, gdyż płyt chodnikowych nie powinno układać się bezpośrednio na trawie. Konieczne jest wcześniejsze usunięcie trawy i odpowiednie przygotowanie miejsca pod płytę. Jednak nadal jest to najszybsza i najłatwiejsza w wykonaniu technika układania płyt chodnikowych w ogrodzie. Stosować można ją zarówno w przypadku betonowych płyt wibroprasowanych, jak i płytek gresowych.
Technikę montażu płyt na trawie prezentuje poniższy filmik:
Podkreślić należy, że tylko płyty ceramiczne będą odpowiednim materiałem do stworzenia tzw. ścieżki japońskiej, czyli z większymi odstępami między poszczególnymi elementami.  Gres porcelanowy to jedyny materiał odporny na plamy powstałe przez kontakt z chemią ogrodową.
Duże płyty betonowe takie jak Maxima będą stabilne, ale mniej odporne na zabrudzenia, dlatego nie zaleca się ich stosowania w tym przypadku. Natomiast technika ta nie sprawdzi się w przypadku długich i wąskich płyt, gdyż nie pozwoli na ich odpowiednie ustabilizowanie. Dla takich elementów zalecamy zastosowanie podbudowy z zapraw drenażowych opisanych wcześniej.
Staranne wykończenie ścieżki z wykorzystaniem obrzeża
Obrzeża są konieczne w przypadku lżejszych płyt. Jednak nawet nawierzchnie wykonane z ciężkich, betonowych płyt warto obrzegować. Pozwoli to zabezpieczyć poszczególne elementy przed przemieszczaniem się oraz staranne wykończyć pracę.
Obrzeże można potraktować jako element ozdobny, który uatrakcyjni aranżację. Wtedy postawić można na palisadę lub betonowe obrzeża. Jednak tak duże elementy nie zawsze pasują do tworzonej przestrzeni. W takich sytuacjach idealnie sprawdzą się dyskretne i (co równie ważne) łatwe w montażu obrzeża Libert Bord. Różne kolory oraz nakładki pomogą uzyskać oczekiwany efekt.
O czym jeszcze pamiętać układając płyty chodnikowe w ogrodzie?
Układając płyty chodnikowe w ogrodzie należy zwracać uwagę na zachowanie odpowiednich odstępów między nimi. Im większą płytę montujemy, tym większej fugi będzie ona wymagała. Na pewno odstęp nie może być mniejszy niż 5 mm, choć w wielu przypadkach konieczny może być większy. Dzięki temu łatwiejsze będzie chociażby zachowanie linii prostych na układanej nawierzchni.
Pamiętajmy również o dobrym wypełnieniu odstępów między płytami. Warto postawić na fugę, która ułatwi nam późniejszą pielęgnację płyt. Dobra fuga nie będzie odbarwiać płyt, a także zmniejszy ilość porostów między nimi. Równie ważne jest to, aby zachowywała ona swój kolor.

Dzięki powyższym zasadom z powodzeniem ułożymy i zabezpieczymy płyty chodnikowe w ogrodzie. Pamiętajmy jednak, że o taką nawierzchnię trzeba regularnie dbać – zamiatać, myć i usuwać wdzierającą się na płyty roślinność. W przypadku płyt betonowych wibroprasowanych oraz wet-cast z czasem będzie trzeba je ponownie zaimpregnować. Wtedy posłuży nam ona na dłużej.