Jak zamontować płyty tarasowe przy pomocy kleju?
Nawet najlepszej jakości materiał nawierzchniowy, taki jak gres porcelanowy, nie spełni właściwie swojej roli i szybko ulegnie zniszczeniu, jeśli nie zostanie prawidłowo zamontowany. Jednym ze sposobów umocowania gresowych płyt tarasowych jest wykorzystanie kleju. Podpowiadamy, jak prawidłowo wykonać montaż "na mokro".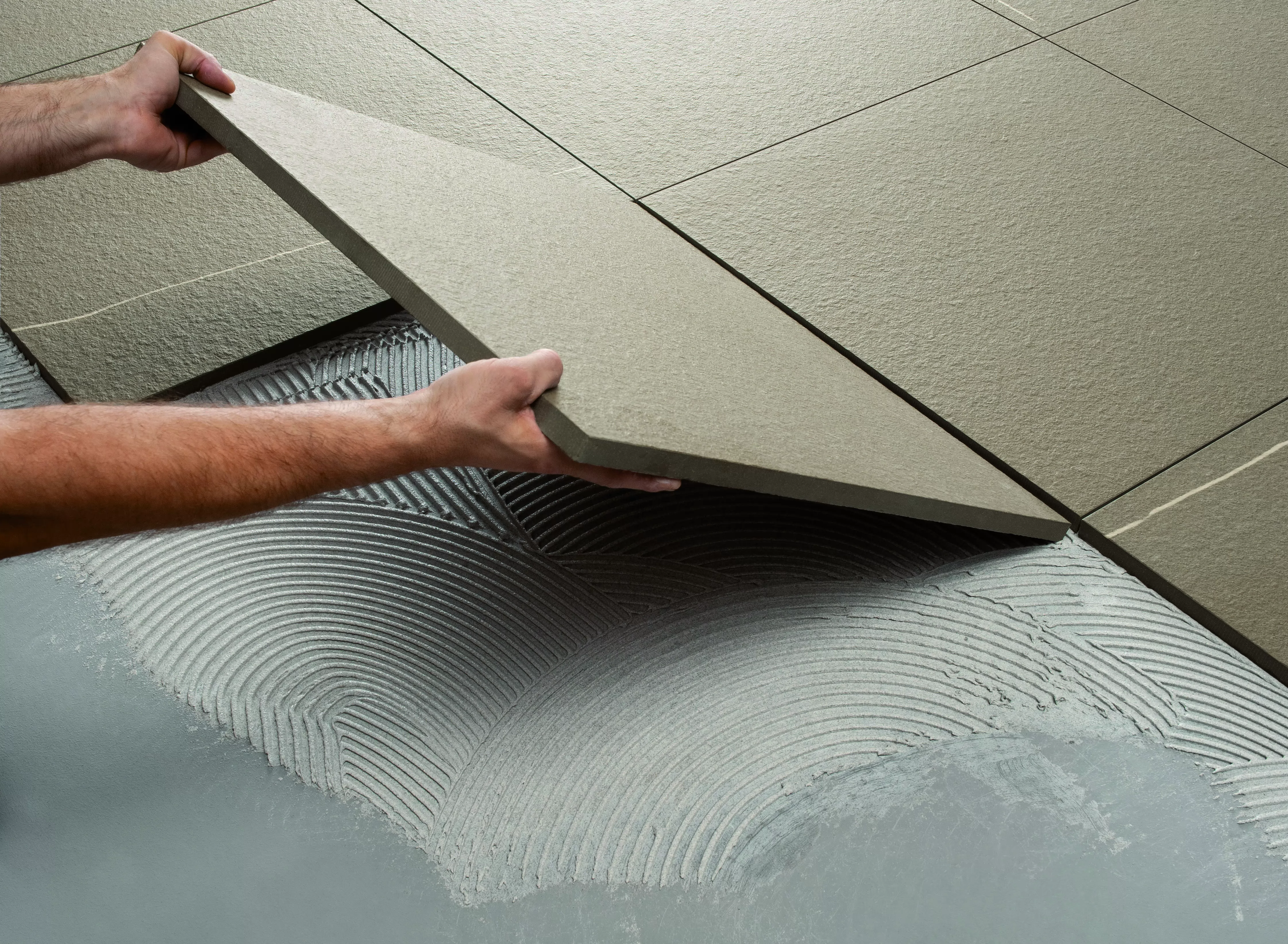 Płyty tarasowe EVO_2/ETM z linii Libet Ceramic wyróżniają się szlachetnym wyglądem i bardzo dobrymi parametrami technicznymi. Są antypoślizgowe, mrozoodporne, praktycznie nienasiąkliwe i odporne na zabrudzenia oraz uszkodzenia mechaniczne. Wysoka wytrzymałość innowacyjnych produktów EVO_2/ETM sprawia, że świetnie sprawdzą się w miejscach narażonych na znaczne obciążenie i duże natężenie ruchu pieszego.W takich lokalizacjach najlepiej zdecydować się na montaż przy użyciu kleju.
Układanie płyt Libet Ceramic należy rozpocząć od przygotowania stabilnego (wysezonowanego) podłoża. Niezbędna jest warstwa betonu zbrojonego o grubości 50 mm (minimalna grubość pod okładziny ceramiczne), którą trzeba pokryć dwuskładnikowym, zespolonym uszczelnieniem podpłytkowym,np. MAPELASTIC LUB MAPELASTIC TURBO.Ważne jest również ukształtowanie odpowiedniego spadku skierowanego od budynku w stronę odwodnienia (>1,5%). Szlachetne płyty z gresu porcelanowego przymocowuje się za pomocą zaprawy klejowej o podwyższonych parametrach, sklasyfikowanych zgodnie z normą PN-EN 12004 jako C2. Jest to sucha mieszanka piasku, cementu i dodatków chemicznych, którą należy wymieszać z odpowiednią ilością wody. W  przypadku montażu płyt na obszarach zewnętrznych- w zależności od formatu- konieczne jest użycie kleju odkształcalnego  S1 (odkształcalność od 2,5 do 5 mm,np. KERAFLEX MAXI S1) lub wysokoodkształcalnego S2(odkształcalność powyżej 5mm, np. ULTRALITE S2), a takżeo podwyższonych parametrach przyczepności (co najmniej 1,0 N/mm2).Zaprawa klejąca, wykorzystywana na zewnątrz, powinna się charakteryzować wydłużonym czasem schnięcia otwartego– nie krótszym niż 30 min. Należy też pamiętać, aby prace rozplanować w taki sposób, by uniknąć chodzenia poświeżo przyklejonych elementach. Układając materiał nawierzchniowy, trzeba zachować niewielkie odstępy między płytami, które następnie wypełnia się zaprawą spoinującą/fugą. Właściwy dobór zaprawy do fugowania jest równie ważny, co odpowiednie dobranie kleju. Zaleca się tu stosowanie fugi cementowej o podwyższonych parametrach (klasa CG2 PN-EN 13888), czyli zwiększonej odporności na ścieranie i zmniejszonej absorpcji wody,np. ULTRACOLOR PLUS LUB KERACOLOR GG. W przypadku montażu wewnątrz, minimalna szerokość spoiny to 2mm, na zewnątrz: od 5mm wzwyż,w zależności od wymiaru płyt.
Montaż płyt tarasowych przy pomocy kleju nie wymaga szczególnych umiejętności, ani specjalistycznego sprzętu, należy jednak pamiętać, że cała zaprawa klejowa musi całkowicie wypełnić przestrzeń pod płytą ceramiczną (zalecana metoda montażu "podwójnego smarowania"). Stosując się do zaleceń, mamy gwarancję najwyższej odporności nawierzchni i  uniknięcia ubytków czy uszkodzeń.
---
Zbuduj taras także z kostki brukowej: zobacz artykuł.