Jaką metodą montować płyty ceramiczne
Płyty z gresu porcelanowego to doskonały sposób na zabudowę tarasów, ścieżek, placów i innych nawierzchni wokół budynków. Są bardzo atrakcyjne wizualnie, komfortowe w użytkowaniu, łatwe w pielęgnacji oraz odporne na oddziaływanie takich czynników, jak obciążenia, rysowanie, ścieranie, woda, różnice temperatur, sól, kwasy itp. Jak je montować, by uzyskać stabilną strefę relaksu? Do dyspozycji mamy kilka sprawdzonych sposobów, które możemy dostosować do swoich potrzeb i warunków otoczenia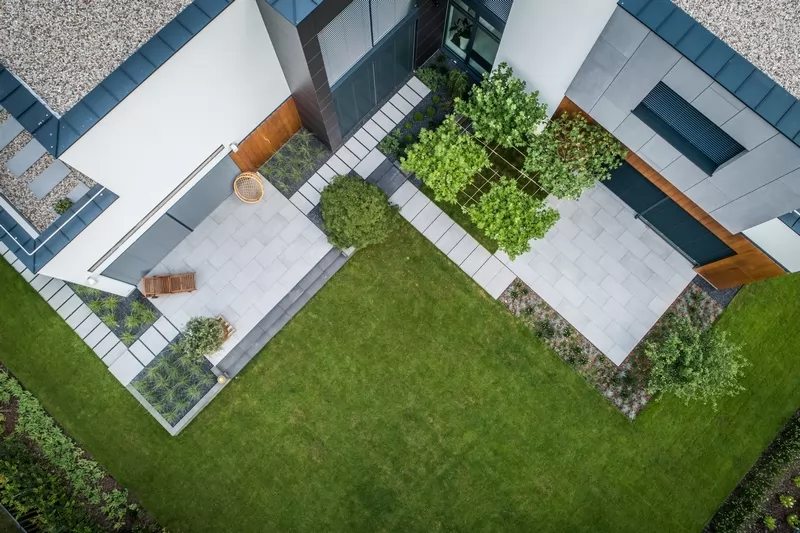 Naturalne podłoże
Jedną z najprostszych i najszybszych metod jest układanie płytek na podbudowie z kruszyw naturalnych ("na sucho"). Sprawdza się najlepiej tam, gdzie nie występują żadne komplikacje związane ze specyfiką terenu. W ten sposób możemy zaaranżować np. taras, poprowadzić ścieżkę albo utwardzić podłoże przy grillu, a dodatkowo zrealizować to w taki sposób, by umożliwić swobodny odpływ wody deszczowej między poszczególnymi elementami do gruntu. Technika ta nie ogranicza się do położenia produktów "na ziemi". Bardzo ważne jest odpowiednie przygotowanie podłoża. O  czym warto pamiętać?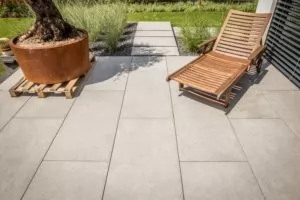 Montaż "w trawie":
Kładziemy na trawie płytę i nacinamy wokół szpadlem darń. Następnie wybieramy ziemię na głębokość 8 cm
W miejsce wybranej ziemi wsypujemy dobrze klinujące się kruszywo (o frakcji 3-6 mm), które zapewnia bardziej stabilne podłoże (nie zaleca się stosowania piasku lub otoczaków)
Ceramikę kładziemy ok. 0,5-1 cm powyżej podłoża, a następnie wyrów­nujemy i stabilizujemy poprzez dobijanie gumowym młotkiem
Montaż na samym żwirze:
Rozkładamy geowłókninę
Wysypujemy dwie warstwy żwiru o frakcji 40-80 mm (głębokość 30-50 cm) oraz 0-20 mm (gł. 20-40 cm)
Na nich tworzymy warstwę żwiru o frakcji 3-6 mm i głębokości 2-5 cm
Zobacz film na LibetTV
Klej do płyt
Kolejna popularne rozwiązanie polega na tradycyjnym przyklejaniu ceramiki do odpowiednio przygotowanego, stabilnego (wysezonowanego) podłoża. W skrócie wygląda to tak:
Warstwę betonu zbrojonego o grubości 30-50 mm trzeba pokryć dwuskładnikowym, zespolonym uszczelnieniem podpłytko­wym. Ważne jest ukształtowanie odpowiedniego spadku skierowanego od budynku w stronę odwodnienia (>1,5%).
Płytki ceramiczne mocujemy za pomocą specjalnej zaprawy klejowej o podwyż­szonych parametrach
Pamiętajmy o zachowaniu i wypełnieniu fugą odstępów między płytami
Zaprawa drenażowa
Wyjątkowo trwałą alternatywę dla kleju stanowi zaprawa drenarska. Stosowana do wykonywania nośnych, wodoprzepuszczalnych warstw podkładowych, tworzy bardzo solidne podłoże (brak klawiszowania płyt, wodoprzepuszczalność, mrozoodporność, jednorodna podbudowa). Co jeszcze warto wiedzieć o tej technologii mocowania?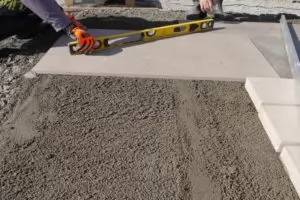 System składa się z zaprawy drenażowej oraz szlamu sczepnego
Wymieszaną z wodą zaprawę rozprowadza się po odpowiednio przy­gotowanym podłożu i wyrównuje do warstwy 3-5 cm
Płyty mocowane są za pomocą wspomnianego szlamu sczepnego
Zobacz film na LibetTV
Wsporniki tarasowe
Cieszące się rosnącą popularnością specjalne wsporniki tarasowe to niezwykle szybki i skuteczny sposób, by stworzyć stabilny i wygodny taras wentylowany. Wybierając tę metodę realizacji nawierzchni pamiętajmy, że:
Wsporniki wymagają stabilnego podłoża, np. wylewka betonowa ze spadkiem i hydroizolacją
Do dyspozycji mamy wsporniki tarasowe regulowane (standard lub max), wsporniki spiralne lub wsporniki o stałej wy­sokości
Warto korzystać z 5 wsporników na płytę, szczególnie przy większych elementach i wyższych konstrukcjach (4 przy krawędziach, 1 w środku)
Komfort montażu oraz użytkowania zapewniają także takie akcesoria, jak: podkłady wyrównujące, klipsy dylatacyjne i do montażu maskownic czy głowice samopoziomujące
Zobacz film na LibetTV