Kamień dekoracyjny na ścianę – coraz modniejszy trend w aranżacji
Surowe piękno naturalnego kamienia zyskuje coraz większą liczbę zwolenników. Kamień dekoracyjny na ścianę wykorzystywany jest obecnie nie tylko do tworzenia stylowych elewacji budynków, ale również we wnętrzach. Aby cieszyć się przez lata z takiej ozdoby należy wybrać odpowiedni sposób, w jaki ma być stworzona ściana z kamienia dekoracyjnego. Konieczny jest również przemyślany sposób dobrania pozostałych elementów aranżacji.  Wybierać możemy między kamieniem elewacyjnym, płytkami cegłopodobnymi oraz płytami z gresu ceramicznego.
Kamień elewacyjny sprawdzi się również we wnętrzu
Pierwszym, intuicyjnym sposobem na to, jaki wybrać dekoracyjny kamień na ścianę, jest wykorzystanie dostępnych na rynku elementów do tworzenia elewacji budynków. Taki kamień dekoracyjny zewnętrzny z pewnością jest dostosowany do pionowych płaszczyzn. Ponadto został przetestowany w  dużo trudniejszych warunkach niż te, jakie panują w pomieszczeniach. Gwarantuje nam to wysoką odporność tego materiału.
Przebierać możemy w kolorystyce oraz efektach, jakie uzyskamy na ścianie. Do wyboru są zarówno barwy cieple, jak i niezwykle modne zimne szarości. Co równie ważne – to rozwiązanie pozwoli na stworzenie ciekawej struktury na ścianie. Możemy łączyć elementy małe z większymi uzyskując różne wzory i faktury.

Płytki cegłopodobne to idealne rozwiązanie przede wszystkim do wnętrz o charakterze industrialnym. Świetnie sprawdzą się w pomieszczeniach, które stylistyką będą nawiązywać do loftów przemysłowych. Można wyłożyć nimi front baru, kuchennej wyspy lub część ściany. Popularnym rozwiązaniem jest również efekt odpadającego tynku, który za pomocą tych płytek można uzyskać w stosunkowo prosty sposób. Ściana z kamienia dekoracyjnego wykonanego tą techniką będzie idealnym podkreśleniem nowoczesnego wnętrza.
Dobrze zaaranżowane płytki cegłopodobne będą równie ciekawym elementem biura, jak i mieszkania prywatnego. Warto jednak przy tym zachować umiar i  ozdobić w ten sposób tylko jedną ścianę. Będzie ona mocnym elementem, który bez wątpienia przyciągnie wzrok każdego. Jeśli będziemy chcieli nieco ocieplić wygląd surowej cegły, można na tej samej płaszczyźnie postawić rustykalny kominek lub powiesić subtelny obraz. Takie łączenie stylów jest w cenie. Pozwala na stworzenie niepowtarzalnego i intrygującego wnętrza.
Elewacja z płyt ceramicznych
Kolejnym sposobem na stworzenie ściany z kamienia są płytki ceramiczne. Gres porcelanowy z pewnością nie jest pierwszą myślą, gdy wybieramy kamienie dekoracyjne na ścianę. A szkoda, bo jest to ciekawe i wyjątkowo wytrzymałe rozwiązanie. Właśnie z tego powodu zyskuje ono na popularności, coraz bardziej wypierając z rynku opisane wyżej kamienie elewacyjne.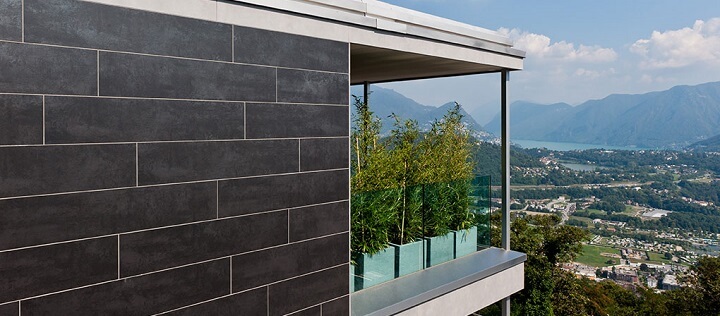 Zaletą gresu ceramicznego jest wspomniana wcześniej wytrzymałość. Są mrozoodporne, zatem sprawdzą się jako kamień dekoracyjny zewnętrzny. Łatwość utrzymania ich w czystości oraz ciekawe wzornictwo sprawiają, że coraz częściej można spotkać to rozwiązanie we wnętrzach.
Płyty ceramiczne do złudzenia mogą przypominać naturalny kamień, drewno lub surowy beton. Dzięki nim możemy uzyskać ciepłe, rustykalne wnętrze lub postawić na mocy akcent w postaci ściany nawiązującej do stylistyki postindustrialnej. Ten materiał daje nam również dużą łatwość mieszania i łączenia różnych stylów i faktur. Beton i kamień we wnętrzu najlepiej wyglądają w połączeniu z drewnianą podłogą. Obie te powierzchnie możemy wyłożyć płytkami gresowymi. Zmieniamy wtedy jedynie fakturę i kształt płyty, a nie materiał, z którego są wykonane.
Kamień dekoracyjny na ścianę zewnętrzną i wewnętrzną
Ściany dekoracyjne z kamienia są obecnie wyjątkowo modne. Naturalne piękno kamienia jest ponadczasowe, dlatego nie musimy przy tym obawiać się, że niedługo ta ozdoba będzie passé. Dobrym pomysłem jest stylistyczne połączenie tego, co na zewnątrz budynku z tym, co wewnątrz. Sposobem na to może być zastosowanie tego samego wzoru płytek na taras, jak i do salonu. Równie ciekawym rozwiązaniem będzie delikatne "wpuszczenie" kamienia elewacyjnego do domu. Dzięki temu te dwie przestrzenie w sposób harmonijny się łączą i uzupełniają, tworząc jedną, spójną całość.

Warto pamiętać, że przy wszystkich tych zabiegach możemy wykorzystać tę samą technologię: płytki betonowe lub gres porcelanowy. Ten ostatni będzie zdecydowanie lepszym rozwiązaniem, jeśli chcemy ten sam materiał położyć również na podłodze. Warto pamiętać, że na taras lub ścianę możemy wykorzystać płyty o tym samym wyglądzie, lecz o innej grubości. Będzie to zdecydowanie bardziej oszczędne rozwiązanie.
Różne techniki montażu
Pamiętać należy również i o tym, by dopasować technikę montażu do wybranego materiału oraz miejsca instalacji. Inaczej płyty powinny być montowane na zewnątrz niż w środku. Równie istotne są gabaryty płytek. Mniejsze z powodzeniem można przykleić na klej. Jednak większe płyty wymagają zastosowania metalowych klipsów lub stelaży aluminiowych. Na szczęście uzyskany efekt końcowy  jest na tyle ciekawy, że warto zdecydować się na tak efektowną dekorację w domu lub na zewnątrz.