Korytowanie gruntu oraz wyrównanie i profilowanie terenu – istotne etapy przygotowania podłoża przed brukowaniem
Kostka brukowa to ceniony materiał wykończeniowy stosowany w aranżacji przydomowej przestrzeni. Aby powstająca nawierzchnia była stabilna i trwała, konieczne jest wcześniejsze odpowiednie przygotowanie podłoża. W trakcie prac należy zwrócić uwagę m.in. na korytowanie gruntu oraz wyrównanie i wyprofilowanie terenu.
Korytowanie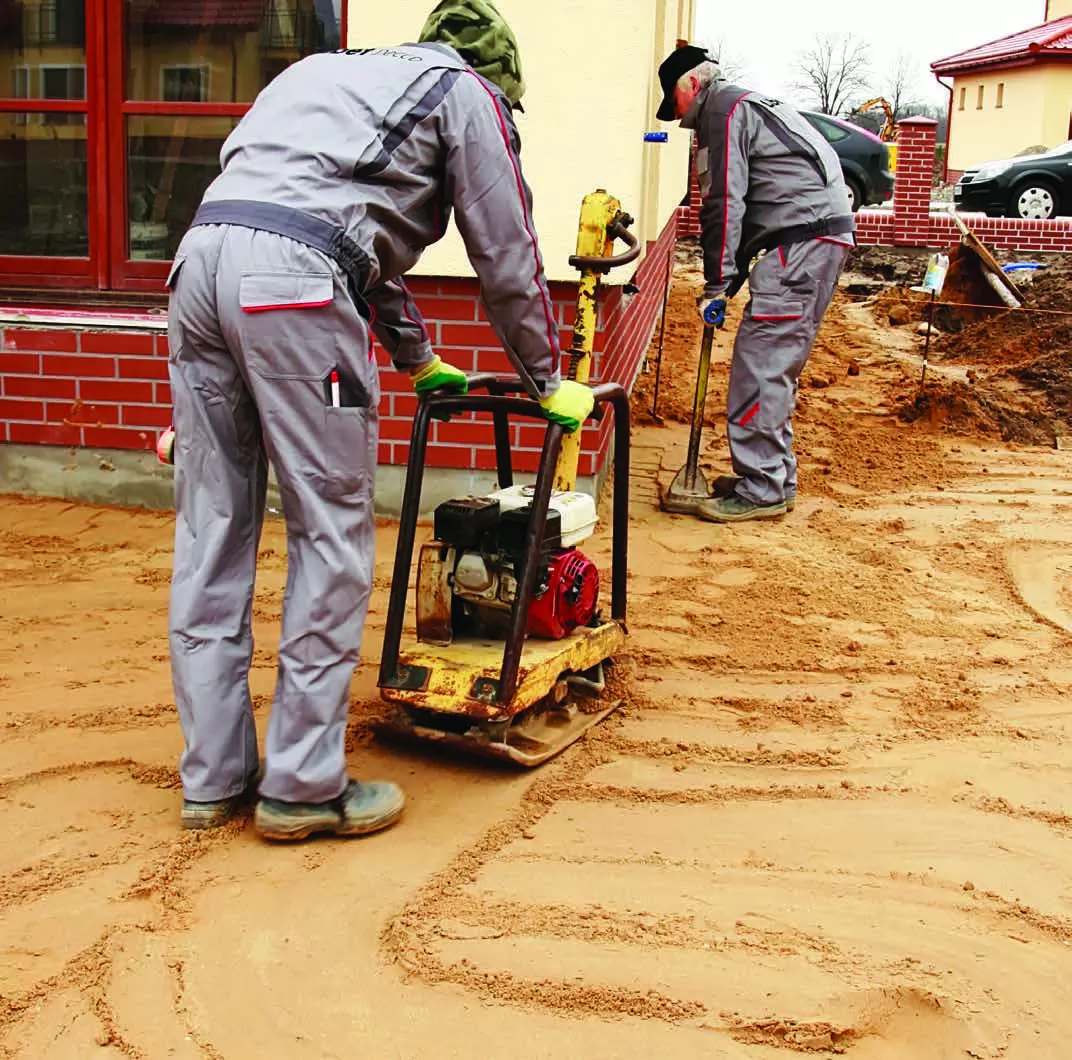 Pierwszym etapem prac związanych z korytowaniem gruntu jest wykopanie ziemi na powierzchni wytyczonej według projektu. Następnie należy usunąć humus i grunt rodzimy. Powinno to nastąpić do głębokości określonej ilością i grubością warstw podbudowy (najczęściej od 20 cm do 40 cm podłoża). Teren trzeba dokładnie oczyścić z korzeni. Roboty te realizuje się najczęściej za pomocą maszyn drogowych, np. spychacza, zgarniarki lub równiarki, a w przypadku niewielkich powierzchni poleca się wykonywać je ręcznie. Jeśli naturalną podbudowę stanowią grunty słabonośne, np. humusowe z zawartością części organicznych czy plastyczne gliny, należy je usunąć aż do warstwy względnie stabilnej, biorąc pod uwagę poziomy wód gruntowych w taki sposób, by nie znajdowały się one powyżej granicy przemarzania. Jeśli znajdą się pod tym poziomem, wówczas należy go obniżyć. Czasami, w przypadku gruntów wysadzinowych (intensywnie rozszerzających się podczas przemarzania), głębokość korytowania jest większa, a nadmiar usuwanej warstwy zastępowany jest kruszywem lub ziemią o lepszych właściwościach. Kiedy zajdzie potrzeba dodatkowej stabilizacji, wykonuje się ją, stosując np. mielony żużel, popiół lotny czy też cement. Podłoże naturalne można dodatkowo stabilizować i separować przy pomocy folii, geotkaniny lub geowłókniny.
Wyrównanie i wyprofilowanie terenu
W chwili, gdy powierzchnia zostanie należycie wykorytowana i ukształtowana zgodnie z niweletą przyszłego chodnika/tarasu, możliwe jest przejście do kolejnej istotnej czynności, którą jest wyrównywanie powierzchni gruntu rodzimego. W naturalnym podłożu konieczne jest wówczas wykonanie docelowych spadków i linii odwadniających nawierzchnię. Na tym etapie formuje się także poziomy przebieg chodnika/ tarasu/ drogi — wytycza się zakręty, krzywe przejściowe, rozjazdy. Nachylenie na powierzchni (spadek poprzeczny i podłużny) zależy od zaprojektowanych warunków odwodnienia i zawiera się zwykle pomiędzy 0,5 a 3%. Oznacza to odpowiednio obniżenie powierzchni o 0,5 cm do 3 cm na długości 1 m. Kolejną czynnością jest wyrównywanie terenu przy pomocy pospółki lub grubego piasku i ubijanie zagęszczarką lub walcem dna wykopu. W tym przypadku konieczne jest jednak uwzględnienie odpowiedniego wyprofilowania spadku poprzecznego 2-3%, spadku podłużnego 0,5% oraz przechyłki na łukach.