LIBET Stampo – kamień XXI wieku
Libet Stampo to seria oryginalnych elementów małej architektury wykonanych z betonu architektonicznego, tworząca wyjątkową kolekcję, która ozdobi niejedną posesję prywatną czy przestrzeń publiczną. Szeroki wachlarz zastosowań oraz wyjątkowe walory estetyczne czynią ze Stampo produkty idealnie uzupełniające aranżacje w stylu nowoczesnym i minimalistycznym.
Wyroby Libet Stampo to majstersztyk, gdy myślimy o staranności i dokładności wykonania. Produkty powstają bowiem metodą ręczną, niczym unikatowe dzieła sztuki. Ich perfekcja to zasługa naszej wiedzy i doświadczenia w tworzeniu tego typu elementów.
Stampo jest odzwierciedleniem modernistycznego piękna betonu architektonicznego i niepowtarzalnej struktury zastosowanego materiału. Wykorzystanie naturalnego surowca pozwoliło uzyskać niejednorodną kolorystykę, nierównomierne rozłożenie barw oraz charakterystyczne pory, będące odzwierciedleniem natury betonu. Występujące pustki i wżery, zawsze rozłożone są w sposób nieregularny, niejednorodny, o różnej intensywności i w zróżnicowanych ilościach. To właśnie w tych detalach tkwi piękno produktów z linii Stampo.
Te walory, jak również wysoka jakość mieszanki betonowej świadczą o oryginalności i wyjątkowości produktu, podnosząc tym samym jego wartość. Naturalne cechy betonu sprawiają, że każdy egzemplarz jest wyjątkowy i unikalny, nie ma dwóch jednakowych produktów.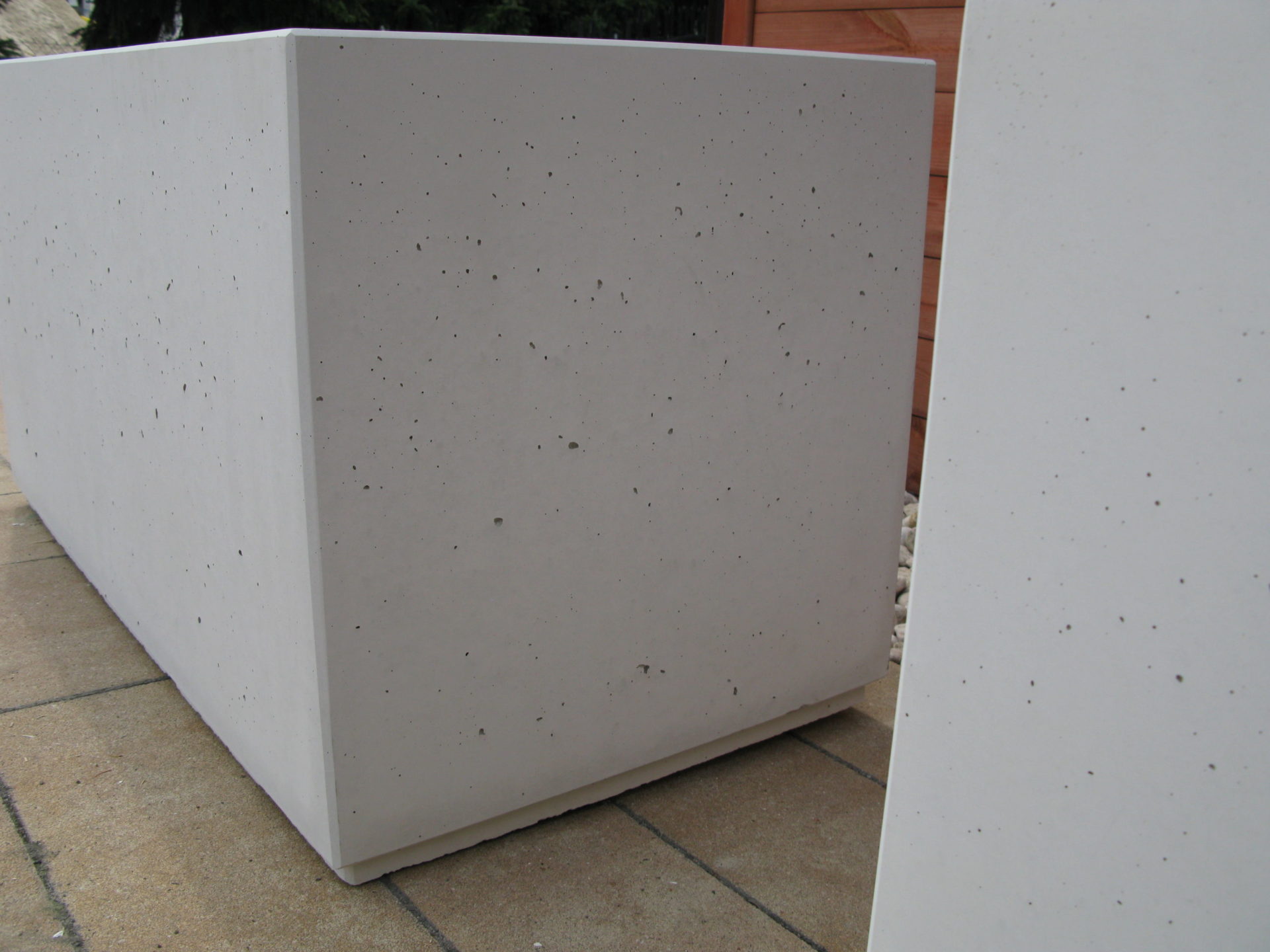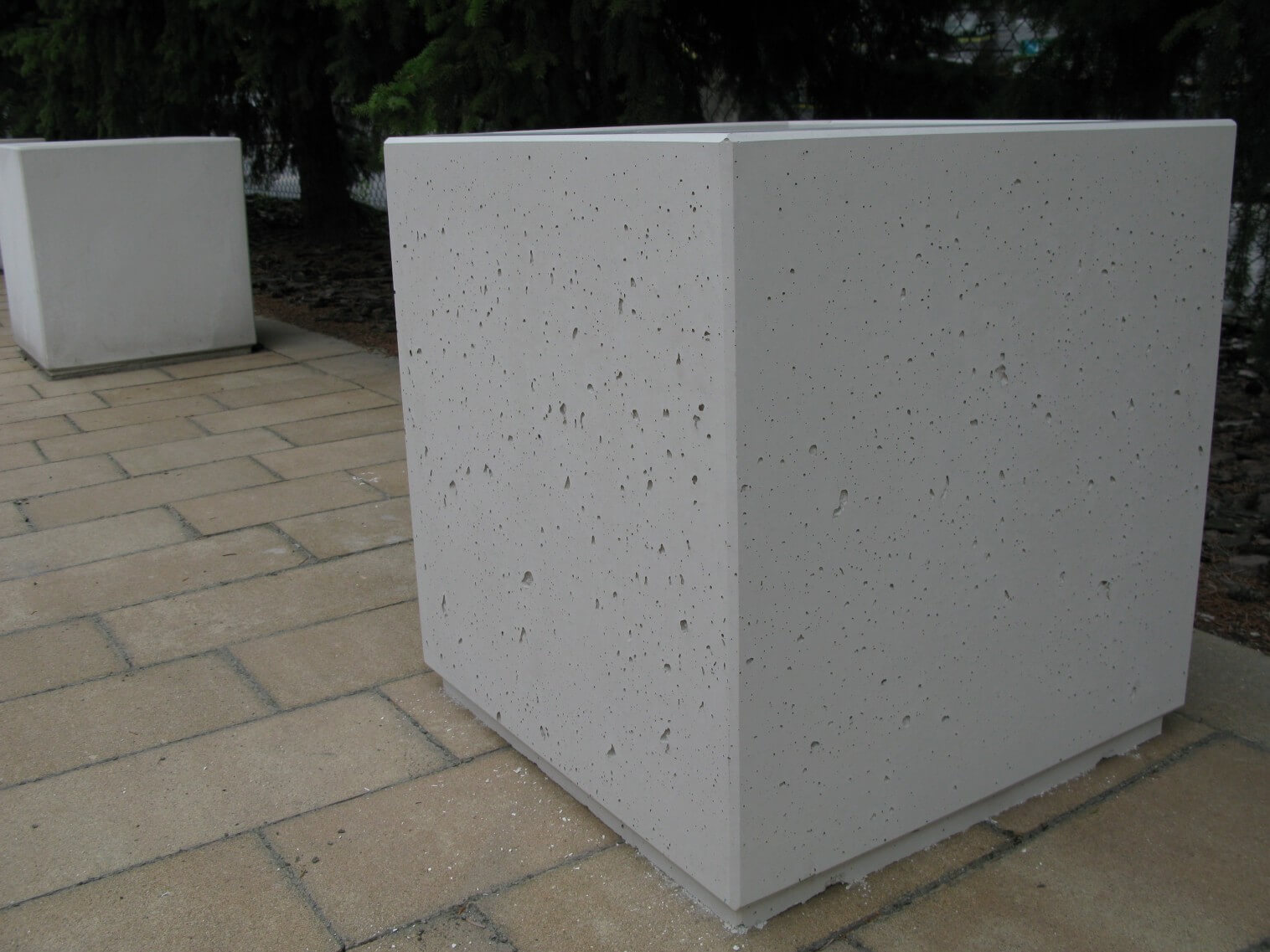 Alternatywą dla produktów z "surowego" betonu architektonicznego może być Stampo piaskowane. W takcie zabiegu piaskowania, struktura powierzchni ulega zmianie na skutek poddania jej strumieniowi piasku pod wysokim ciśnieniem. Zyskujemy dzięki temu matową, delikatnie szorstką i bardziej porowatą powierzchnię. Piasek pozwala także subtelnie odsłonić strukturę kruszywa. W przypadku elementów z mocno widocznymi porami po wypiaskowaniu ich struktura dodatkowo nabiera intensywności i wyjątkowości. Ponadto piaskowane produkty ułożone na gruncie (przeznaczone do utwardzenia np. ciągów dla pieszych) wykazują lepszą antypoślizgowość w porównaniu do "surowego" betonu architektonicznego.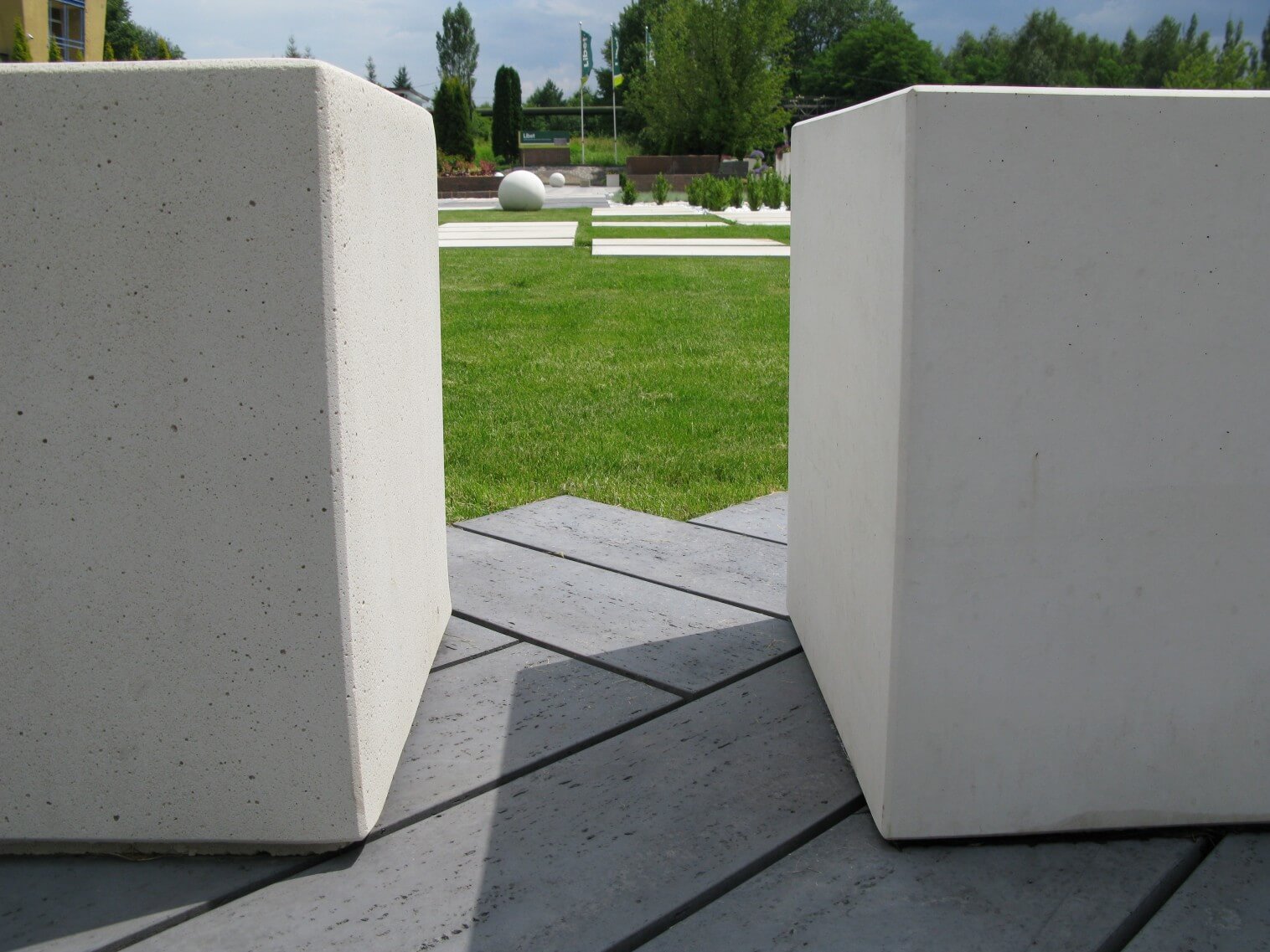 Produkty Libet Stampo to nie tylko estetyczna ozdoba, oryginalny detal, urozmaicenie otoczenia posesji – to także niezwykła funkcjonalność i szerokie możliwości zastosowania. Elementy z betonu architektonicznego mogą być stosowane w charakterze małej architektury ogrodowej i miejskiej, w budynkach mieszkalnych, jak i obiektach użyteczności publicznej, na zewnątrz, ale też wewnątrz. Dotychczas do aranżacji można była wykorzystać donice, sześcian, kulę i piłkę golfową w różnych rozmiarach.
W tym roku nowością w ofercie Stampo jest Plaster miodu. Jego urok tkwi w niepowtarzalnym, geometrycznym kształcie, dla którego inspiracją była struktura plastra miodu. Produkt jest dostępny w dwóch wersjach – pełnej, mogącej służyć jako praktyczne, designerskie siedzisko oraz ażurowej, idealnie sprawdzającej się jako nowoczesna ozdoba czy oryginalna donica.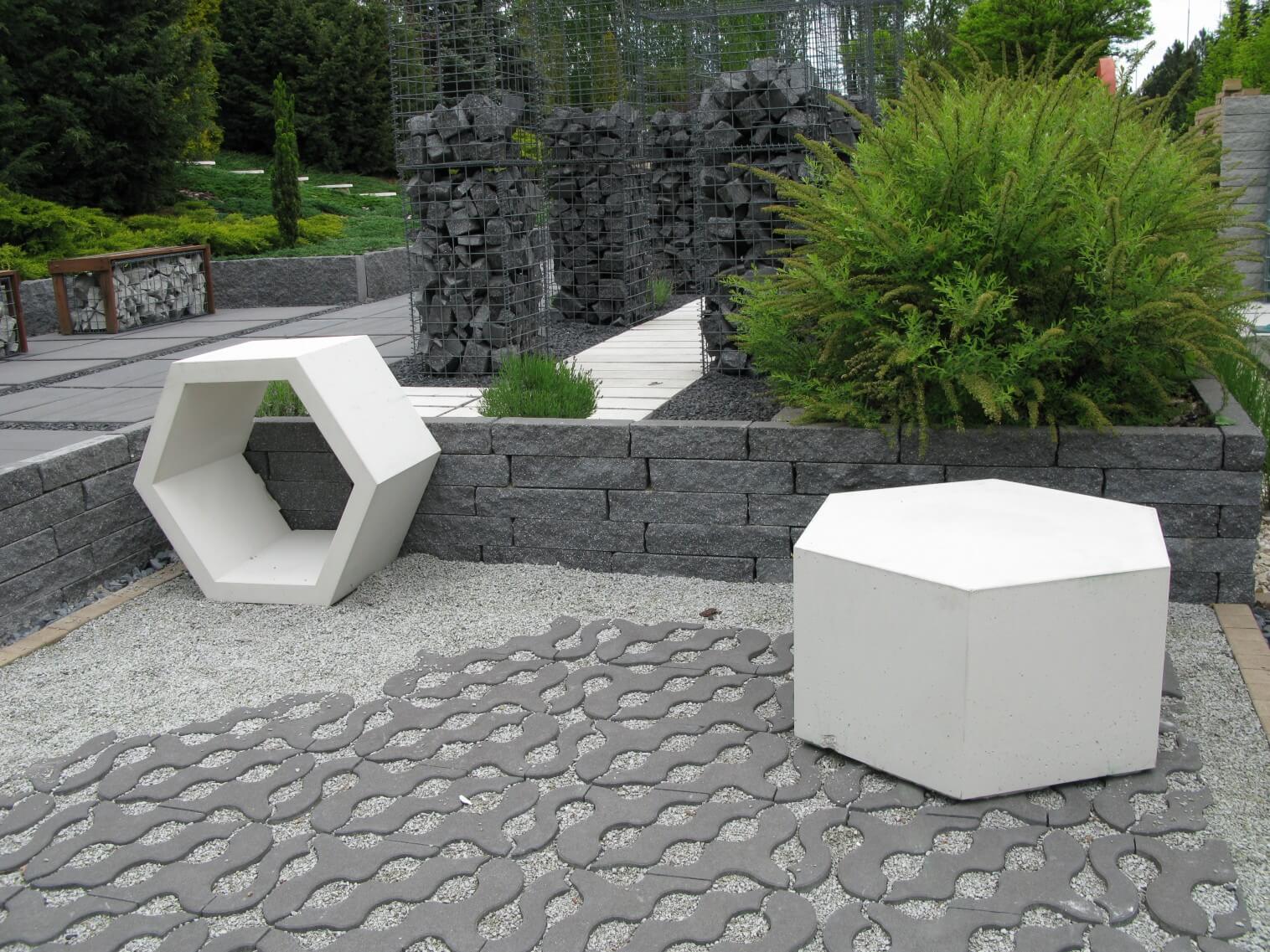 Otoczenie i warunki atmosferyczne, w jakich znajdują się betonowe rzeźby z linii Stampo, mają ogromny wpływ na odbiór ich formy i estetyki. Należy jendak pamiętać, że są to produkty powstałe z surowców naturalnych, dlatego przebarwienia i czasowe zmiany kolorystyki, powstałe w wyniku zmiennych warunków wilgotności powietrza, są cechą charakterystyczną betonu architektonicznego.
Dodatkowym atutem Libet Stampo jest fakt, że elementy wchodzące w skład linii są impregnowane już na etapie produkcji, co znacznie zmniejsza ich nasiąkliwość oraz ogranicza powstawanie zabrudzeń, jednak nie eliminuje ich w 100%. W przypadku pielęgnacji betonu architektonicznego nie należy jednak używać agresywnych środków czyszczących lub innych środków chemicznych wchodzących w reakcję z betonem lub impregnatem.
Libet Stampo to wyjątkowa kolekcja, z pomocą której w łatwy sposób możemy wyczarować niepowtarzalny klimat w prywatnym ogrodzie czy przestrzeni publicznej. Szeroki wybór elementów daje wyjątkowe możliwości aranżacyjne, dostarczając wiele pomysłów oraz estetycznych i funkcjonalnych rozwiązań. Innym ciekawym rozwiązaniem jest kamień ogrodowy Completto, który do złudzenia przypomina swój naturalny odpowiednik.