Na co zwracać uwagę, wybierając kostkę brukową?
Szerokie portfolio dostępnych obecnie materiałów nawierzchniowych sprawia, że często musimy się poważnie zastanowić, jakie produkty będą najlepiej pasowały do naszej posesji. Pamiętajmy, że idealna nawierzchnia powinna być nie tylko efektowna, ale też funkcjonalna i trwała. Na co zwracać uwagę, wybierając kostkę brukową?
Kluczowa jest komunikacja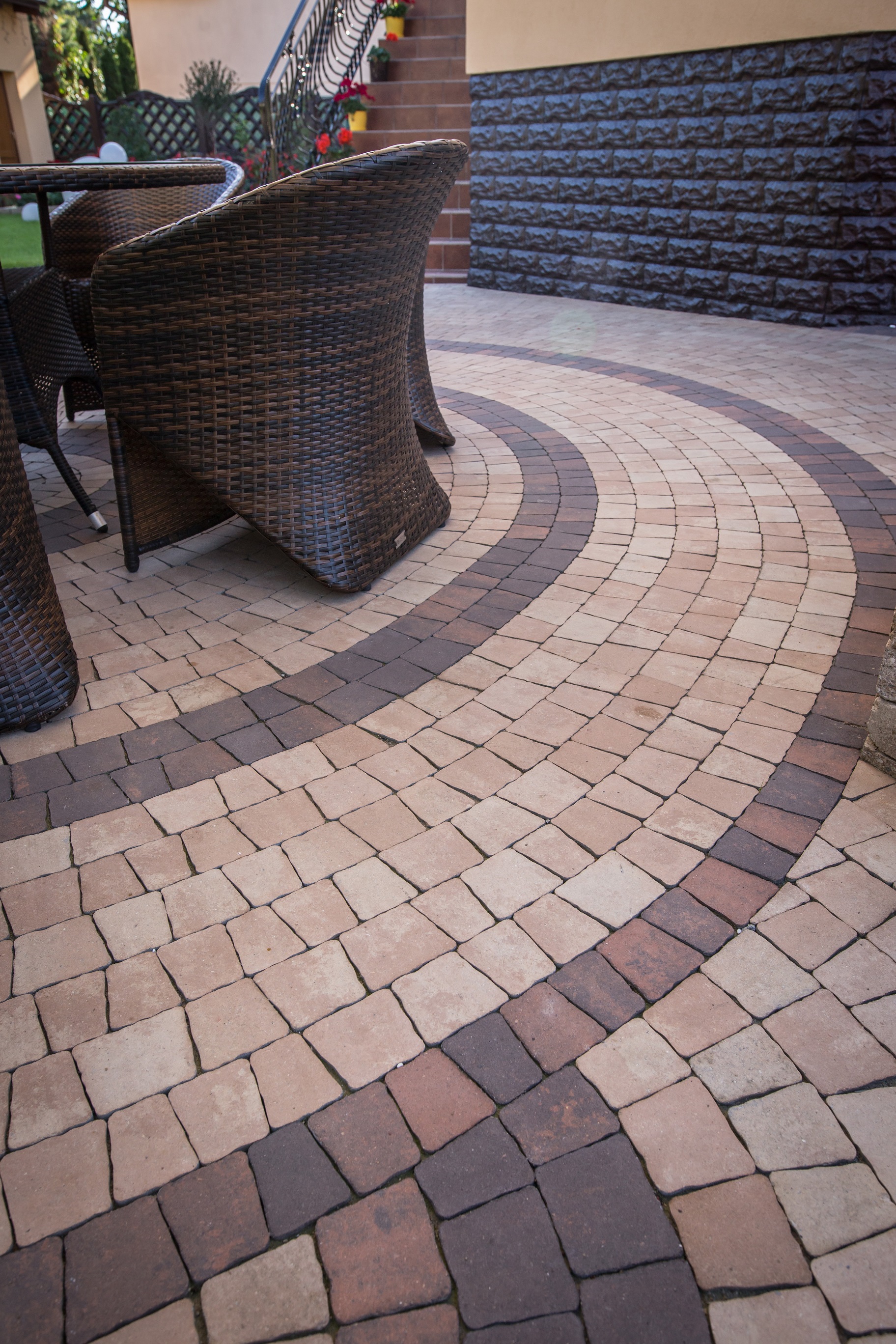 Przy urządzaniu przydomowej przestrzeni bardzo ważne jest odpowiednie wyznaczenie ciągów komunikacyjnych – ich kształtu, rozplanowania, wymiarów i wszystkich czynników, wpływających na komfort poruszania się po posesji. Ogrodowe ścieżki umożliwiają dostęp do określonych miejsc, stanowiąc jednocześnie element wizualny, który spaja je ze sobą. Nie trzeba więc przesadzać z tworzeniem rozbudowanych, skomplikowanych układów, chyba, że interesuje nas konwencja labiryntu. Istotnym ciągiem komunikacyjnym jest też tzw. opaska wokół domu. Jeśli chcemy ograniczyć się do wąskiego przejścia (np. 50 cm), możemy sięgnąć po drobne, urokliwe kostki. Dla wygody poruszania się wskazana jest jednak szerokość min. 70 cm.
W każdym przypadku współczesne kolekcje kostek umożliwiają nam kreację zarówno prostych, jak i bardziej skomplikowanych kompozycji. Do dyspozycji mamy bowiem całe systemy elementów w różnych rozmiarach, a także np. popularne produkty w kształcie trapezu, sprawdzające się przy projektach na bazie łuku czy koła. Pamiętajmy, że na efekt wykończenia niebanalny wpływ mają tu też prace wykonawcze, w tym bardzo ważne przygotowanie podbudowy, a także zwieńczenie ścieżki lub alejki materiałami obrzeżowymi. W zależności od ukształtowania terenu, wskazane może się okazać uzupełnienie ich o stopnie schodowe czy palisady. Dobrze jest zadbać o przemyślaną, spójną koncepcję całej takiej realizacji.
Newralgiczne strefy
Wybór kostki brukowej powinien przede wszystkim uwzględniać przeznaczenie stworzonej z jej pomocą nawierzchni. Ma to szczególne znaczenie w przypadku miejsc intensywnie eksploatowanych i narażonych na duże obciążenia. Na podjazdach czy parkingach nie sprawdzą się materiały cienkie (4-6 cm) i delikatne. Do ich stworzenia lepiej wykorzystać produkty o grubości minimum 8 cm, posiadające dodatkową ochronę przed wnikaniem substancji płynnych, takich jak olej silnikowy.
Dużą uwagę warto też poświęcić nawierzchni w miejscach stanowiących przestrzeń do zabawy dla dzieci. W trosce o ich bezpieczeństwo wybierzmy produkty o właściwościach antypoślizgowych, a jednocześnie niezbyt szorstkie, jak kostki wykonane w technologiach śrutowania i szczotkowania. Ich delikatnie chropowata struktura ogranicza ryzyko poślizgnięcia, a przy tym niweluje jego ewentualne skutki (otarcia).
Bogactwo możliwości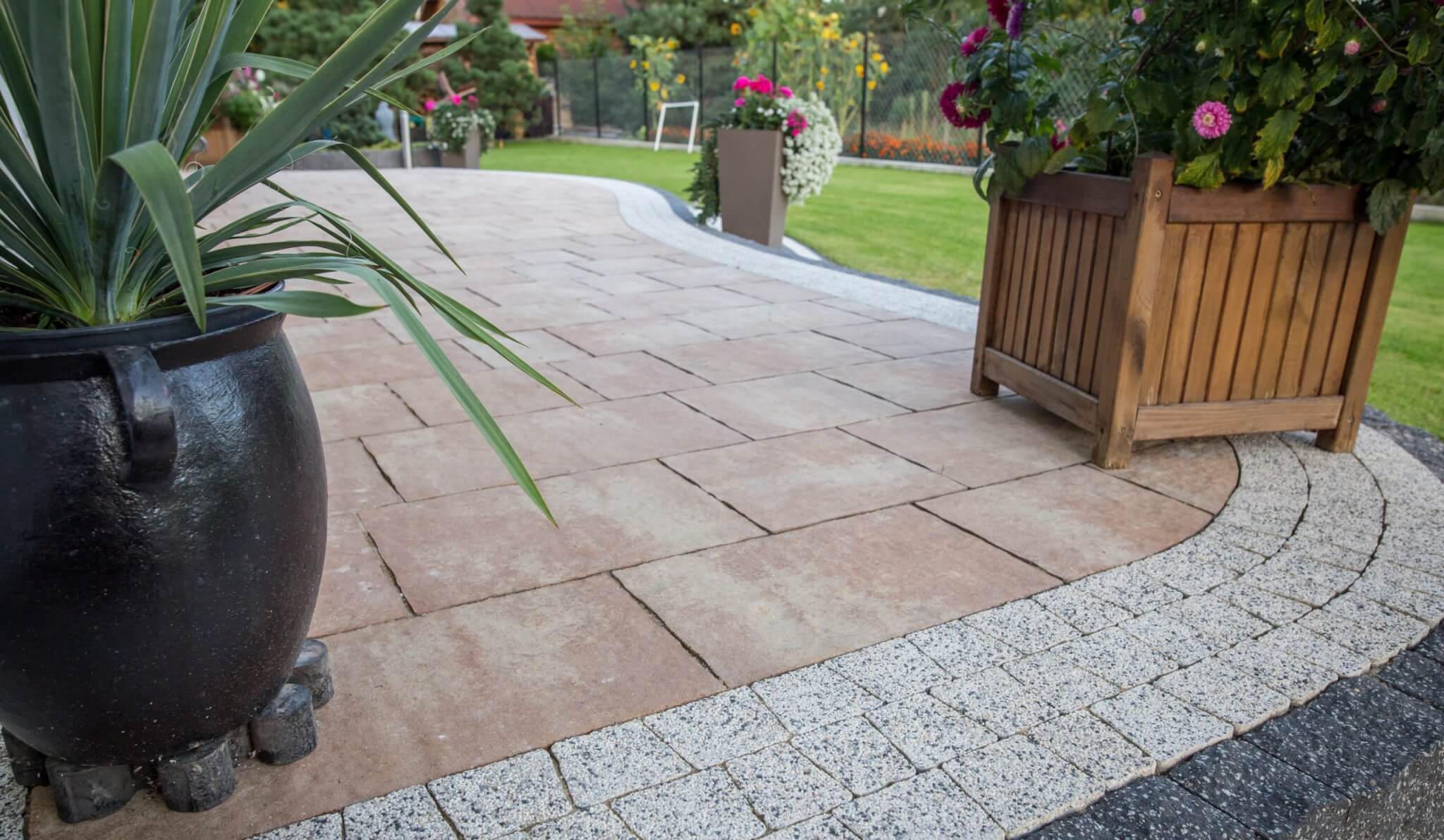 Różnorodność dostępnych formatów, barw, faktur i właściwości kostek brukowych stwarza niemal nieograniczone możliwości aranżacyjne. Dzięki specjalistycznym technologiom obróbki powstają całe kolekcje, wyróżniające się unikatowym dizajnem i pozwalające stworzyć oryginalną, dostosowaną do charakteru posesji przestrzeń. Przykładem tego potencjału kreacyjnego są specjalne grupy produktowe, dostępne w kolekcji Libet Decco. Chcąc wyeksponować na nawierzchni charakterystyczną strukturę kamienia naturalnego możemy więc sięgnąć po elementy powstałe w procesie płukania (z grupy Libet Decco Elegante). Niezmiennie popularny efekt staromiejskiego bruku to wyróżnik materiałów specjalnie postarzanych (Libet Decco Antico), a  wspomnianą chropowatą nawierzchnię stworzymy z pomocą wyrobów śrutowano-szczotkowanych (Decco Aspero). Warto też brać pod uwagę kolorystyczne dostosowanie nawierzchni do otoczenia. Można postawić na bogate melanże dostępne w linii Colormix lub na nowoczesny minimalizm typowy dla propozycji Monocolor.
Niezależnie od tego, na jaką kostkę się zdecydujemy, pamiętajmy, że otoczenie domu to w pewnym sensie jego przedłużenie, a co za tym idzie – musi zapewniać pełen komfort mieszkańcom. Dlatego również w tym przypadku liczą się kompleksowy projekt i fachowe wykonanie.