Nawierzchnie w oryginalnym wydaniu – kostki wykonane w technologii śrutowo-szczotkowej
Materiały nawierzchniowe wykorzystywane do zagospodarowania przestrzeni wokół domu powinny być nie tylko funkcjonalne, ale też atrakcyjne pod względem wizualnym. Chcąc stworzyć wyjątkowo wytrzymałą, a przy tym praktyczną i efektowną aranżację otoczenia posesji, warto sięgnąć po produkty o powierzchni śrutowo-szczotkowej.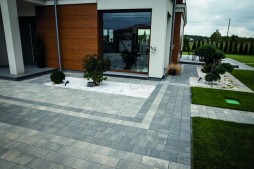 Metoda śrutowo-szczotkowa to jeden z najnowocześniejszych sposobów obróbki kostek brukowych. Polega ona na uderzaniu z bardzo dużą siłą w ich powierzchnię kuleczkami śrutu, które zmieniają strukturę betonu i odsłaniają naturalne kruszywa. Kolejny etap, czyli szczotkowanie, pozwala natomiast wygładzić i wyrównać elementy, przy jednoczesnym zachowaniu  pożądanej porowatości ich faktury. Uzyskana w ten sposób charakterystyczna, chropowata nawierzchnia nadaje kostkom niepowtarzalny wygląd. Dodatkowo, osiągnięty efekt wizualny skutecznie maskuje ewentualne zabrudzenia, a przy tym idzie w parze z komfortem i bezpieczeństwem eksploatacji. Kostki wykazują bowiem wysoki współczynnik antypoślizgowy, dzięki czemu znakomicie sprawdzają się zarówno w przestrzeniach publicznych, jak i prywatnych – w tym również w miejscach, gdzie bawią się dzieci.
Wyroby wykonane metodą śrutowo-szczotkową to propozycja, która powinna zainteresować nie tylko wielbicieli funkcjonalnych rozwiązań, ale również poszukiwaczy niebanalnych koncepcji aranżacyjnych. Przykładem takiego ciekawego rozwiązania jest Via Trio z kolekcji Libet Decco Aspero, czyli system oparty o trzy komplementarne rozmiary (27 x 18 x 8 cm, 36 x 18 x 8 cm i 45 x 18 x 8 cm) prostokątnych kostek, a dostępny aż w pięciu atrakcyjnych opcjach kolorystycznych. Ponadczasowa estetyka idzie tu w parze z wytrzymałością, co wpływa na szerokie możliwości zastosowania produktów – m.in. na ogrodowych ścieżkach, tarasach czy podjazdach. A dzięki niefazowanym krawędziom i chropowatej fakturze, te śrutowano-szczotkowane elementy wszędzie stworzą nawierzchnię, która będzie przyjazna dla użytkowników.