Nawierzchnie w szlachetnym wydaniu – kostki z grupy Elegante
Produkty inspirowane naturalnymi materiałami są chętnie wykorzystywane zarówno w aranżacjach wnętrz, jak i w projektach zagospodarowania przestrzeni wokół budynków. W trend ten doskonale wpisuje się kolekcja szlachetnych kostek brukowych Libet Decco Elegante. Dzięki specjalnej technologii obróbki (płukanie), charakteryzują się one elegancką, wysublimowaną strukturą i zróżnicowaną kolorystyką, pozwalając na uzyskanie wyjątkowego efektu wizualnego.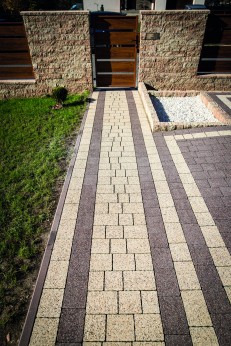 Charakterystyczna powierzchnia kostek z grupy Elegante mieni się różnymi barwami, umożliwiając stworzenie niepowtarzalnych kompozycji, które podkreślą urok każdej posesji. To efekt wykorzystania najwyższej jakości surowców i kruszyw, takich jak marmur czy granit. Specjalny proces produkcyjny, polegający na wypłukiwaniu pod ciśnieniem drobin betonu z zewnętrznej warstwy kostki, uwydatnia grubsze ziarna grysu o intensywnej barwie. Tym samym elementy uzyskują strukturę przełomu kamienia naturalnego, co nadaje im szlachetnego charakteru.
Eleganckie kostki w wielu wydaniach
Kolekcja Libet Decco Elegante to trzy wyjątkowe produkty – Akropol, Piccola oraz Quadra. Pierwszy z nich to system siedmiu kostek o komplementarnych wymiarach, dostępny w sześciu kolorach, utrzymanych w odcieniach brązu, szarości i czerni. Tak bogaty wachlarz barw i rozmiarów powoduje, że  Akropol może być wykorzystywany do tworzenia nawierzchni o różnorodnym przeznaczeniu, utrzymanych zarówno w nowoczesnej, jak i w klasycznej stylistyce. Z kolei niewielkie kostki Piccola, dzięki charakterystycznemu, trapezowemu kształtowi, doskonale sprawdzą się podczas układania skomplikowanych, niesymetrycznych wzorów. Ich atutem jest też szeroka paleta kolorystyczna, pozwalająca na tworzenie oryginalnych kompozycji. Miłośnicy prostoty powinni natomiast docenić kostki Quadra. Ich subtelna powierzchnia, w połączeniu z geometrycznym kształtem, sprawiają, że nawierzchnia jest estetyczna i funkcjonalna, a tym samym z powodzeniem może być układana zarówno w prywatnych ogrodach, jak i w przestrzeniach publicznych.
Produkty z kolekcji Libet Decco Elegante charakteryzują się nie tylko wyjątkowym wyglądem, ale też wysokimi parametrami technicznymi. Wykorzystanie do ich produkcji najlepszej jakości materiałów sprawia, że są odporne na skrajne warunki atmosferyczne. Dzięki zastosowanemu systemowi ochrony nawierzchni ALS (Anti Liquid System), są też chronione przed plamami i wykwitami.