Niezbędnik brukarza – kolekcja Libet Tools
Dobrze skompletowany przybornik narzędziowy to bardzo istotny element codziennej, niełatwej pracy profesjonalistów, reprezentujących rozmaite branże. Wychodząc naprzeciw oczekiwaniom brukarzy, firma Libet oferuje kolekcję Libet Tools, zawierającą najwyższej klasy chwytaki, imaki, młotki oraz inne przydatne rozwiązania.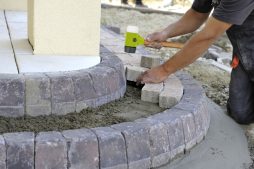 Dzięki odpowiednim przyborom nawet najbardziej skomplikowane prace można przeprowadzić szybciej i sprawniej, otrzymując w efekcie nawierzchnię – lub inną realizację – która zachwyci precyzją i jakością wykonania. W "niezbędniku" profesjonalisty powinny zatem znaleźć się narzędzia o różnym przeznaczeniu oraz dostosowane do różnorodnych warunków i sytuacji. Libet Tools to seria produktów, która powstała z myślą o doświadczonych specjalistach, poszukujących sprzętu najwyższej klasy. Wszystkie jej elementy zaprojektowano pod kątem specyfiki, parametrów i potrzeb materiałów nawierzchniowych, szczególnie tych obecnych w bogatym portfolio Libet. W kolekcji podstawowej znalazło się aż siedem typów chwytaków (ręczne, wzdłużny, poprzeczny, dwusuwakowy), małe i duże młotki brukarskie w obudowie z żeliwa sferoidalnego, a także imak do wyciągania kostki, przymiar i łom. Dodatkowo, na zamówienie producent oferuje również szereg innych, specjalistycznych narzędzi, w tym wyciągacz do prętów, listwy zgarniające, szalunek ślizgowy, wózek czy trzymak nożny do kostki. Niezwykle istotne jest, że sprzęt z serii Libet Tools wykonany został z najwyższej jakości materiałów i w oparciu o najwyższe standardy.
Narzędzia dla wymagających
Libet Tools to propozycja, która zasługuje na uwagę szczególnie ze względu na olbrzymią wszechstronność i różnorodność dostępnych elementów. Doświadczeni brukarze docenią tę kolekcję również dlatego, że narzędzia zostały zaprojektowane w taki sposób, by maksymalnie ułatwić i usprawnić użytkownikom pracę. Przykładowo, przymiar brukarski umożliwia precyzyjne dopasowanie kształtu kostki do miejsca, w którym ma być ułożona, a przy tym jest w stanie trzykrotnie przyspieszyć wykonywanie czynności związanych z jej trasowaniem i docinaniem pod kątem. Chwytak do płyt Libet Ceramic 60x60x2 cm pozwala z kolei na prosty i szybki montaż elementów, a także ułatwia sprzątanie oraz pozwala na bieżącą kontrolę stanu pod płytami i układanie tam instalacji kablowej w dowolnym momencie. Co więcej, jego obsługa odbywa się przy użyciu tylko jednej ręki. Następny z chwytaków – model dwusuwakowy o lekkim, aluminiowym profilu – wyróżniają takie walory, jak płynna regulacja, uchwyt na zasadzie samozacisku czy specjalne rączki, które zapewniają wysoką ergonomię pracy, ułatwiając przenoszenie materiałów. Chwytak wzdłużny do ręcznego i mechanicznego przenoszenia wielkogabarytowych płyt MAXIMA (800 x 800 x 80 mm) oraz innych produktów o wymiarach 600-1000 mm i maksymalnej grubości 100 mm, posiada uchwyty i dystanse, chroniące wyroby betonowe przed uszkodzeniami mechanicznymi. Nie sposób nie wymienić też zalet młotków Libet Tools, które wyróżniają się dużą wytrzymałością i twardością, nie wywołują reakcji odbicia, nadając się znakomicie do prac brukarskich, osadzania krawężników i płaskich bloczków, a także do wykonywania ogrodów i terenów zielonych. Mówiąc krótko: wszystkie narzędzia wchodzące w skład kolekcji umożliwiają bezpieczną, sprawną i precyzyjną pracę z różnymi materiałami nawierzchniowymi.
Aranżacja przestrzeni wokół budynku to zadanie, które wymaga fachowej wiedzy, doświadczenia i staranności, dlatego najlepiej jest powierzyć je specjalistom. Jeżeli korzystają oni z produktów Libet Tools, z powodzeniem mogą podejmować się rozmaitych, nawet bardzo ambitnych wyzwań.