Nowe szaty nawierzchni – jak wymienić kostkę brukową?
Wymiana brukowanej nawierzchni bez wątpienia jest zadaniem łatwiejszym, niż pierwsze jej układanie. Bogatsi w doświadczenie i wiedzę możemy trafniej wybrać nowe materiały oraz uniknąć typowych błędów, które często obniżają efektywność naszych prac.
Kostka brukowa należy do najbardziej solidnych i niezawodnych materiałów nawierzchniowych. Dlatego też wybierając określony produkt musimy liczyć się z tym, że będzie nam ona służyć przez wiele lat. Jednak często zdarza się, że mimo tego, iż brukowane podłoże nie uległo uszkodzeniu, to mamy ochotę na zamiany, które bardziej odpowiadać będą naszym wymogom estetycznym oraz aktualnym trendom. Jak przystąpić do tego zadania, aby szybko i sprawnie przeprowadzić cały proces? Na początku najważniejszy jest oczywiście wybór interesującej nas kolekcji. Bez względu na to, czy zależy nam na zmianie aktualnej kolorystyki, czy też chcemy wykorzystać elementy o innym kształcie, najlepiej poradzić się profesjonalistów, którzy pomogą nam urzeczywistnić nasz zamiar. Bogactwo dostępnych form i kolorów sprawia, że nawet wymieniając niedużą część nawierzchni możemy skutecznie odświeżyć wygląd naszej posesji. W takim wypadku również warto skorzystać z rady eksperta, który dobierze właściwą kolekcję oraz zaproponuje najkorzystniejszy sposób układania kostki. Aby mieć pewność, że projekt zostanie wykonany jak najlepiej, możliwe jest również skorzystanie z usług projektantów firmy Libet.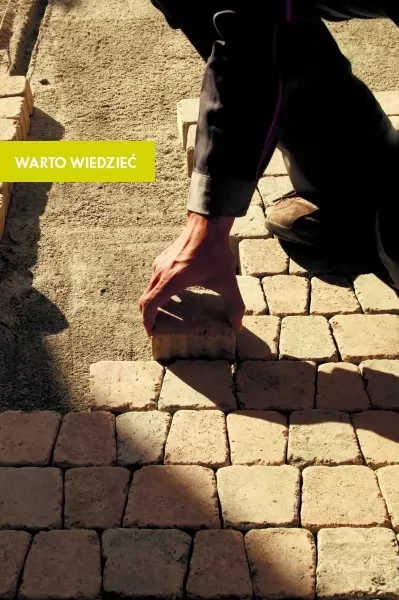 Pierwszym etapem wymiany nawierzchni będzie oczywiście zdjęcie obecnie położonych kostek. Najlepiej zacząć od samej krawędzi, delikatnie wzruszając gumowym młotkiem mocno osadzone elementy oraz w razie konieczności podważając je łomem. Jeśli usunięte kostki są w dobrym stanie, to nic nie stoi na przeszkodzie, by ułożyć z nich nawierzchnię w innej części posesji, czy wymurować z nich niewysokie murki lub stworzyć inne elementy małej architektury. Pozbawiona kostek podbudowa powinna być dokładnie oczyszczona ze starych elementów fug. Warto poświęcić także chwilę na rewizję stanu podbudowy. Jeśli znajduje się ona w złym stanie konieczna będzie jej wymiana, bądź chociażby skrupulatne uzupełnienie braków w podsypce. Kiedy grunt jest już właściwie przygotowany nie pozostaje nam nic innego, jak rozpoczęcie układania nawierzchni z nowo wybranego materiału.
Nawet jeśli dokonujemy tylko wymiany kostki brukowej, a nie decydujemy się na układanie jej w zupełnie nowym miejscu, warto jest korzystać z usług Certyfikowanych Firm Wykonawczych, którzy pomogą nam zrealizować projekt wymarzonej, a zarazem trwałej i solidnej nawierzchni.