Nowoczesne rozwiązania w aranżacji przestrzeni wokół domu
(artykuł gościnny)
Własny ogród jest marzeniem wielu osób. Mowa tu nie tylko o skrawku własnego trawnika i miejscu do swobodnego odpoczywania na leżaku. Przestrzeń wokół domu powinna być zaaranżowana tak, by zapewniać domownikom jak najwięcej komfortu i wygody. Musi zachwycać, być nowocześnie urządzona i dostarczać rozwiązań, które zachęcają do spędzania w niej wolnego czasu.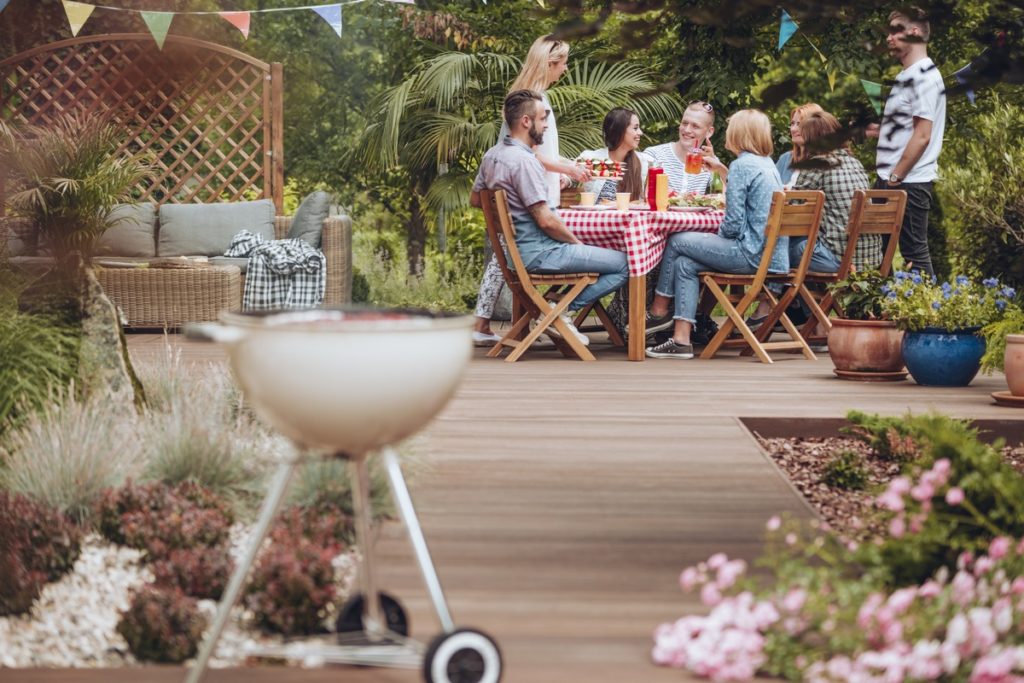 Własny zbiornik wodny w ogrodzie
Wielu inwestorów podczas aranżowania przestrzeni wokół domu decyduje się na stworzenie zbiorników wodnych o różnych funkcjonalnościach. Mogą to być:
niewielkie oczka wodne,
dekoracyjne fontanny lub nawet małe wodospady,
baseny.
Wybór konkretnego rozwiązania zależy w dużej mierze od powierzchni ogrodu oraz dostępnych środków finansowych. Własny basen – choć niezwykle efektowny i zapewniający domownikom możliwość aktywnego wypoczynku – jest jednak drogi i wymaga dość dużej ilości miejsca. Niewielkie oczko wodne z małą fontanną możemy zaaranżować niemal wszędzie. Funkcje tych zbiorników wodnych są zgoła różne, ale z pewnością stanowią ciekawą inspirację i możliwość zaznania chwili relaksu.
Patio w ogrodzie
Ogród powinien służyć m.in. do wypoczynku z bliskimi czy organizowania rodzinnych wydarzeń. Może pełnić także funkcję reprezentacyjną, jeśli chcemy podejmować w nim gości, a nawet prowadzić rozmowy biznesowe. Niezastąpiona w takich sytuacjach jest specjalnie wydzielona strefa, w formie patio, tarasu czy przestrzennej altany. Atrakcyjnym i jednocześnie funkcjonalnym dopełnieniem takiej strefy jest dach, choć oczywiście nie jest on konieczny. Może być wykonany z ażurowej tkaniny lub nawet z drewna. Nawierzchnia także może być drewniana, ale ciekawym rozwiązaniem jest wykorzystanie otoczaków, kamiennych brył, piasku lub popularnych płyt betonowych i ceramicznych. Wewnątrz nie może zabraknąć komfortowych mebli ogrodowych oraz dodatków: poduszek, donic z kwiatami czy dekoracyjnych latarenek.
Palenisko lub grill w ogrodzie? Czemu nie!
Ogród to też miejsce, gdzie chętnie urządzamy dla domowników i znajomych outdoorowe biesiady. Możemy przy tym korzystać z popularnych grilli lub pójść o krok dalej. Stworzenie specjalnego miejsca na palenisko w ogrodzie sprawi, że każde spotkanie zyska niesamowitego klimatu i charakteru. Zamiast dość zwyczajnego dołu otoczonego kamieniami warto postawić przy tym na misę paleniskową czy nawet stałą zabudowę w formie ogrodowego kominka. Prezentują się one niezwykle efektownie, a dodatkowo są funkcjonalne i ułatwiają późniejszą eksploatację i sprzątanie. Z kolei miłośnicy włoskiej kuchni powinni rozważyć budowę profesjonalnego, kamiennego pieca do robienia pizzy – naturalnie opalanego drewnem. Dzięki niemu każdy placek wyjdzie perfekcyjnie i wszyscy goście zwrócą na niego uwagę. To świetny pomysł, który sprawdzi się zarówno na rodzinnej imprezie, jak i spotkaniu biznesowym w zaciszu własnego ogrodu. Naturalnie tuż obok powinien stanąć zestaw mebli ogrodowych.
Posiadanie własnego ogrodu rodzi tysiące pomysłów na jego aranżację. Wybierajmy rozwiązania, które umożliwią nam swobodny odpoczynek, rekreację i wspólne spędzanie czasu z rodziną. Niemniej ważna jest ich estetyka oraz funkcjonalne rozmieszczenie w całej przestrzeni. Zbyt wiele elementów na niewielkiej powierzchni może wprowadzić nieład i nieprzyjemne wrażenie przytłoczenia.
Materiał powstał we współpracy z gethome.pl – portalem mieszkań, domów i działek na sprzedaż i wynajem.