NOWOŚĆ: Płyty gresowe EVO_2/E™ z linii Libet Ceramic
Od niedawna do naszej oferty dołączył produkt, który pozwala odkrywać nieznane dotąd możliwości aranżacyjne, dopełniając każdą przestrzeń nutą włoskiego stylu i elegancji. Ponadto jego wysokie parametry techniczne zadbają o nieskazitelny wygląd każdej nawierzchni, pozwalając cieszyć się estetycznym otoczeniem domu przez długie lata. O najnowszej kolekcji płyt gresowych EVO_2/E™ z linii Libet Ceramic, odznaczających się zarówno efektownym designem, jak i wytrzymałą budową, opowiada Maciej Pańczyk.
Nowa kolekcja włoskich gresów porcelanowych EVO_2/E™ z linii Libet Ceramic to materiał na miarę najbardziej przyszłościowych rozwiązań. Każdy z wchodzących w jej skład elementów to połączenie stylu, funkcjonalności oraz nowoczesnej technologii. Ta unikatowa kolekcja, stworzona z myślą o najbardziej wymagających odbiorcach, zainspirowana została obecną w naturze harmonią form i kolorów. Dwudziestomilimetrowe płyty z kolekcji EVO_2/E™ wyprodukowano z odznaczonego certyfikatem Ecolabel gresu porcelanowego. Dzięki temu pozwalają one stworzyć przyjazną środowisku, elegancką oraz niebywale wytrzymałą na obciążenia i uszkodzenia mechaniczne nawierzchnię, która wzbogaci wygląd otoczenia naszego domu, a także doda szyku dowolnej przestrzeni publicznej. Ponadto płyty te odznaczają się stuprocentową mrozoodpornością oraz bardzo wysoką tolerancją względem dużych wahań temperatury, zachowując swoje wszystkie właściwości zarówno przy -50oC, jak i +60oC. Kolekcja EVO_2/E™ to także synonim wszechstronności oraz nieograniczonych możliwości. Z ich pomocą ujmiemy w gustowne ramy przydomowy basen, stworzymy efektowną strefę wypoczynkową w ogrodzie, ułożymy sieć szlaków komunikacyjnych w minimalistycznym stylu, zbudujemy wytrzymałe schody, a nawet wykończymy wnętrze i fasady naszego domu. Jako w pełni nowoczesny produkt, płyty gresowe z kolekcji Libet Ceramic spełniają najwyższe normy bezpieczeństwa, charakteryzując się wysoce antypoślizgową oraz praktycznie nieścieralną powierzchnią, a także wysokim stopniem ognioodporności. Są także niepodatne na negatywny wpływ silnych środków chemicznych oraz korozję biologiczną.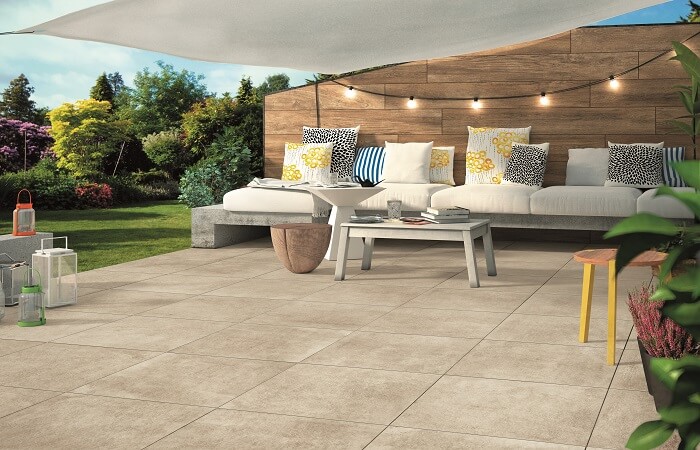 Wykorzystując elementy z kolekcji EVO_2/E™ zapewnimy sobie estetyczne oraz łatwe w pielęgnacji wykończenie otoczenia domu. Proste zarówno w montażu, jak i demontażu płyty z biegiem lat nie będą wymagać impregnacji, konserwacji, ani żadnych dodatkowych prac renowacyjnych, poza sezonowym oczyszczaniem myjką ciśnieniową. Poszczególne płyty można montować bezpośrednio na trawie, żwirze, piasku, przy pomocy kleju oraz na wspornikach tarasowych. Ponadto szereg elementów uzupełniających pozwoli nam stworzyć efektywne i spójne wykończenie dowolnej przestrzeni. Płyty z kolekcji EVO_2/E™ podzielone są na trzy główne kategorie, dające efekt kamienia naturalnego, drewna, bądź betonu. Bez względu na to, w jakim stylu zaprojektowane zostało otoczenie naszego domu, dobierając dowolny rodzaj płyt gresowych z linii Libet Ceramic zamienimy przydomową nawierzchnię w najbardziej efektowny element całej posesji.