O czym pamiętać układając kostkę brukową?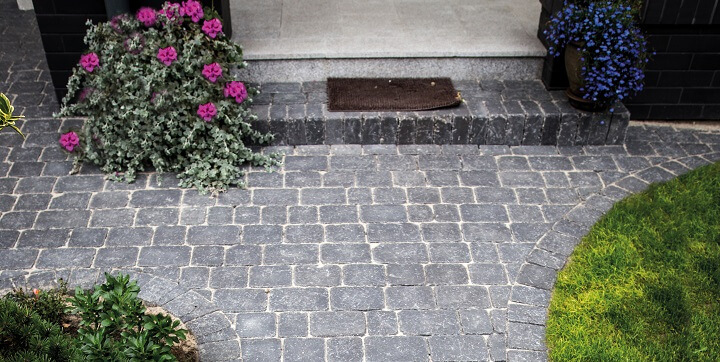 Materiały, które odznaczają się wyjątkową wytrzymałością, coraz częściej wybierane są dla dopełnienia aranżacji przestrzeni wokół naszego domu. Niemniej, aby ułożona z kostki brukowej nawierzchnia mogła cieszyć nasze oczy przez wiele lat, ważne jest, by już na samym początku wystrzegać się istotnych błędów i niedopatrzeń. Jaki jest zatem przepis na nieskazitelne wykończenie posesji? Odpowiedź jest bardzo prosta – innowacyjne i trwałe produkty oraz fachowe wykonawstwo.

Zdarza się, że najwięcej czasu poświęcamy na wybór materiałów, po macoszemu traktując już samo układanie nawierzchni. Tymczasem aby w pełni i przez wiele lat mogła ona zachować swoje parametry techniczne oraz wygląd ważne jest, by ze szczególną uwagą przystąpić do prac związanych z wykończeniem posesji. Przede wszystkim zadanie to najlepiej powierzyć certyfikowanym wykonawcom, którzy dzięki doświadczeniu będą w stanie sprawnie oraz bezbłędnie zrealizować projekt nawierzchni. A oto kilka najważniejszych aspektów, które powinno się wziąć pod uwagę zarówno przy wyborze, jak i układaniu samej kostki.
1. Rodzaj podłoża, na którym będzie układana kostka brukowa
Na samym początku należy sprawdzić, jaki rodzaj gruntu dominuje na naszej działce oraz zbadać, czy jest on na tyle nośny, aby mógł przyjąć obciążenia wynikające z użytkowania nawierzchni. W zależności od tego, czy podłoże jest piaszczyste, czy też bardziej zwarte, trzeba będzie zastosować odpowiednią konstrukcję podbudowy, tak, aby dostosowana była ona zarówno do intensywności oraz rodzaju obciążenia, jak i do stanu wód gruntowych, a także systemu odwodnieniowego, gdyż przy szczególnie gliniastej i nieprzepuszczalnej ziemi może w przyszłości pojawić się problem z odprowadzaniem wody.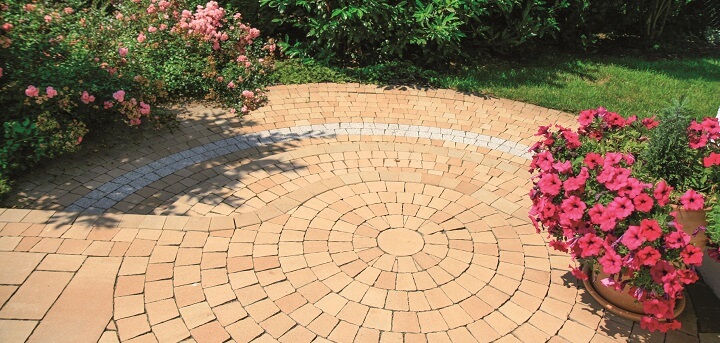 Absolutną koniecznością jest także właściwe wypoziomowanie gruntu oraz wykonanie spadków w celu odwodnienia podbudowy. W innym wypadku poszczególne elementy będą się z czasem przemieszczać, tworząc szpecące, a nawet niebezpieczne luki, koleiny i rozpadliny. Konieczne jest również zachowanie/wykonanie odpowiedniego spadku także na nawierzchni (min. 2%), dzięki temu zadbamy o szybkie i właściwe odprowadzanie wody m.in.: w czasie deszczu.
2. Wybór odpowiedniej kostki brukowej
Choć najchętniej kierowalibyśmy się tylko i wyłącznie estetyką, to aby z biegiem lat uniknąć zniszczenia nawierzchni warto zapoznać się ze specyfiką danego produktu. W zależności od tego, czy zdecydujemy się na płyty gresowe, tarasowe, kostki o postarzanej fakturze, ażurowe, czy też o powierzchni śrutowanej koniecznie należy przeanalizować, jak zachowują się one podczas wieloletniego użytkowania, w jaki sposób właściwie je pielęgnować oraz jak często poddawać impregnacji.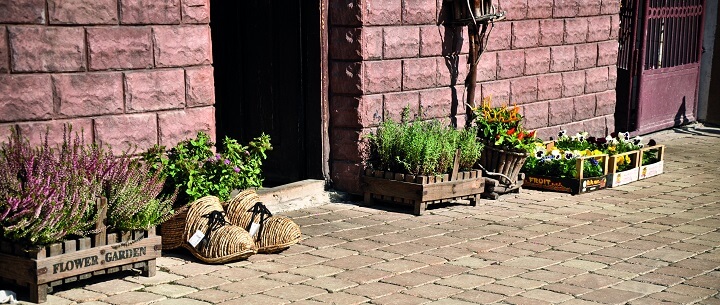 Niewłaściwe użytkowanie oraz konserwowanie poszczególnych typów nawierzchni może spowodować, że szybko stracą one swój pierwotny blask. Na stan naszej nawierzchni może również mieć wpływ miejsce wykorzystania konkretnych materiałów. Na przykład, jeśli zależy nam by stworzyć solidne oraz odporne na intensywną eksploatację podłoże dla przydomowego podjazdu warto wykorzystać produkty, które dostępne są również w grubości 8 cm.
3. Intensywność eksploatacji
Bardzo istotne jest także miejsce użycia danego materiału, gdyż różne części posesji są w różnym stopniu narażone na zabrudzenia i uszkodzenia. Na tarasie najlepiej sprawdzą się na przykład duże płyty z linii Libet Ceramic, które są bardzo wytrzymałe, wszechstronne, łatwe w pielęgnacji oraz bardzo odporne na czynniki atmosferyczne.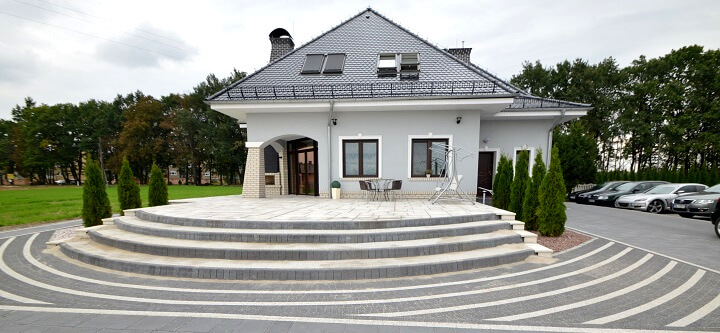 Natomiast budując podjazdy należy wybrać nie tylko solidne materiały, ale i zadbać o odpowiednio dopasowaną względem przyszłych obciążeń podbudowę. Można również zdecydować się na grube i masywne elementy, które stworzą stabilne oparcie dla ciężkich pojazdów. Kręte ogrodowe ścieżki z łatwością wyłożymy natomiast solidną kostką trapezową, taką jak Romano z kolekcji Libet Decco Antico.
4. Sposób układania kostki brukowej
Duży wpływ na trwałość nawierzchni ma także sposób, w jaki będziemy kostkę układać. Ważne jest, aby dokładnie podążać za wytycznymi projektu konstrukcji podbudowy, gdyż dodawanie własnych zmian może przynieść niekorzystne efekty. Fundamentalne znaczenie ma podbudowa, która powinna być równa, jednolicie pokryta kolejnymi warstwami oraz dopasowana do specyfiki nawierzchni, a także intensywności jej użytkowania. Zaniedbania na tym etapie mogą skutkować niestabilnością oraz nieatrakcyjnym wyglądem gotowego podłoża.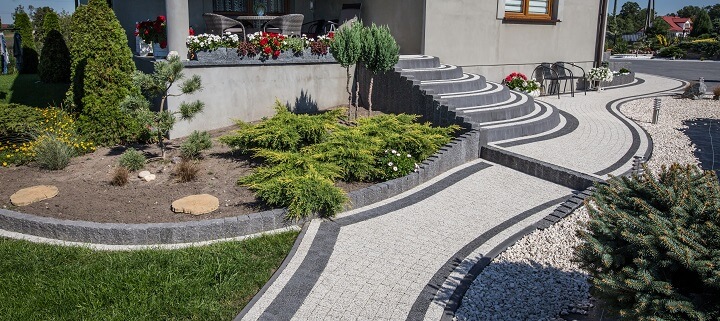 Wszystkie produkty należy docinać specjalnymi piłami, które posiadają odpowiednie tarcze, dostosowane do rodzaju ciętego materiału. Pośród nich najbezpieczniejsze i najdokładniejsze są piły stołowe, które warto wykorzystać zamiast popularnej gilotyny, często nie dającej zadowalających efektów estetycznych.
Nie zalecamy, aby docięte kawałki były mniejsze niż połowa standardowej kostki, gdyż w przeciwnym razie ryzykujemy znaczne obniżenie jej parametrów technicznych. Nie bez znaczenia pozostaje także szerokość spoin. Zbyt ciasno ułożone kostki będą z czasem napierać na siebie i w rezultacie pękać. Z kolei pozostawianie zbyt dużych przestrzeni nie zagwarantuje odpowiedniej integralności oraz wytrzymałości nawierzchni.
Dbałość o wykonaną nawierzchnię
Właściwie dobrane i fachowo ułożone materiały nawierzchniowe mogą na lata stać się wizytówką naszego domu, która spowoduje, że o każdej porze roku nasza posesja będzie prezentować się idealnie. Niemniej aby tak się stało, należy kłaść duży nacisk na profesjonalizm wykonywanych usług, a także szczegółowo przemyśleć wybór odpowiednich produktów. Dzięki temu zyskamy pewność, że ani czas, ani niekorzystne czynniki zewnętrzne, ani intensywne użytkowanie nie wpłyną na estetykę i trwałości brukowanych motywów.