Ogród jesiennym okiem – jak przygotować posesję do zimy?
Ostatnie słoneczne dni to idealny czas, aby przygotować nasz ogród do zbliżającej się dużymi krokami zimy. Koniec sezonu jest bowiem doskonałą okazją na to, by przywrócić posesji blask, a także zdecydować się na posadzenie nowych roślin. Dlatego też warto dowiedzieć się, jakie jesienne prace powinny znaleźć się w grafiku każdego sumiennego ogrodnika.

Przygotowania do zimy i przyszłej wiosny
Krótsze dni, niższe temperatury oraz znacznie bardziej kapryśna aura to nieodzowne zwiastuny zimowych miesięcy. Jednak zanim na dobre zawitają do nas mrozy wciąż możemy spędzać czas wolny na świeżym powietrzu. Jesień jest bowiem wyjątkowo ważną porą roku w ogrodniczym kalendarzu. To właśnie wtedy należy przede wszystkim zadbać o estetyczny wygląd przydomowych gruntów, odpowiednio zabezpieczyć rośliny, przygotować nawierzchnię oraz zasadzić część roślin, które rozkwitać będą w nowym sezonie. Rozpoczynając przygotowania do zimy warto w pierwszej kolejności dokładnie zagrabić wszystkie zalegające na posesji liście i czynność tą powtarzać regularnie.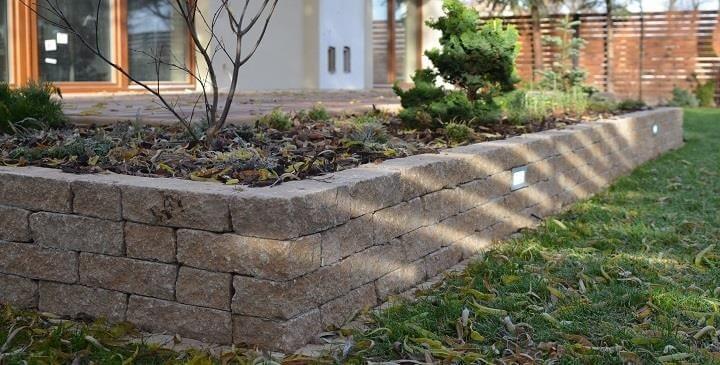 Zanim rosnące nieopodal domu drzewa na dobre pozbędą się liści możemy skierować naszą uwagę ku roślinności, którą chcielibyśmy podziwiać na wiosnę. Schyłek lata to idealna pora na sadzenie zarówno drzew i krzewów, jak i dwuletnich roślin ozdobnych, takich jak:
dzwonki,
malwy,
niezapominajki,
stokrotki.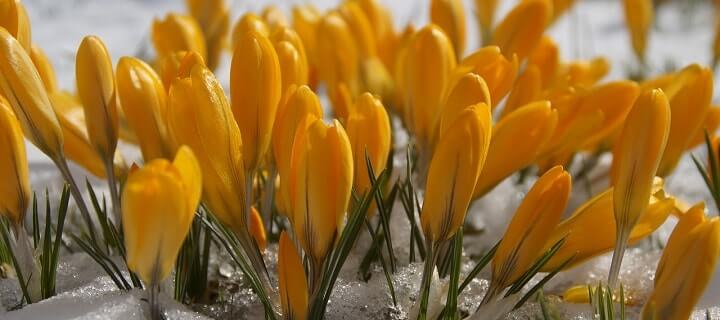 Wraz z nadejściem cieplejszych miesięcy szybko się one ożywią i ozdobią feerią barw nasz trawnik. Pozbawione intensywnych upałów dni i wciąż łagodne noce sprawią, że rośliny te rozwiną swoje korzenie i po stopnieniu śniegów szybko wypuszczą nowe pędy. Bardzo istotne jest również to, aby delikatne gatunki pokryć ściółką, przysypać korą drzewną, owinąć słomą lub też płótnem, co uchroni je przez negatywnym działaniem skrajnie niskich, zimowych temperatur.
Przygotowanie kostki brukowej do zimy
Oczywiście piękny ogród to nie tylko rośliny, ale i nawierzchnia, która także wymaga odpowiedniego przygotowania przed nadejściem zimy. Na szczęście jeśli wokół naszego domu dominuje kostka brukowa nie musimy się przesadnie martwić, iż niskie temperatury i długotrwała wilgoć w jakikolwiek sposób ją uszkodzą.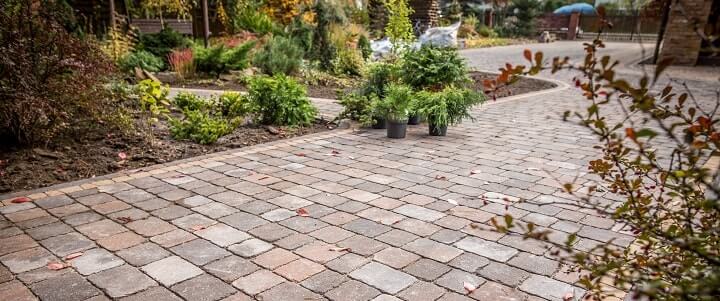 Betonowe materiały nawierzchniowe firmy Libet już na etapie produkcji są dodatkowo zabezpieczane specjalnym systemem ALS (Anti Liquid System), który ogranicza powstawanie na nich plam, przebarwień, wykwitów czy zazielenień, ułatwia utrzymanie czystości i wpływa na trwałość kolorów. Jesienią warto jednak solidnie pozamiatać wybrukowany teren oraz oczyścić powierzchnię kostek myjką ciśnieniową, ponieważ długotrwale zalegające liście mogą wywołać trudne do usunięcia plamy. W niektórych przypadkach warto również zastanowić się nad impregnacją nawierzchni.
Dzięki kilku prostym zabiegom poprawimy stan naszej posesji przed zimą, a także skrócimy czas prac porządkowych, sprawiając, że wiosną szybko będziemy mogli podziwiać rozkwitające na nowo piękno naszej posesji. Więcej na ten temat w artykule "Jak przygotować nawierzchnie na nadejście zimy?".