Ogród zadbany w każdym szczególe – produkty z serii Libet Completto
Perfekcyjną aranżację domu i jego otoczenia poznaje się po detalach. W ogrodzie to właśnie odpowiednio dobrane i wykonane ogrodzenia, schodki, murki, palisady czy krawężniki spajają kompozycję posesji w harmonijną całość. W stworzeniu funkcjonalnych i jednocześnie ozdobnych elementów małej architektury pomóc może szeroka gama produktów uzupełniających z serii Libet Completto.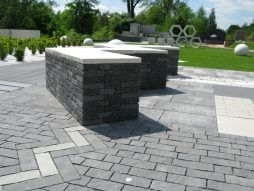 O funkcjonalności ogrodu i całego najbliższego otoczenia domu w dużej mierze przesądza dobra komunikacja. Składają się na nią bez wątpienia odpowiednio wytyczone i wykończone ścieżki oraz podjazd. A uniwersalnymi produktami do eleganckiego obramowania takich brukowanych powierzchni są systemy Kravento Grande i Kravento Alto. Doskonale sprawdzą się zarówno podczas tworzenia dekoracyjnych linii zamykających kręte aleje czy rabaty kwiatowe, jak też przy budowie stopni schodowych. Wygodne schody i schodki to bowiem kolejny składnik ogrodowej aranżacji, który ma olbrzymi wpływ na komfort poruszania się. Są szczególnie potrzebne na działkach charakteryzujących się różnicą poziomów terenu i przy zejściach z wyniesionego nad grunt tarasu. Można je wykonać nie tylko z kostek brukowych, ale też ze specjalnych elementów z serii Libet Completto – charakteryzujących się nowoczesnym dizajnem stopni Maxima lub przywołującym ponadczasowe, tradycyjne rozwiązania stopni Split (efekt splitowania), Venetia (efekt wapiennej skały), Trawertyn (efekt kamienia trawertynu) i Madera (efekt drewna). Dzięki nim schody będą komfortowe i bezpieczne, a jednocześnie eleganckie i przykuwające uwagę.
Mury, murki, palisady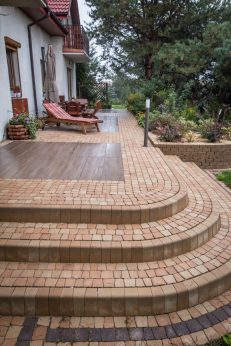 Jednym z nieodzownych elementów większości ogrodów jest ogrodzenie, którym można szybko i skutecznie wydzielić posesję, wykorzystując betonowe bloczki. W ofercie firmy Libet dostępne są produkty, które pozwolą wznieść trwałe i estetyczne zwieńczenie obszaru działki. Z myślą o takiej funkcji powstały m.in. systemy Maxima i Split, a także nowość 2017 – Ogrodzenie strukturalne. Budowa murku to jednak także doskonały sposób na wyznaczenie poszczególnych stref w samym ogrodzie, ukrycie niepożądanych widoków czy zabezpieczenie skarp. Do ich stworzenia posłużyć mogą elementy różnej wielkości, od niewielkich bloczków Murja, przez cegły Split czy kostki Natulit Massimo, po pokaźne bloki systemu Maxima. Praktycznym sposobem na ułatwienie sobie zagospodarowania ogrodowej przestrzeni jest także wykorzystanie różnego typu palisad. W zależności od tego, jaki rezultat chcemy osiągnąć, zastosować można, występującą w kilku rozmiarach i kolorach, Palisadę Split, posiadające nieodparty urok, niewielkie Palisady: Rustykalną, Madera i Trawertyn lub – pozwalające na szybki montaż – Palladio.
Szeroki wachlarz stylów i możliwości
W bogatej i uniwersalnej gamie produktów Libet Completto znajdziemy wyroby, które pozwolą na stworzenie wyjątkowego otoczenia posesji, niezależnie od wielkości działki czy stylu, na który się zdecydujemy. Uzyskanie spójnej kompozycji bez wątpienia ułatwia komplementarność poszczególnych linii produktowych pod względem kolorystyki, faktury i formy. Miłośnicy ogrodu rustykalnego zwrócą uwagę na kolekcje Madera lub Split. Jeśli natomiast zależy nam, aby przestrzeń wokół naszego domu utrzymana była w nowoczesnym klimacie, warto sięgnąć na przykład po zgeometryzowane elementy Maxima, Ogrodzenie strukturalne lub bloki Piastra. Możliwości projektowe zwiększa również obszerna paleta kolorystyczna Libet Completto – od ciepłych, naturalnych beżów i brązów, poprzez subtelne szarości i eleganckie grafity, aż do wyrazistych czerni i bieli.