Piękne kolory i wyjątkowe rozmiary – systemy kostek Tract, Mattone, Qubo
Klasyczne wzorce to niegasnące źródło inspiracji dla współczesnych koncepcji zagospodarowania przestrzeni wokół domu. Estetyczne odniesienia do dawnych, sprawdzonych rozwiązań sprawdzają się znakomicie m.in. w przypadku materiałów nawierzchniowych. Szczególną grupę tworzą tu kostki brukowe o charakterystycznej, postarzanej fakturze.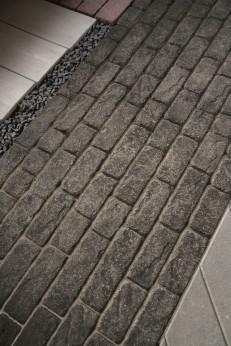 Postarzane kostki, należące do kolekcji Libet Decco Antico, stanowią designerską alternatywę dla kamienia czy cegły klinkierowej. Efekt mijających lat został na nich uzyskany dzięki wyjątkowej fakturze, nadawanej w trakcie specjalnego procesu obróbki. Wyroby z tej grupy to idealna propozycja dla miłośników klasycznych i rustykalnych rozwiązań. W bogatej palecie dostępnych wzorów, rozmiarów i kolorów pojawiły się w tym roku trzy nowości, łączące ogromny potencjał aranżacyjny z niezbędną funkcjonalnością. Jak można wykorzystać ich walory przy kształtowaniu przestrzeni wokół posesji?
Inspiracją do stworzenia kostki Mattone był wygląd starej cegły. Nawierzchnie ogrodowe z tego, tradycyjnego materiału dodają otoczeniu przytulnego charakteru, a ich kolor wspaniale współgra z roślinnością. Aby osiągnąć podobny efekt, kostce Mattone nadano głęboką, ceglastą barwę oraz kształt prostokąta o wymiarach 30 x 10 cm. Ponadto, dzięki grubości 8 cm, produkt ten może być stosowany nie tylko na chodnikach czy ścieżkach, lecz także na podjazdach (dla ruchu ciężkiego do 11,5 t, przy wykonaniu odpowiedniej podbudowy). Barwę ceglastą odnajdziemy też w drugiej nowości z grupy Libet Decco Antico, czyli systemie kostek Tract, które występują jeszcze w opcjach bazaltowego grafitu i piaskowo-beżowej. Komplementarne rozmiary sześciu elementów i zróżnicowana kolorystka pozwalają na uzyskanie niezwykle estetycznych, zindywidualizowanych kompozycji nawierzchni, tworzących niepowtarzalny klimat otoczenia i podkreślających jego piękno.Ostatnia z nowości w grupie Antico nosi nazwę Qubo i jest postarzaną wersją kostki Pepito (również z portfolio Libet). Niewielki format (10 x 10 cm) tego produktu sprawia, że doskonale sprawdza się on zarówno jako samodzielny materiał wykończeniowy, jak i w postaci oryginalnego detalu, uzupełniającego aranżację wykonaną np. z innych propozycji z kolekcji Decco Antico.
Niezależnie od formatu czy koloru wybranych elementów, nawierzchnie z postarzanych kostek brukowych zawsze wyglądają stylowo i niepowtarzalnie. Są przy tym bardzo wytrzymałe, dzięki czemu, mimo zamierzonego efektu zużycia powierzchni, zapewniają użytkownikom atrakcyjne doznania estetyczne na wiele lat.