Piękny i funkcjonalny taras – 5. odcinek cyklu "Inspiracje Ogrodowe"
Trudno dziś wyobrazić sobie funkcjonalny dom i komfortowy ogród bez tarasu. Właściwie zaprojektowany może być łącznikiem między tymi dwiema strefami. Nic więc dziwnego, że to właśnie jemu poświęcony został finałowy odcinek serii "Inspiracje Ogrodowe".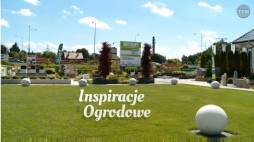 W kolejnych odsłonach programu zrealizowanego przez TV Regionalną z Sopotu architekt krajobrazu, Agata Niedziałek, opowiadała o najpopularniejszych ogrodowych stylach i podpowiadała co zrobić, by podobny efekt uzyskać na własnej posesji. W ostatnim odcinku projektantka zwróciła uwagę, że każdy styl będzie wymagał innego tarasu. I tak w ogrodzie nowoczesnym doskonale sprawdzą się nawierzchnie wykonane z dużych, wyrazistych elementów, w ogrodzie naturalistycznym dobrze będą wyglądały materiały nawiązujące do drewna, a w przypadku stylu "swobodnego" warto postawić na ciepłe barwy. Dopełnienie aranżacji stanowić będą dostosowane do wybranej stylistyki meble tarasowe. Pamiętać należy, że wygląd tarasu, który jest połączeniem domu i ogrodu, ma współgrać nie tylko z otoczeniem budynku, ale też nim samym i jego wnętrzami. Z tego względu coraz częściej poszukuje się materiałów, które będzie można wykorzystać zarówno wewnątrz, jak i na zewnątrz, spajając optycznie te przestrzenie.
Strona wizualna to jednak nie wszystko. Bardzo ważną decyzją jest wybór technologii wykonania. W Polsce często spotykamy tarasy na płycie betonowej wyklejone płytkami lub konstrukcje drewniane. Praktyczną alternatywą jest dla nich taras wentylowany – szybki w montażu, trwały i niewymagający szczególnej konserwacji. Aby wykonać go prawidłowo trzeba jednak przestrzegać kilku podstawowych zasad. Rozpocząć należy od sprawdzenia podłoża, które powinno być stabilne i równe. Płyty układa się na wspornikach, skorzystać też można z systemu E-DECK bazującego na wspornikach i profilach aluminiowych. Do zbudowania tarasu wentylowanego świetnie nadają się płyty ceramiczne Libet, dostępne w różnych wzorach i formatach. Szczególnie ciekawą propozycję stanowi kolekcja Sundeck z linii LibetCeramic, idealnie odwzorowująca wygląd naturalnego drewna. Gres porcelanowy jest odporny na uszkodzenia, a dzięki niskiej nasiąkliwości nie straszne są mu plamy z kawy, soku czy tłuszczu. Jest więc idealną propozycją na intensywnie użytkowany taras, który może pełnić funkcję jadalni, letniej kuchni czy być miejscem rodzinnych biesiad. Bez obaw będziemy też mogli ustawić na nim metalowe meble czy ciężkie donice.
Więcej porad architekta krajobrazu dotyczących projektowania tarasu znaleźć można w 5. odcinku "Inspiracji Ogrodowych". Zapraszamy do obejrzenia programu:
https://www.youtube.com/watch?v=K1p136o2Xns&index=5&list=PLJdB7c5nWKeZdnflmEij6iqnfxKZmdkDX
---
Libet poleca: https://www.libet.pl/przeznaczenie/tarasy