Płyty gresowe czy kostka brukowa – co wybrać do ogrodu?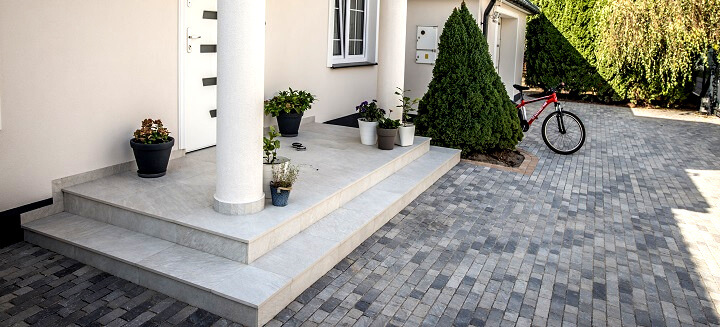 Wraz z nadejściem wiosny coraz więcej czasu spędzamy na dworze i coraz większą wagę przywiązujemy do ogrodowych aranżacji. Wybierając nawierzchnię, zwracamy uwagę na wiele czynników – cenę, wytrzymałość materiału, wygląd, a także bezpieczeństwo użytkowania. Wśród najczęściej proponowanych rozwiązań znajdują się różne rodzaje kostki brukowej oraz płyty gresowe. Każda z tych opcji wiąże się z określonymi możliwościami zagospodarowania otoczenia. Sprawdź, która będzie najlepsza dla Ciebie i zbuduj swój wymarzony kącik wypoczynkowy w ogrodzie.
Dla zwolenników trwałości
Współczesna kostka brukowa to nowa odsłona historycznej nawierzchni kamiennej, tzw. kocich łbów. Obecnie jednak mamy do wyboru różnorodne materiały, co przekłada się na więcej możliwości. Niezależnie od tego, czy kostka będzie wykonana z betonu, kamienia czy z klinkieru, jedno jest pewne – nie można jej odmówić odporności na obciążenia, ścieranie i warunki atmosferyczne. Ma wysoki wskaźnik mrozoodporności, a odpowiednie ułożenie zapewnia swobodny odpływ wody, zapobiegając tworzeniu się kałuż.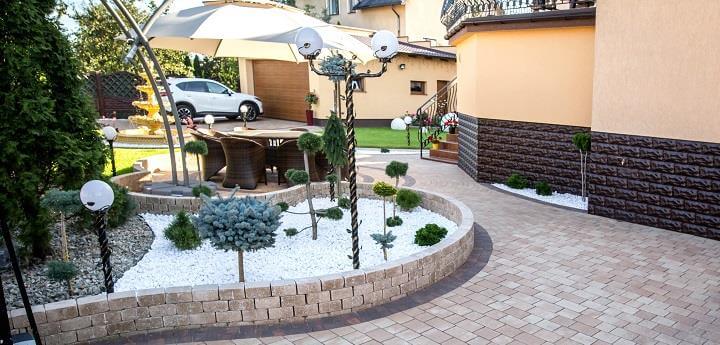 Pamiętajmy jednak, że w warunkach zewnętrznych materiały te są narażone na długotrwałe oddziaływanie rozmaitych czynników, również związanych z ich eksploatacją. Dlatego np. w przypadku kostek betonowych istnieją specjalne systemy zmniejszające ich nasiąkliwość, ograniczając ryzyko wystąpienia plam, wykwitów itp. W skrajnych sytuacjach, jak wylany olej silnikowy, można pomyśleć o użyciu preparatu czyszczącego. Ze względu na silne działanie takich środków, zalecane jest jednak ostrożne ich dobieranie oraz testowanie w mało eksponowanym miejscu. Bieżąca pielęgnacja produktów z betonu nie przysparza natomiast większych problemów, ograniczając się do regularnego zamiatania szczotką piasku, liści i innych naleciałości oraz okresowego (1-2 razy w roku) mycia wodą (poważniejsze plamy – wodą z płynem do mycia naczyń), najlepiej przy pomocy myjki ciśnieniowej z końcówką rotacyjną.
Swoboda aranżacji
Różnorodność kolorów, faktur i kształtów kostki brukowej sprawia, że sprawdzi się ona właściwie w każdym rodzaju ogrodowej aranżacji. Do dyspozycji mamy m.in. prostokąty, trapezy, kwadraty czy sześcioboki oraz rozmaite typy wykończenia powierzchni – od efektu postarzania, przez nowoczesny minimalizm, po bogactwo melanży kolorystycznych lub oryginalną chropowatość.
Dzięki temu możemy tworzyć nawet dość nietypowe zestawienia, łącząc tradycyjną stylistykę z abstrakcyjnymi formami. Pamiętajmy jednak przy tym, że prawidłowe ułożenie kostki nie jest prostym zadaniem. Wymaga odpowiedniego przygotowania podłoża oraz znajomości specyfiki używanego materiału, zatem najlepiej będzie powierzyć to zadanie specjalistom. Zagwarantuje nam to, że będziemy cieszyć się zadbaną, funkcjonalną nawierzchnią przez długie lata.
Funkcjonalność i styl
Alternatywnym rozwiązaniem do ogrodu mogą być płyty gresowe, które również charakteryzują się wysoką odpornością na gwałtowne wahania temperatury, wilgoć, brud, odziaływanie rozmaitych środków chemicznych oraz ścieranie i zarysowania. Przoduje w tym gres porcelanowy – jego twardość może wynosić nawet 9 stopni w skali Mohsa. Niewątpliwie płyty prezentują się niezwykle stylowo, a zarazem naturalnie – będą idealnym wyborem dla osób, które nie chcą ścieżki czy tarasu z betonu. Wybierając elementy do ogrodu, należy wziąć pod uwagę ich przeznaczenie i warunku stosowania – mamy tu bowiem do dyspozycji kilka opcji. I tak, na przykład gres gładki, jakkolwiek bardzo efektowny, znacząco zwiększa ryzyko poślizgnięcia, dlatego okolice basenu ogrodowego lepiej wybrać opcję strukturalną o nieregularnej fakturze.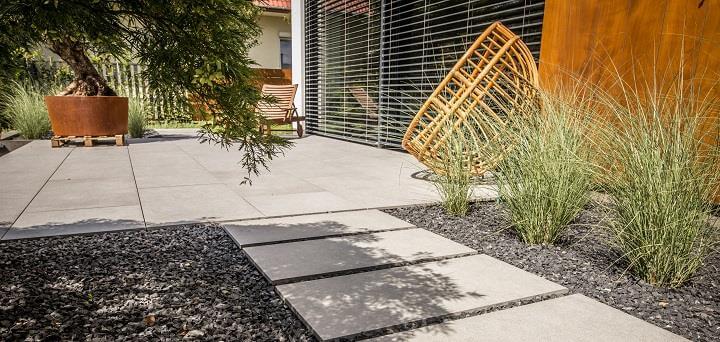 Proces polerowania płyt obniża również ich wytrzymałość na czynniki pogodowe i zanieczyszczenia – aby zachowały na dłużej swój wygląd i funkcjonalność, należy poddawać je regularnej impregnacji. Dobrym aczkolwiek krótkotrwałym  rozwiązaniem w zakresie utrzymania czystości jest gres szkliwiony, posiadający na powierzchni powłokę ochronną. Jednak w wyniku długotrwałego użytkowania ulega ona ścieraniu. Dlatego najlepiej jest postawić na specjalny rodzaj płyt, które za sprawą nowoczesnych technologii produkcji, osiągają wysokie parametry odporności na czynniki zewnętrzne w całym przekroju, a nie tylko w wierzchniej warstwie. Powstają one w wyniku prasowania, po którym podlegają tzw. witryfikacji. W jej efekcie następuje całkowite połączenie naturalnych składników (piasku, kwarcu, skaleni, kaolinu, gliny, barwników) w jednolity materiał. Wypalany w bardzo wysokiej temperaturze (ponad 1230° C) w całości nabiera on pożądanych właściwości mechanicznych.
Wybór dla wybrednych
Gres porcelanowy to także niezwykłe bogactwo dostępnych formatów, kolorów i faktur. Obecnie ogromną popularnością cieszą się trzy kierunki stylistyczne: efekt drewna, efekt kamienia i efekt betonu. Każdy z nich oferuje zróżnicowane sposoby odwzorowania swoich naturalnych pierwowzorów, dzięki czemu niezwykle łatwo je dostosować do otoczenia, a nawet do wyglądu wnętrza budynku. Dzięki temu możemy cieszyć się np. stylową powierzchnią z widocznym usłojeniem w miejscach, gdzie prawdziwe drewno byłoby narażone na niewłaściwą eksploatację i w efekcie – szybkie zniszczenie.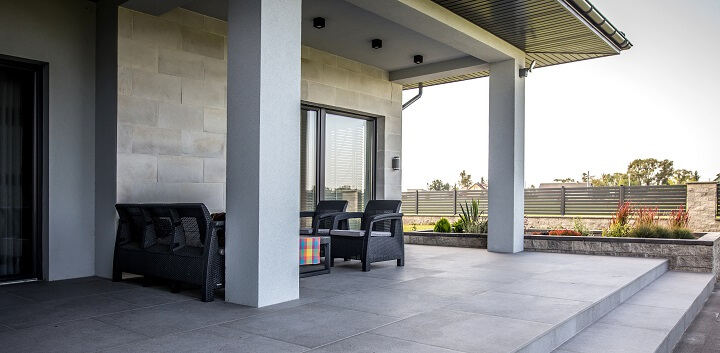 Materiał opracowany przez portal nieruchomości RynekPierwotny.pl