Poznaj najnowsze trendy w aranżacji ogrodów
Podobnie jak w wykańczaniu wnętrz, również w aranżowaniu przestrzeni zewnętrznej zauważyć można dominujące tendencje i style, które w danym sezonie cieszą się szczególną popularnością. Zanim zaplanujemy otoczenie własnego domu, warto poznać aktualne trendy i wybrać te, które odpowiadają architekturze budynku i naszemu gustowi.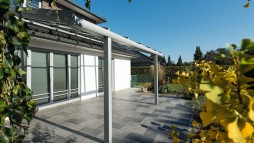 Renomowani producenci materiałów budowlanych i wykończeniowych nie tylko odpowiadają na bieżące zapotrzebowanie rynku, ale też przewidują nadchodzące tendencje, a czasem wręcz stają się ich  kreatorami. Z tego względu w ofercie firmy Libet nie mogło zabraknąć nowości, które doskonale wpisują się w najnowsze trendy.
Jeśli zapytamy, co obecnie jest modne, większość osób pewnie intuicyjnie odpowie, że to co nowoczesne. I rzeczywiście jest w tym ziarno prawdy. Rok 2016 upływa pod silną dominacją stylu nowoczesnego. Jest to jednak pojęcie dość obszerne i mało precyzyjne. Jak więc je wcielić w życie we własnym ogrodzie? Tu z pomocą przychodzą nowe produkty Libet. Nowoczesny efekt z pewnością można uzyskać, stosując duże, zgeometryzowane elementy. Warto więc zapoznać się z cały czas rozwijanym systemem Maxima (np. płytami Maxima Lungo, Maxima Molto, Maxima Rigato i Maxima Slim oraz Ogrodzeniem Maxima), a także płytami Karre w kontrastowych kolorach antracytu i pergaminowej bieli. Odpowiednio dobrana paleta barw to drugi aspekt, na który warto zwrócić uwagę, planując modną, nowoczesną aranżację przestrzeni. Ciekawym przykładem są tu kolekcje Madera i Trawertyn, gdzie naturalnym fakturom drewna i kamienia nadano rys nowoczesności właśnie poprzez nieszablonowe kolory – grigio (ciemnoszary) i bianco (kremowy).
Co jednak, gdy nie przepadamy za chłodnym, minimalistycznym stylem nowoczesnym? Dobra wiadomość dla miłośników tradycji jest taka, że prawdziwy renesans przeżywają obecnie nawierzchnie postarzane. Jeśli więc marzymy o klimatycznym zakątku, pełnym bujnej roślinności i wijących się pośród niej uroczych ścieżek, brukowe kostki o postarzanej powierzchni to propozycja w sam raz dla nas. Staromiejski bruk był inspiracją do stworzenia nowych kostek z linii Libet Decco Antico – systemu Tract. Natomiast kostka Mattone idealnie naśladuje starą cegłę – ma jej kształt, wymiary i kolor. Trzecia z nowości w grupie Antico nosi nazwę Qubo  i jest postarzaną wersją niewielkiej kostki Pepito. Sprawdzi się zarówno jako samodzielny materiał nawierzchniowy, jak i ciekawe uzupełnienie większych płyt. Warto podkreślić, że efekt nadgryzienia zębem czasu jest w tych produktach niezwykle sugestywny i wiarygodny. Osiąga się go dzięki specjalnej mieszance betonowej i specjalnemu procesowi obijania elementów. Jednocześnie trzeba podkreślić, że mimo stylizowanego na stary wyglądu, wszystkie kostki zachowują najwyższą jakość i  parametry wytrzymałościowe.