Siła naturalności – płyty wet-cast inspirowane wyglądem skał i drewna
Nawierzchnia stworzona z produktów nawiązujących do materiałów występujących w przyrodzie, takich jak kamień czy drewno, to jeden z popularniejszych zabiegów aranżacyjnych. Wielbicielom innowacyjnych, eleganckich, inspirowanych naturą wyrobów z pewnością przypadną do gustu płyty wet-castowe, które znaleźć można w kolekcji Libet Impressio.
Wet-cast to technologia produkcji polegająca na wypełnianiu ciekłą mieszanką betonową specjalnych form, nadających płytom określony kształt i fakturę. Zagęszczanie betonu przebiega w kilku etapach, na odpowiednio zaprojektowanych stołach wibracyjnych, umożliwiających wyjątkowo precyzyjne ustawienie istotnych parametrów (czas i częstotliwość wibracji itp.). Z biegiem czasu na powierzchni tak stworzonych produktów mogą pojawić się delikatne pory, będące wynikiem normalnej eksploatacji. Podczas wycierania się materiału dochodzi do uwydatniania pęcherzyków powietrza, które powodują powstawanie niewielkich "dziurek" (porów).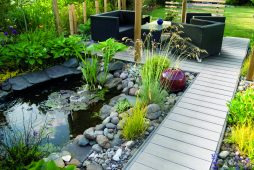 Przed przystąpieniem do montażu należy pamiętać, że poszczególne elementy mogą wykazywać kilkumilimetrowe różnice w wymiarach, głównie w długości i wysokości. Warto też uwzględnić niewielkie rozbieżności w ich kolorystyce. Wynikają one z wykorzystania do produkcji naturalnych surowców i podnoszą walory estetyczne płyt, które tym samym jeszcze wierniej oddają wygląd skał spotykanych w przyrodzie: wapienia (Venetia), piaskowca (Toscania), trawertynu (Trawertyn) a także drewnianych desek (Madera).
Wielość barw i faktur
Dzięki zastosowaniu technologii wet-cast produkty z linii Libet Impressio charakteryzują się szlachetną, stonowaną kolorystyką oraz wyjątkową fakturą, odwzorowującą prawdziwe kamienie czy drewno. Dodatkowo, w rozwiązaniu Venetia Koło znajdziemy elementy bazujące na okrągłych kształtach, które pomogą w uzyskaniu oryginalnych wzorów nawierzchni. Tak duży wybór barw, struktur i formatów daje niemal nieograniczone możliwości aranżacyjne i pozwala na stworzenie eleganckiego i funkcjonalnego tarasu, który doskonale wpisze się zarówno w minimalistyczną, jak i w klasyczną stylistykę. Aby w pełni cieszyć się jego pięknem, zadbajmy o właściwy montaż, uwzględniający niewielkie różnice w wymiarach płyt, oraz pamiętajmy o zaimpregnowaniu ich odpowiednim preparatem, który zabezpieczy powierzchnię przed zabrudzeniami czy plamami.