Skończyć z nudą – fasada budynku z wykorzystaniem gresów porcelanowych
Fasada jest jedną z bardziej reprezentacyjnych części domu i zapowiedzią tego, co czeka nas po przekroczeniu jego progów. Jednocześnie pełni rolę ochronną i stanowi docieplenie budynku. Dlaczego więc nie pokusić się o nowoczesne rozwiązania, które nie tylko doskonale spełnią swoje podstawowe zadania użytkowe, ale przede wszystkim zaskoczą efektownym wykończeniem elewacji. W tej roli sprawdzi się gres porcelanowy z kolekcji Libet Ceramic – propozycja na pozbawioną nudy, innowacyjną ochronę ścian.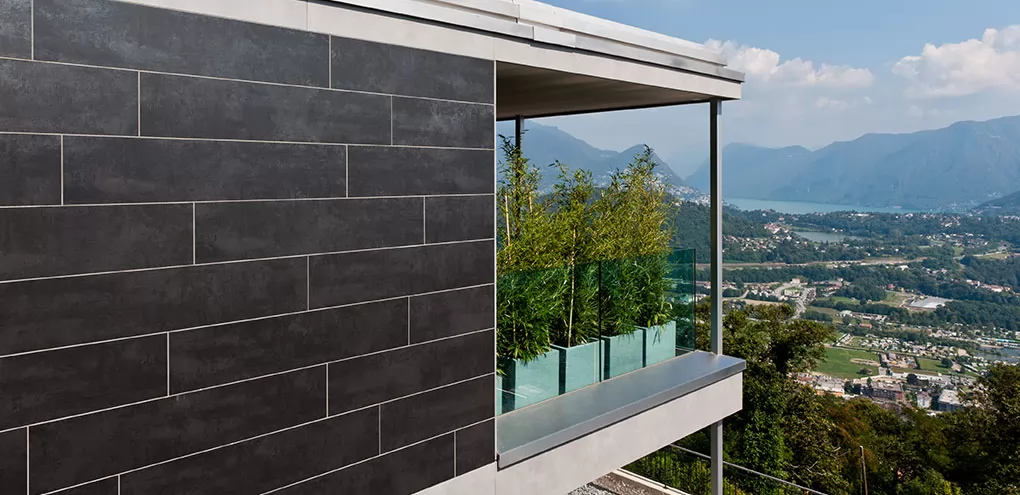 Elewację budynku można wykonać na wiele sposobów. Jednymi z popularniejszych są różnego rodzaju kolorowe tynki, okładziny drewniane i PVC, czy też klinkierowe płytki. Świetny jest również, zdobywający coraz szersze grono zwolenników gres porcelanowy, zwłaszcza w połączeniu z elewacją wentylowaną. Razem tworzą efektowne rozwiązanie o niepowtarzalnym designie, które zapewnia doskonałą ochronę przed stratami ciepła, a także podnosi izolacyjność akustyczną budynku. Dlaczego tak się dzieje? Elewacja wentylowana to nowoczesny system oparty na metalowej konstrukcji montowanej do ścian oraz mocowanej do niej izolacji oraz okładzinach. Tworzy to pewnego rodzaju efekt komina, umożliwiający swobodną cyrkulację powietrza, a tym samym pozytywnie wpływa na trwałość i estetyczny wygląd fasady i ścian. Stosując taką technikę montażu w połączeniu z płytami gresu porcelanowego Libet Ceramic, osiągamy doskonały bilans energetyczny budynku – latem zapewniając odpowiednią wentylację, a zimą izolację termiczną. W przypadku elewacji wentylowanych z użyciem ceramicznych okładzin skutecznie zmniejszamy również ryzyko powstania mostków cieplnych. Gresy odbijają bowiem częściowo promienie słoneczne, a resztę absorbują, zmieniając je w ciepło zatrzymywane w warstwie izolacyjnej domu. Fasada z płyt porcelanowych to również znakomita ochrona przed wnikaniem wody opadowej w strukturę budynku i jej szkodliwym wpływem na trwałość ścian.
Elewacja wentylowana jest tą techniką, która nie ogranicza wyboru materiałów wykończeniowych. Jednak biorąc pod uwagę, że tego typu konstrukcja przedłuża trwałość fasady, dobrze jest zdecydować się na materiał, który zapewni również estetyczny i ciekawy wygląd domu przez długi czas. W tej roli świetnie sprawdzą się porcelanowe gresy z kolekcji Libet Ceramic. Dostępne są w kilkudziesięciu wersjach, inspirowanych wyglądem naturalnego kamienia, drewna lub przecieranego betonu, a także wielu wariantach kolorystycznych. Dzięki temu, że płyty są plamoodporne i nie poddają się działaniu zmiennych warunków pogodowych, zachowują niezmieniony wygląd przez wiele lat. Mamy więc pewność, że wybrany przez nas kolor i faktura będą zdobiły budynek mimo upływającego czasu, pozwalając na stworzenie spektakularnego wykończenie domu.