Spotkanie z pośrednikiem – o co pytamy, a o co zapytać zapominamy?
(artykuł gościnny)
Coraz częściej to pośrednicy nieruchomości wystawiają, a następnie promują ofertę mieszkania na sprzedaż. O co powinny zapytać pośrednika osoby zainteresowane kupnem nieruchomości? Czy są kwestie, które szczególnie warto poruszyć w rozmowie?
Rozmowa z pośrednikiem: o co zapytać w pierwszej kolejności?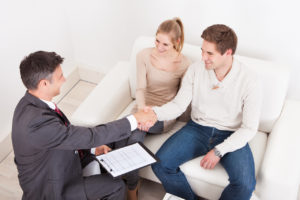 Spotkanie z profesjonalnym pośrednikiem nieruchomości, który doskonale wie jak przekonać potencjalnego klienta do swojej oferty, wymaga od zainteresowanych osób sporej asertywności. Dodatkowo przyda się również ułożona lista pytań, które warto mu zadać w trakcie prezentacji interesującego nas lokalu.
Wiele osób w pierwszej kolejności – zresztą bardzo słusznie – pyta o wszystko, co związane jest z wiekiem i ogólnym stanem budynku. Zdarza się jednak, że kupujący mieszkanie nie interesują się na przykład tym, z czego konkretnie obiekt został wykonany, w jakiej technologii oraz czy w najbliższym czasie planowana jest jego modernizacja.
Jeśli chodzi z kolei o samo mieszkanie, kupujący często zapominają dopytać o stan elementów trwałych, zwłaszcza, jeśli transakcja miałaby dotyczyć nieruchomości z rynku wtórnego. Chodzi m.in. o podłogi, stolarkę, instalację elektryczną czy hydrauliczną. Warto w takiej sytuacji zainteresować się również średnimi kosztami eksploatacji lokalu (czynsz i opłaty za media).
Co więcej, podczas prezentacji mieszkania możemy na bieżąco weryfikować słowa pośrednika, sprawdzając działanie gniazdek elektrycznych i włączników światła, ciśnienie wody w kuchni i łazience, stan drzwi, ścian okien i podłogi.
Oprócz tego dobrze też zapytać o najbliższe sąsiedztwo (czy nie jest uciążliwe) oraz czy w pobliżu jest planowana jakaś inwestycja, która wiązałaby się z dużym natężeniem hałasu w kolejnych miesiącach lub nawet latach.
Stan mieszkania to tylko jedno z wielu zagadnień, które należy poruszyć
Kupujący mieszkanie nie powinni zapominać o kwestiach prawnych. Jeszcze przed spotkaniem z pośrednikiem warto poprosić o numer księgi wieczystej. Gdy sprzedający odmawia podania go, istnieje wysokie ryzyko, że np. nieruchomość jest dodatkowo obciążona lub prawa do niej posiadają też inne osoby.
Jeśli jednak kupujący otrzyma numer księgi wieczystej, powinien zwrócić uwagę na kilka istotnych spraw. Na przykład w dziale I KW znajdują się podstawowe informacje o sprzedawanej nieruchomości – należy sprawdzić zgodność podanych danych z rzeczywistością. Ważne jest też dokładne przestudiowanie działu IV KW – to tam znajdują się informacje o hipotece i ewentualnych obciążeniach nieruchomości. Jeśli pojawią się jakiekolwiek wątpliwości co do stanu prawnego, trzeba sprawę wyjaśnić z pośrednikiem.
Warto zatem pamiętać, by w rozmowie z nim stan i funkcjonalność mieszkania stawiać na równi z zagadnieniami prawnymi – tylko wtedy można zyskać pewność, że transakcja jest całkowicie bezpieczna.
Materiał opracowany przez eksperta GetHome.pl – portalu mieszkań na sprzedaż i wynajem.