Subtelne płyty z linii Impressio – montaż ma znaczenie
Oferta Libet to niezwykle szerokie portfolio produktów, dające niemal nieograniczone możliwości aranżacyjne zarówno na posesjach prywatnych, jak i w przestrzeniach publicznych. Bogactwo dostępnych materiałów, barw i kształtów wiąże się jednak z koniecznością uwzględniania specyfiki niektórych rozwiązań w trakcie ich montażu. Na szczególną uwagę wykonawców zasługują płyty Maxima Slim i Maxima Molto, dwie nowości z kolekcji Libet Impressio. Dlaczego?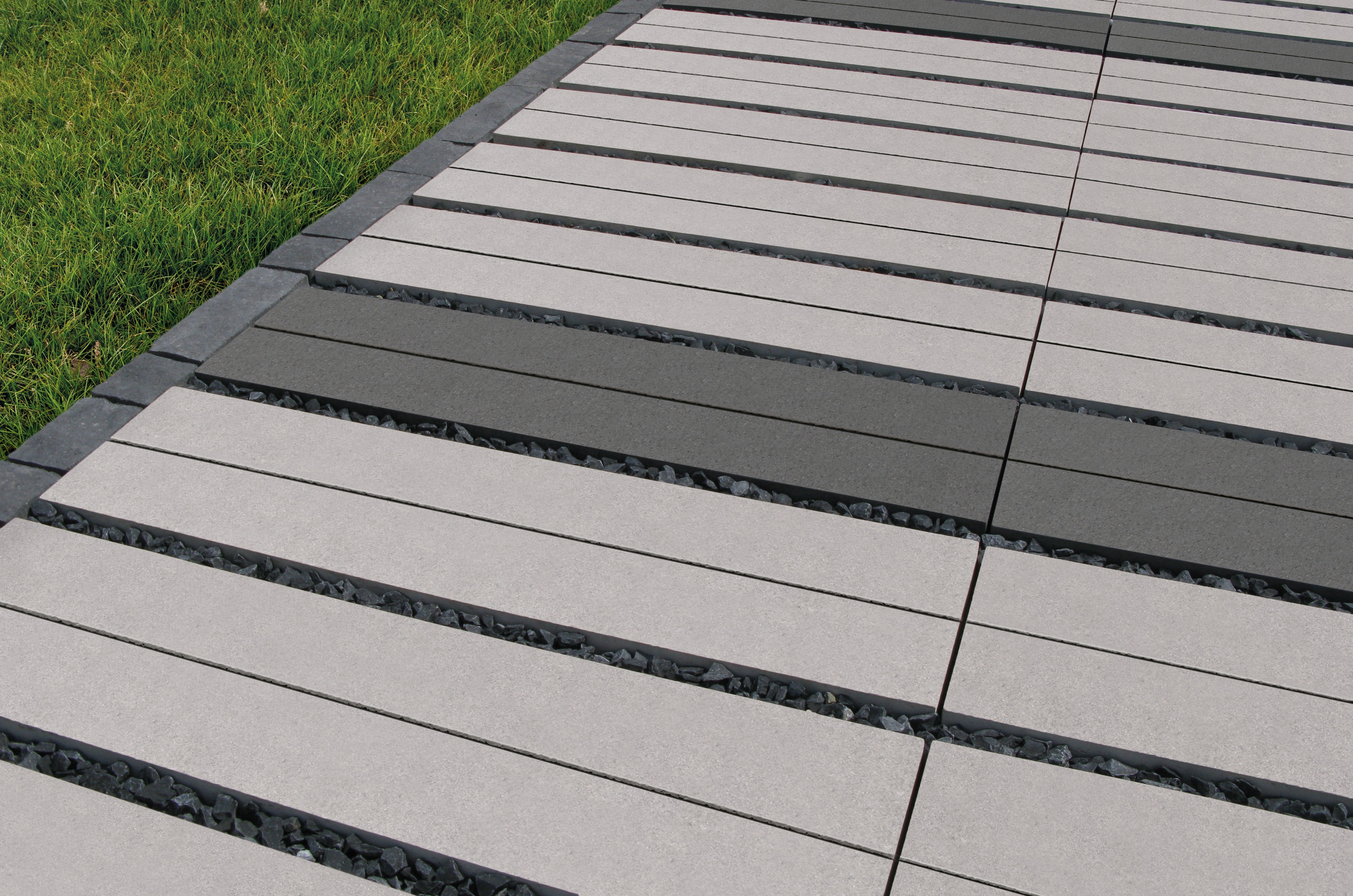 Sekret Maxima Slim i Maxima Molto tkwi w ich unikatowej formie. Jako najsmuklejsze propozycje płyt systemu Maxima umożliwiają one tworzenie różnorodnych, atrakcyjnych kompozycji formatów i barw, bez konieczności docinania. Znakomicie pasują do pozostałych elementów Systemu, a dzięki komplementarnej kolorystyce, stanowią dobry sposób na realizację kreatywnych, np. kontrastowych układów nawierzchni. Wyjątkowy kształt tych produktów wpływa jednak nie tylko na szeroką gamę zastosowań. Charakterystyczna smukłość powoduje też, że stosunkowo łatwo je uszkodzić w wyniku błędów montażowych. Na szczęście wystarczy dopilnować kilku podstawowych kwestii związanych z technikami oraz narzędziami wykorzystywanymi na tym etapie, by osiągnąć estetyczny, a jednocześnie trwały efekt.
Ostrożnie z zagęszczaniem

Niewielki przekrój płyt Maxima Slim i Maxima Molto sprawia, że są one szczególnie wrażliwe na zagrożenia związane ze złym zaprojektowaniem lub niepoprawnym wykonaniem podbudowy. Przede wszystkim zagęszczanie produktu w podbudowie powinno odbywać się bez użycia zagęszczarki mechanicznej – może bowiem ona spowodować uszkodzenia i pęknięcia elementów. Montaż należy przeprowadzić metodą staro-brukarską. Sprawdzony sposób wykorzystania młotka gumowego przy dobijaniu elementów do spasowania i wyrównania nawierzchni zapewnia osiągnięcie pożądanego efektu. Ważne jest jednak, by pracować z wyczuciem –  przesadne użycie siły to także prosta droga do spowodowania zniszczeń. Jeśli wielokrotne uderzenia nie powodują zagłębiania się płyt na pożądany poziom, dobijanie należy przerwać. Istnieje bowiem duże prawdopodobieństwo, że podbudowa jest niewłaściwie przygotowana i potrzebne jest podebranie oraz wyrównanie tzw. warstwy  wyrównującej. Warto pamiętać, że bardzo dużo zależy także od rodzaju wspomnianej warstwy…
Uwaga na warstwę wyrównującą
Nie zaleca się stosowania warstwy wyrównującej z mieszanki piaskowo cementowej – szczególnie, jeśli jest ona wykonywana metodą na mokro przy wysokich temperaturach i na zbyt dużym obszarze, wyprzedzającym czynności zagęszczania. W warunkach typowo letnich taka podbudowa dość szybko wiąże, stając się na tyle sztywną, że nie pozwala na odpowiednie zagłębienie się płyty.  Wskazane jest natomiast użycie grubego, czystego piasku lub frakcjonowanych grysów (o dostępnych na rynku frakcjach 1-3, 1-4, 2-5, a nawet 2-8). W każdym przypadku należy oczywiście zwracać uwagę na  jakość dobieranego surowca, potwierdzaną stosownymi certyfikatami, określającymi podstawowe parametry uziarnienia, zawartość pyłów i zanieczyszczeń. Ważne jest unikanie materiałów zawierających zanieczyszczenia organiczne, glinę czy nadmiar pyłu.
Warto też pamiętać, że znaczenie warstwy wyrównującej wynika nie tylko z funkcji właściwego przenoszenia obciążenia na całej płaszczyźnie płyty i wyrównywania nawierzchni.  Musi ona również spełniać rolę powierzchni, która jest wstanie przepuścić nadmiar wody opadowej w głąb podbudowy. W przeciwnym razie zalegąjąca ciecz może wywołać szereg niepożądanych skutków, jak wykwity wapienne, nadmierne nasiąkanie produktu, przebarwienia itp.
W rękach fachowców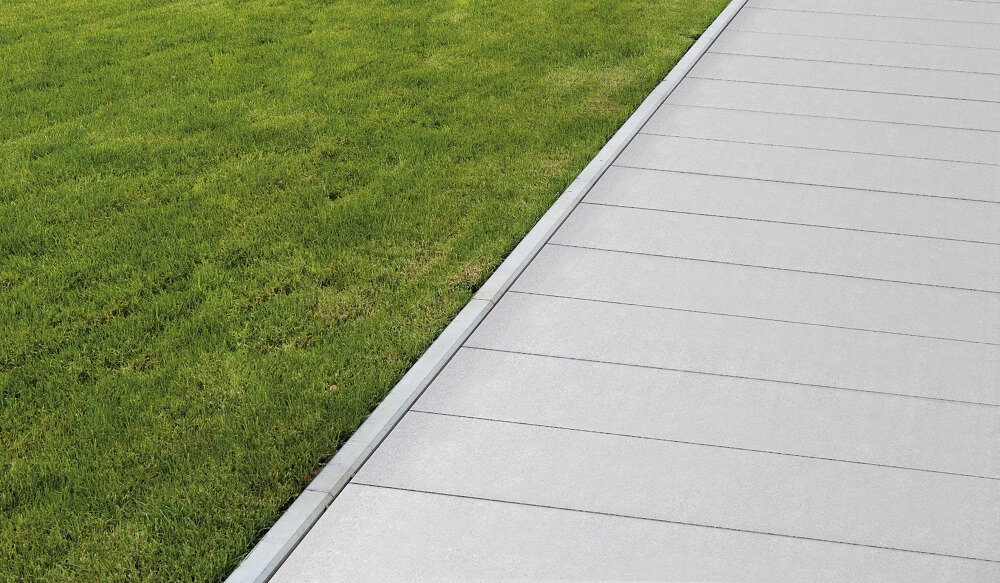 Wadliwy projekt podbudowy, niedostosowanie produktu do charakteru realizowanej nawierzchni czy błędy wykonawcze mogą skutkować wystąpieniem uszkodzeń, które nie podlegają reklamacji. Dlatego warto prace zlecać fachowcom, a wyboru materiałów dokonywać w oparciu o ich przeznaczenie. Przykładowo, Maxima Slim i Maxima Molto przewidziane są wyłącznie na obciążenia występujące przy ruchu pieszym. Nie montuje się więc ich w miejscach, przez które później – nawet sporadycznie – będą przejeżdżać pojazdy. Finalnie chodzi przecież o to, by stworzyć wokół siebie atrakcyjną wizualnie, funkcjonalną i trwałą przestrzeń.