Szykujemy ogrodowe aranżacje
Ogrodowe alejki wytyczone, miejsce na podjazd zapewnione, kostka brukowa wybrana. A może tak pójść o kilka kroków dalej i rozwinąć nieco nasz plan zagospodarowania przydomowej przestrzeni? Oto kilka rozwiązań, dzięki którym będzie ona jeszcze ciekawsza, bardziej praktyczna i skrojona na miarę naszych potrzeb.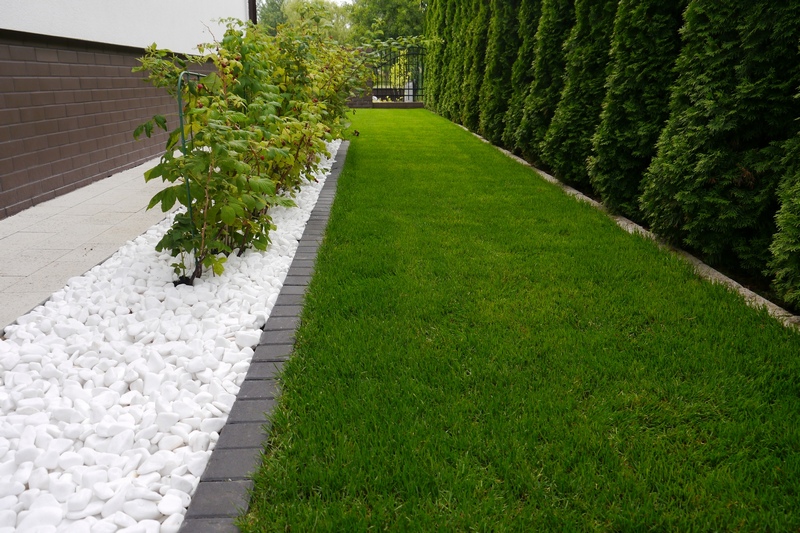 Kamienie ozdobne
Naturalne kruszywa to niezwykle prosty sposób na efektowne dopełnienie aranżacji. Doskonale sprawdzają się jako dekoracja elementów nawierzchniowych, atrakcyjnie oddzielają trawnik od ścieżki, czasem służą do zasłonięcia mniej estetycznych fragmentów podłoża, z powodzeniem stosuje się je też jako wypełnienie ażurowych kostek i płyt, a także kwietników, rabat, donic czy wydzielonych stref wokół pnia drzewa. W każdym przypadku dobrze jest wybrać kamienie, których stylistyka najbardziej nam odpowiada i najlepiej pasuje do ozdabianych miejsc. Do dyspozycji mamy bowiem rozmaite opcje, w tym drobne, kanciaste sylwetki grysów, nieco łagodniejszą, bardziej zaokrągloną postać otoczaków lub ciekawą propozycję łupka o efekcie kory.
Beton architektoniczny
A gdyby tak wprowadzić na posesję znacznie większe akcenty dekoracyjne? Pomoże nam w tym beton architektoniczny Libet Stampo, z którego powstają niezwykłe donice oraz bardziej abstrakcyjne elementy wykończenia przybierające postać sześcianów, plastrów miodu, kul, a nawet piłek golfowych. Wszystkie świetnie wyglądają na trawie, znakomicie komponując się zarówno z okoliczną zielenią, jak i z architekturą. Ponadto mogą też pełnić w otoczeniu określone funkcje: betonowych siedzisk i innych mebli, kwietników, murków, ograniczników wjazdu.
Murki, palisady, mała architektura
Możemy też postawić na zbudowanie atrakcyjnych wizualnie, a przy tym bardzo praktycznych outdoorowych konstrukcji ze sprawdzonych rozwiązań z betonu, jak bloczki i cegły ogrodzeniowe, stopnie schodowe czy palisady z kolekcji Libet Completto. Dzięki nim stworzymy unikatowe kwietniki, siedziska, a nawet letnie kuchnie z grillem. To także dobre materiały do realizacji niewielkich murków wytyczających i oddzielających poszczególne ogrodowe strefy.
Baseny
Niektórzy posiadacze większej przydomowej przestrzeni decydują się na wzbogacenie jej o strefę basenową. Warto przy tej okazji zadbać o zabudowanie nawierzchni wokół niej płytami ceramicznymi o odpowiednich właściwościach użytkowych. Doskonale w tej roli sprawdzają się gresy porcelanowe Libet Ceramic. Odporne na różnice temperatur, ścieranie, zarysowania, działanie wody, wilgoci czy środków chemicznych, są jednocześnie łatwe w pielęgnacji i odznaczają się wysokim stopniem antypoślizgowości. Do tego występują w bogatej gamie formatów, faktur i kolorów, dzięki czemu łatwo dopasować je do stylistyki otoczenia.
Oświetlenie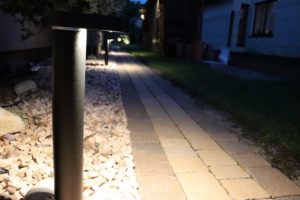 Pamiętajmy, że z walorów ogrodu możemy korzystać nawet, gdy zapada zmrok. Instalując w nim oświetlenie ogrodowe, stworzymy wokół niezwykły klimat, wyeksponujemy urodę drzew, krzewów, wybranych detali architektonicznych, zapewnimy komfort przemieszczania się, zwiększymy ochronę posesji przed intruzami. Warto przy tym stosować nowoczesne rozwiązania Libet Light bazujące na bezpiecznym napięciu 12 Volt, wygodnych akcesoriach zapewniających szybki montaż i łatwość sterowania oraz oczywiście lampach dopasowanych do specyfiki lokalizacji, w której mają być stosowane.