Technologia produkcji a właściwości kostek
W betonowych kostkach brukowych drzemią wręcz nieograniczone możliwości układania atrakcyjnych i funkcjonalnych nawierzchni. Cenione są za liczne walory użytkowe, m.in. mrozoodporność, niewrażliwość na zmienne warunki atmosferyczne, prosty montaż oraz łatwość utrzymania w czystości i nienagannym stanie, ale w równym stopniu także za wartości estetyczne. Dzięki różnym technologiom produkcji i obróbki oferta kostek brukowych zadziwia nie tylko bogactwem kształtów i rozmiarów, ale także zróżnicowaną fakturą powierzchni i intrygującą kolorystyką.
TECHNOLOGIA PŁUKANIA
Zastosowanie technologii płukania w produkcji betonowych kostek brukowych pozwala na uzyskanie chropowatej powierzchni o strukturze naturalnego kamienia. Specjalnej wodnej obróbce poddawana jest wierzchnia warstwa kostek, będąca mieszaniną najlepszych surowców i szlachetnych kruszyw, takich jak marmur, granit, bazalt. Polega ona na wypłukiwaniu pod ciśnieniem drobin betonu i tym samym eksponowaniu grubszego ziarna o intensywnej barwie. Dzięki takiemu zabiegowi uszlachetniającemu kostki zyskują nie tylko wyrafinowaną estetykę, ale nabywają również właściwości antypoślizgowe.
W technologii płukania produkowane są kostki z grupy Elegante. Sprawdzą się one w odmiennych stylistykach, zarówno nawiązujących do nowoczesnego minimalizmu, jak też bardziej klasycznych rozwiązań.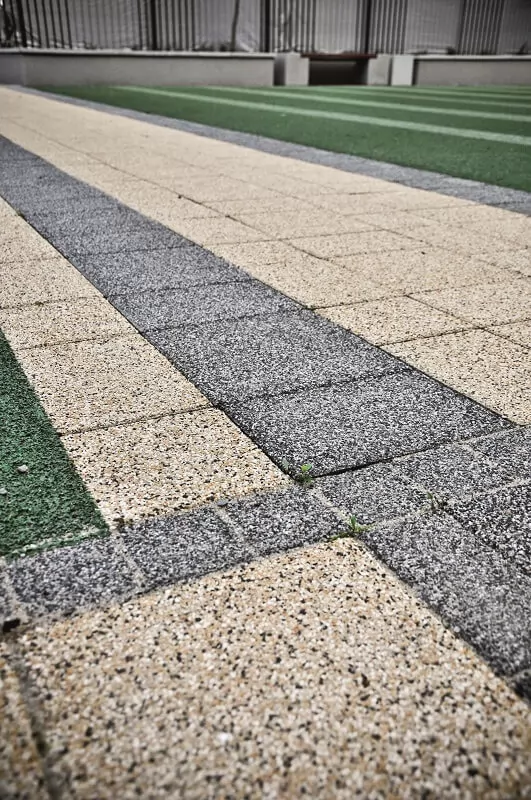 TECHNOLOGIA POSTARZANIA
Postarzane powierzchnie są ponadczasowe – trend ten właściwie nie przemija, stale nam towarzyszy i zawsze znajduje rzesze zwolenników. Tę popularność zawdzięcza umiejętności wykreowania dawnego, romantycznego stylu nawet w nowoczesnym otoczeniu. Takie stylizowane powierzchnie powstają w procesie postarzania, polegającym na młoteczkowaniu lub obijaniu, jakiemu poddawane są betonowe elementy. Bazę wyjściową stanowią kostki o specjalnym składzie mieszanki betonowej, a barwienie odbywa się techniką polegającą na cieniowaniu kolorów wyrobu, dzięki czemu powstaje efekt melanży kolorystycznych. Efektem technologii postarzania są kostki brukowe o starodawnym wyglądzie, do złudzenia przypominające antyczny bruk.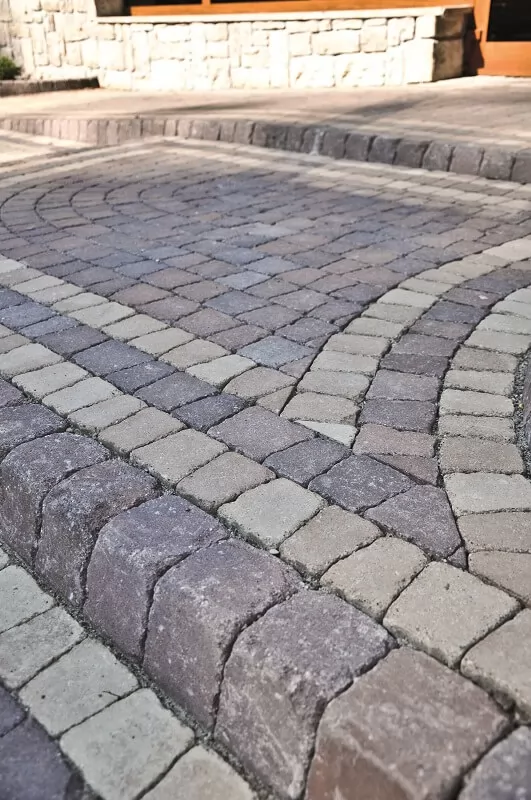 Kostki brukowe o postarzanej powierzchni tworzą grupę Antico. Ich ujmujący wizerunek idealnie pasuje do klasycznych i rustykalnych stylizacji, podkreślając urok historyzujących obiektów, współtworzy też naturalne, harmonijne kompozycje z roślinnością. Ciekawie prezentuje się również w zestawieniu z nowoczesnymi bryłami i elegancką, chłodną paletą barw. W tym przypadku doskonale sprawdzą się duże formaty w postarzanej wersji – nowoczesny rozmiar w połączeniu ze stylizowaną nawierzchnią pozwala na uzyskanie niecodziennego efektu. Małe formaty Antico natomiast, używane dla przełamania dużych, modernistycznych form, to złagodzenie surowego stylu i kontrastowe zestawienie produktów. Takie połączenie dobrze wpisuje się w nowoczesne kreowanie przestrzeni miejskiej i prywatnej.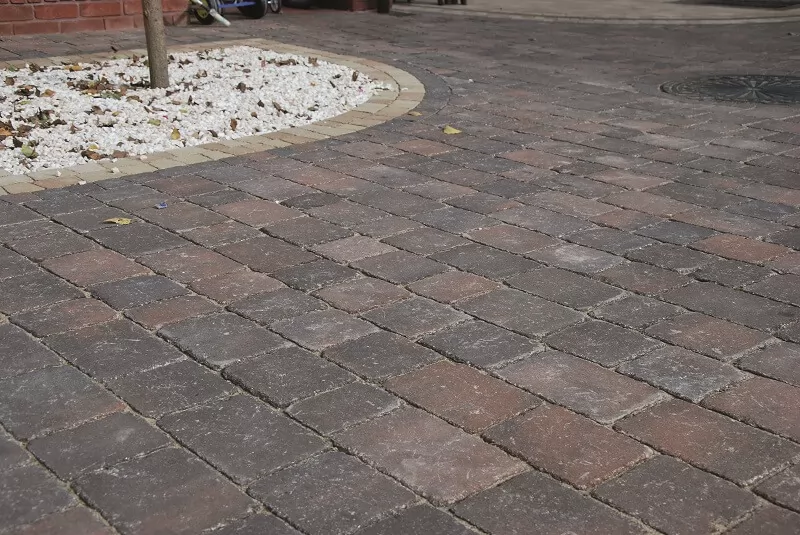 TECHNOLOGIA ŁĄCZENIA MIESZANEK BETONU
O elegancji i urodzie betonowych nawierzchni w znacznym stopniu przesądza kolorystyka. Niepowtarzalne melanże, przejścia tonalne oraz łączenie różnorodnych odcieni uzyskiwane są w technologii Colormix. Warstwa wierzchnia kostek brukowych powstaje tutaj poprzez łączenie odpowiednio zabarwionych mieszanek betonowych. Colormix daje niesamowite efekty finalne, jednak uzyskanie brukowanej nawierzchni o wysokich walorach estetycznych wymaga przestrzegania podczas prac montażowych zasady 3 palet. W ten sposób otrzymamy interesujący efekt kolorystyczny, a jednocześnie uchronimy nawierzchnię przed niepożądanym skupiskiem odcieni. Color Flex natomiast to nowoczesna technologia barwienia kostek, która nadaje każdemu elementowi pełną paletę odcieni. Metoda ta jest stosowana przede wszystkim przy kostkach o większych rozmiarach.
W grupie Colormix znajdują się kostki barwione technologią Colormix, jak też Color Flex. Dzięki różnorodności kolorystycznej z powodzeniem można je dopasować do każdego stylu aranżacji i zawsze będą wyglądały elegancko i intrygująco.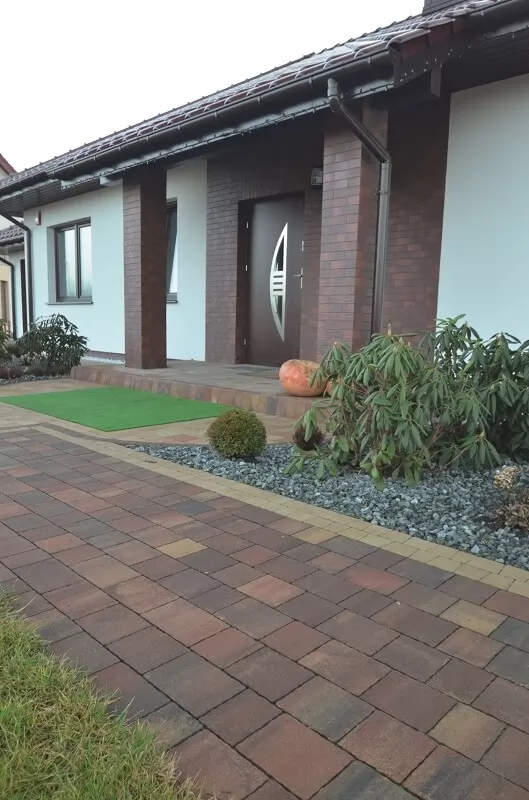 TECHNOLOGIA ŚRUTOWO-SZCZOTKOWA
Technologia śrutowo-szczotkowa należy do najnowocześniejszych w obróbce betonowych kostek brukowych i jest stosowana do wytwarzania materiałów z grupy Aspero. Podczas produkcji poszczególne elementy podlegają zabiegowi tzw. śrutowania i szczotkowania, który nadaje efekt charakterystycznej porowatości. Barwienie odbywa się w technologii Color Flex, co wzbogaca powierzchnię efektowną, zróżnicowaną kolorystyką. Tak produkowane kostki brukowe są atrakcyjne wizualnie, gwarantują komfort użytkowania, a niejednorodna faktura sprawia, że niemal nie widać na nich zabrudzeń. Proces obróbki wpływa również na wysoki współczynnik antypoślizgowy.
Niebanalny urok kostek z grupy Aspero doda ekskluzywności i wyjątkowego charakteru zarówno klasycznym, jak i nowoczesnym aranżacjom.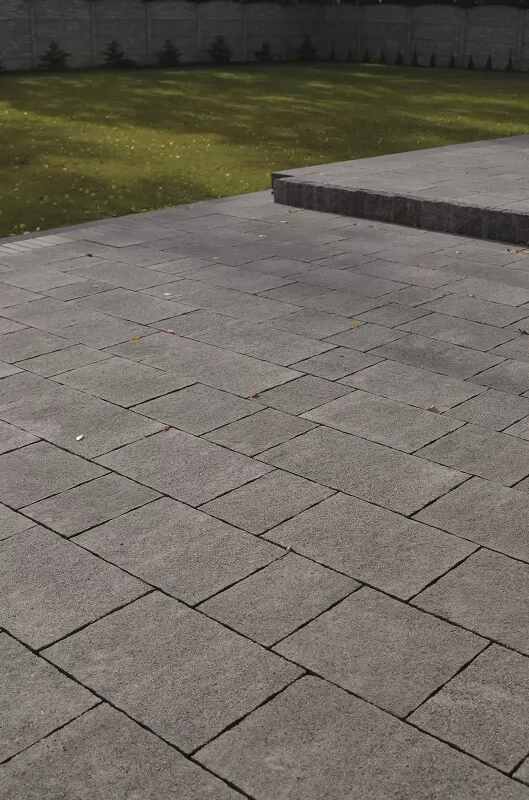 SUROWE WYDANIE
Produkty betonowe coraz częściej pojawiają się w naszym otoczeniu w formie niemal surowej, nie poddanej skomplikowanej obróbce, wpływającej na ich wygląd. Elementy te tworzą designerskie rozwiązania, będące ozdobą nowoczesnych, minimalistycznych, czy wręcz industrialnych przestrzeni. Nowa grupa Libet Decco Monocolor to odpowiedź na potrzeby osób poszukujących modnych, stylowych, a przy tym funkcjonalnych i estetycznych produktów. Czysta forma surowego betonu – do tej pory dostępna na rynku przede wszystkim w szarościach – w ofercie Libet nabiera nowego wymiaru. Kontrastowe, zdecydowane barwy – antracyt i biel – pozwalają na kreowanie nowoczesnych nawierzchni. Monocolor to dobrze znane kształty w surowej wersji, jak również zupełnie nowe propozycje. Ponadto produkty z tej grupy charakteryzują się wszystkimi walorami szlachetnych kostek Libet Decco, w tym m.in. zabezpieczeniem w postaci ALS.