Urządzamy taras na wiosnę
(artykuł gościnny)
Kiedy po długiej zimie dni robią się coraz cieplejsze, przychodzi czas, by pomyśleć o przygotowaniu tarasu na nowy sezon. W ciepłe miesiące będziemy tam odpoczywać i spędzać radosne chwile z bliskimi – przeniesiemy codzienne życie z domowego salonu do ogrodu. Jak urządzić taras na wiosnę? Od czego zacząć i na jakie elementy zwrócić szczególną uwagę?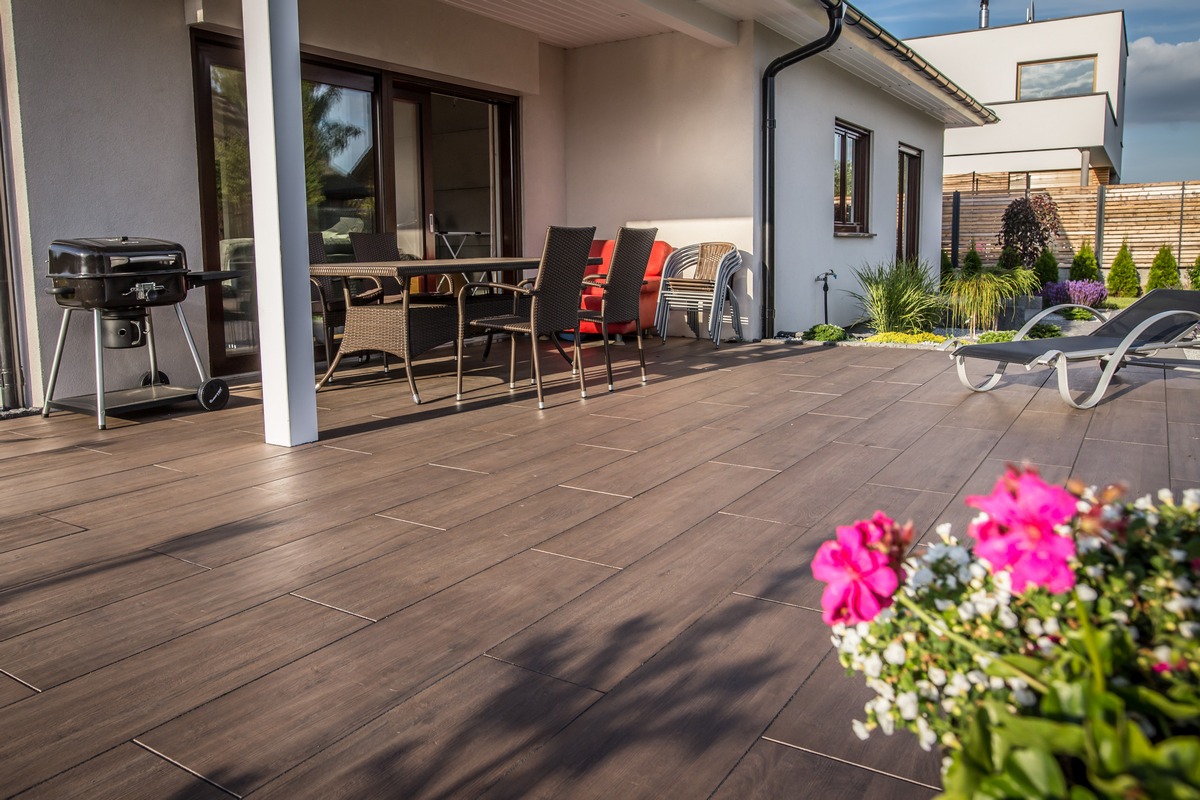 Od wczesnej wiosny aż do późnej jesieni taras staje się centralnym punktem naszej domowej przestrzeni. Chętnie wychodzimy na niego rano z filiżanką kawy i książką, po południu spędzamy czas z rodziną, a w weekendy jemy razem obiad lub organizujemy grilla. Warto, by przestrzeń ta była funkcjonalna i komfortowa w użytkowaniu, ale także wytrzymała oraz odporna na działanie czynników zewnętrznych. Silne słońce, zmiany temperatur, wiatr, opady – wszystko to wpływa destrukcyjnie zarówno na powierzchnię tarasu, jak i znajdujące się na nim wyposażenie. Dobrze jest pomyśleć o tym już na etapie projektowania i urządzania tej przestrzeni. Jakie kwestie warto rozważyć?
Taras – jaką nawierzchnię wybrać?
To, jakie materiały wybierzemy na nawierzchnię tarasu, zależy nie tylko od trwałości materiału, ale i stylu, w jakim chcemy go urządzić. Najpopularniejsze elementy wykończeniowe to płyty betonowe, ceramiczne, kostka brukowa oraz deski – naturalne, kompozytowe lub w formie kwadratowych paneli. Postawienie na konkretny materiał to kwestia osobistych preferencji, ale też aktualnych warunków zabudowy, stylistyki otoczenia (np. elewacja budynku) oraz budżetu, jakim dysponujemy. Coraz częściej na tarasach widzimy ceramiczne płyty gresowe. Są trwałe, odporne na działanie czynników zewnętrznych,  występują w szerokiej gamie kolorów, kształtów i wzorów, pozwalając na tworzenie ciekawych aranżacji, a do tego – bardzo łatwo utrzymać je w czystości.
Wykończenie ceramiką lub betonem doskonale sprawdza się w przypadku nowoczesnych budynków o prostej bryle, choć bogactwo faktur i kolorów dostępnych przy tych materiałach pozwala z powodzeniem wypełnić przestrzeń zaprojektowaną w stylu klasycznym czy rustykalnym. Szczególnie ciekawie sprawdzają się tu motywy inspirowane naturalnym drewnem lub kamieniem.
Jaki rodzaj zadaszenia sprawdzi się na tarasie?
Często zalecaną lokalizacją tarasu – względem stron świata – jest południowy zachód lub zachód. Dzięki temu przez całe popołudnie, kiedy najczęściej spędzamy czas na zewnątrz, będziemy mogli korzystać z promieni słonecznych. Jednocześnie warto pomyśleć o zadaszeniu. Będzie ono konieczne także wtedy, gdy taras znajduje się od strony południa. Do wyboru mamy kilka rozwiązań, m.in. stałą pergolę z drewna, stali lub aluminium oraz wszelkiego rodzaju markizy, żagle i parasole.
Pergolę można pozostawić otwartą lub dodatkowo wyposażyć ją w ściany lub rolety zewnętrzne. Konkretny wybór zależy od preferencji użytkowników i stylu ogrodu. Najlepiej sprawdzają się stabilne pergole, które dają doskonałą ochronę przed słońcem czy deszczem, a w razie potrzeby można je rozsunąć.
Meble na taras – najlepszy materiał
Idealnie dobrane meble tarasowe powinny spełniać kilka kryteriów – być wygodne i komfortowe w użytkowaniu, trwałe i odporne na warunki atmosferyczne oraz dopasowane do stylu tarasu. W klasycznych aranżacjach najlepiej prezentują się materiały naturalne, takie jak drewno, rattan czy wiklina. Musimy jednak pamiętać, że są one najmniej odporne na działanie wody, dlatego warto chować je w czasie tzw. niepogody. Nowoczesne tarasy doskonale uzupełnią meble ze stali lub technorattanu, który łączy wytrzymałość z oryginalnym splotem.
Wybierając meble zwróćmy uwagę na ich wagę, łatwość w przenoszeniu lub przesuwaniu oraz czyszczenie. Rodzaj poszczególnych elementów dopasujmy do stylu życia mieszkańców. Osoby, które cenią wygodę i odpoczynek na tarasie, powinny mieć komfortową sofę, fotele i hamak. Jeśli często spożywamy posiłek na zewnątrz lub organizujemy przyjęcia w ogrodzie niezbędny będzie stół z krzesłami.
Oświetlenie i dekoracje na tarasie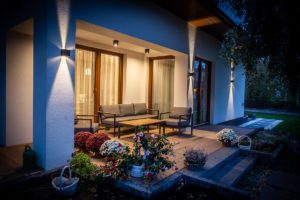 W aranżacji tarasu nie mniej ważne niż meble są dodatkowe elementy wyposażenia. Przede wszystkim dobrze zaplanujmy oświetlenie, by korzystać z przestrzeni zewnętrznej także wieczorami i nocą. Oprócz centralnej lampy warto zastosować świece i lampiony, które dodatkowo spełnią funkcję dekoracyjną i wprowadzą klimat zarówno w dzień, jak i po zmierzchu. Ciekawym uzupełnieniem będzie dywan lub chodnik oraz zasłony, które zapewnią prywatność i ochronę przed wiatrem lub chłodem. Jeśli zależy nam na wyjątkowej atmosferze zamontujmy bujane kosze, dzwoneczki lub łapacze snów.
Jakie rośliny na taras?
Uzupełnieniem tarasowej aranżacji będą rośliny, które połączą jego przestrzeń z ogrodem. Jeśli na taras prowadzą schodki możemy obłożyć je kamieniami i stworzyć tam rabaty z pnącymi gatunkami lub kwitnące bratki, niezapominajki i nasturcje. Ciekawy klimat osiągniemy, sadząc kwiaty pachnące: groszek, konwalie lub maciejkę. Na samym tarasie warto postawić na rośliny doniczkowe – świetnie sprawdzi się pelargonia, jałowiec, azalia, berberys oraz wszelkie pnącza. Na jednej ze ścian możemy zamontować drabinkę i posadzić tam bluszcz, pnącą hortensję czy powojniki. Możemy wybrać rośliny wieloletnie, jak i sezonowe, które co roku będziemy mogli zmieniać na inne gatunki.
Materiał powstał we współpracy z portalem GetHome.pl