Wyjątkowy wymiar betonu – elementy dekoracyjne z kolekcji Libet Stampo
Kolekcja Libet Stampo to grupa produktów zaprojektowanych z myślą o wzbogaceniu ogrodowych aranżacji zarówno w przestrzeni prywatnej, jak i publicznej. Designerska forma nowoczesnych elementów z betonu architektonicznego idzie tu w parze z użytecznością.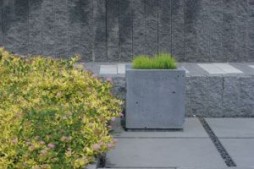 Beton architektoniczny jest chętnie wykorzystywany przez architektów i projektantów. Przekonali nas oni o tym, że surowe w wyrazie powierzchnie kryją w sobie wyjątkowe piękno i nie muszą być ukrywane pod warstwą wykończeniową. W nowoczesnych koncepcjach aranżacyjnych beton jest stosowany zarówno na elewacjach, ścieżkach czy podjazdach, jak też na ścianach i posadzkach wewnętrznych. Wykonuje się z niego nawet efektowne meble i oryginalne akcenty, wprowadzające niepowtarzalny klimat na posesję, skwer miejski lub np. do parku.
Kolekcja Libet Stampo to pięć propozycji elementów małej architektury, które nadadzą wyjątkowego charakteru każdej przestrzeni. Proste, zgeometryzowane bryły doskonale pasują do modernistycznych budynków. Minimalistyczna forma współgra z dwoma monochromatycznymi kolorami – białym betonowym oraz cementowo-grafitowym. Produkty są impregnowane już na etapie produkcji, co pozwala cieszyć się ich estetycznym wyglądem przez długi czas.
Najprostszym, a jednocześnie najbardziej uniwersalnym przedstawicielem kolekcji jest Sześcian o wymiarach 50 x 50 x 50 cm. Pojedynczy element może stać się np. ogrodowym stolikiem lub siedziskiem, natomiast w grupie zmieni się w ławkę, a nawet w niewysoki murek. W ofercie znajdziemy również, pasującą do niego Donicę (także w rozmiarze 50 x 50 x 50 cm), która dodatkowo występuje w kształcie prostopadłościanów o wymiarach 100 x 50 x 50 cm oraz 50 x 100 x 50 cm. Wypełniona roślinami, będzie świetną ozdobą przydomowego tarasu i reprezentacyjnej strefy prowadzącej do budynku. Szeroki wachlarz zastosowań ma najnowszy produkt Libet Stampo – Plaster Miodu. Jego designerska forma czyni z niego, przykuwającą uwagę dekorację ogrodową, z której można budować różnorodne konstrukcje. Możliwości aranżacyjne zwiększa fakt, iż Plaster Miodu występuje w dwóch wersjach – ażurowej i pełnej. Sprawdzi się więc zarówno jako np. siedzisko, jak i donica czy ogrodowy regał. Kolekcję dopełniają dwa okrągłe elementy – gładka Kula oraz Piłka Golfowa o trójwymiarowej strukturze. Dzięki nowoczesnej technologii posiadają one jednolitą, bezszwową formę. Warto wykorzystać je jako np. ograniczniki wjazdu lub wytyczyć za ich pomocą określone strefy.
Zapisz
Zapisz
Zapisz
Zapisz