Zagrożenia dla nawierzchni z betonu
Beton to materiał słusznie kojarzony z trwałością oraz odpornością na oddziaływanie rozmaitych czynników typowych dla warunków zewnętrznych. Stosując go jako nawierzchnię wokół domu lub w innym miejscu, nie powinniśmy jednak przesadzać z niepotrzebnymi próbami wytrzymałości… Oto kilka przykładów zagrożeń związanych z układaniem i eksploatacją betonowych elementów.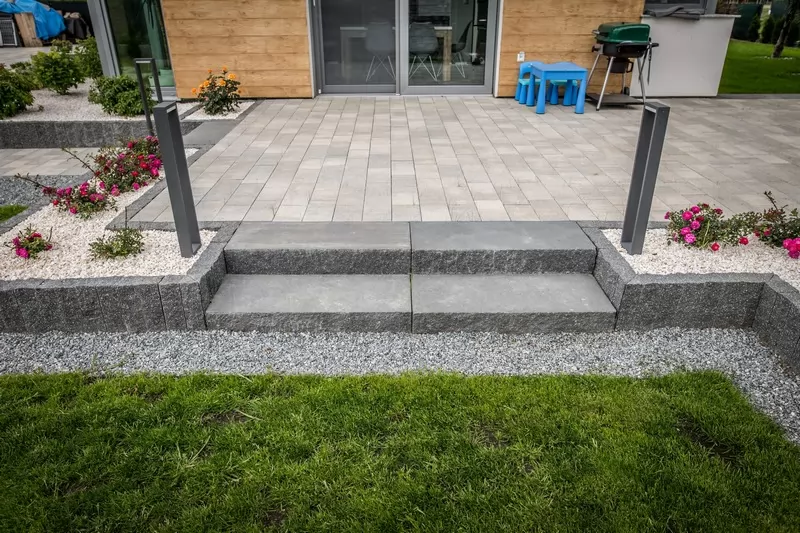 Montaż
Pierwsze zagrożenia dla nawierzchni pojawiają się już na etapie ich realizacji. Inwestycja w ścieżkę, taras, plac czy podjazd wymaga nie tylko doboru odpowiednich materiałów, lecz także prawidłowego przygotowania podłoża, układania zgodnego ze sztuką brukarską czy dodatkowego zabezpieczenia elementów tego wymagających. Na co uważać przy układaniu kostek i płyt?
Niewłaściwie wykonana podbudowa to częsta przyczyna późniejszych uszkodzeń nawierzchni (zapadanie, wybrzuszenia, odspojenia, pęknięcia)
Zbyt ciasne układanie kostek czy płyt prowadzi do ich uszkodzeń, ponieważ nawierzchnia cały czas "pracuje" i poszczególne elementy mogą na siebie napierać
Brak odwodnienia (np. w postaci spadków na tarasie) oznacza zalegającą wodę i związane z tym procesy destrukcyjne
Układanie materiałów z melanżami kolorystycznymi warstwami oraz bezpośrednio z jednej palety może spowodować nieatrakcyjny efekt wielkopowierzchniowych różnic w odcieniach całej tworzonej strefy. Dlatego zaleca się, by kostka pobierana była w pionie z minimum trzech palet.
Niektóre produkty (np. wet-cast) jeszcze przed zabudowaniem wymagają zaimpregnowania. W przeciwnym przypadku będą bardzo podatne na zabrudzenia etc.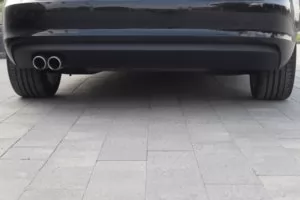 Szczegółowe zalecenia dotyczące opisanych wyżej przypadków powinny uwzględniać specyfikę produktów, technologii i warunków, z jakimi mamy do czynienia. Przykładowo: zakres późniejszej eksploatacji i przewidywanych obciążeń ma wpływ na zalecaną grubość podbudowy, o wyborze systemu odwodnienia mogą decydować warunki gruntowe, a także charakter kostki i wykonanej z niej nawierzchni, minimalna szerokość fug jest natomiast w znacznym stopniu uzależniona od rodzaju oraz rozmiaru elementów nawierzchniowych.

Użytkowanie
Nawierzchnie z betonu nie wymagają skomplikowanych zabiegów pielęgnacyjnych. Należy jednak na usuwać z nich bieżące zabrudzenia, uzupełniać co jakiś czas fugi, a do tego unikać niewłaściwej eksploatacji. W czym może się ona przejawiać?
Kontakt z olejami silnikowymi i innymi trwale brudzącymi substancjami
Czyszczenie zabrudzeń żrącymi środkami
Wjeżdżanie ciężkimi pojazdami (np. dostawczymi) na powierzchnie przystosowane do ruchu lekkiego
Przesuwanie ciężkich przedmiotów
Stosowanie ostrych metalowych narzędzi przy pracach pielęgnacyjnych, odśnieżaniu etc.
Podstawowym sposobem na utrzymanie naszych ścieżek, tarasów, placów i podjazdów w pożądanym stanie jest po prostu regularne zamiatanie szczotką piasku, liści lub innych naleciałości. Wskazane jest także okresowe (1-2 razy w roku) mycie takiej nawierzchni wodą, najlepiej przy pomocy myjki ciśnieniowej z końcówką rotacyjną.
Wady czy nie wady
Zdarza się, że jeszcze przed rozpoczęciem realizacji upragnionej przydomowej strefy mamy wątpliwości co do materiałów, które będą ją tworzyć. To dobry moment, bo produkty niezabudowane znacznie łatwiej wymienić. Jednak nie zawsze jest taka potrzeba…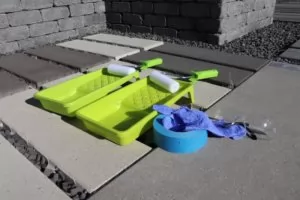 Nieatrakcyjny nalot na powierzchni to najprawdopodobniej wykwity wapniowe będące naturalnym zjawiskiem wynikającym z procesu produkcji wyrobów betonowych. Powinny one z czasem zniknąć w trakcie eksploatacji. Przy nieprawidłowo wykonanej podbudowie mogą jednak wracać. Możliwe jest więc zastosowanie specjalnych preparatów, jednak należy sprawdzić, czy nie wpływają np. na zmianę koloru czyszczonego fragmentu
Również różnice w odcieniach poszczególnych elementów są typowym wyróżnikiem materiałów betonowych. Jest to szczególnie widoczne przy produktach z melanżami kolorystycznymi. Dlatego zaleca się w ich przypadku stosowanie opisanej wyżej zasady 3 palet
Niektóre "odstępstwa od normy" w designie są natomiast efektem celowych zabiegów. Produkty inspirowane wyglądem drewna czy kamienia charakteryzują się nierównomierną fakturą (pory, nierówności, słoje), dzięki której wprowadzają do otoczenia unikatowy motyw natury
Podobnie jest z postarzanymi kostkami. Występujące na nich rysy i obtłuczenia są wynikiem specjalnego procesu obróbki i sprawiają, że gotowe ścieżki czy podjazdy mają stylistykę starych traktów. Nie wpływa to jednak na obniżenie ich parametrów technicznych