Zakup działki pod budowę domu – jakie są formalności?
(artykuł gościnny)
Osoby, które planują budowę domu i rozpoczęły już poszukiwania wymarzonej działki budowlanej, powinny pamiętać o formalnościach, jakie czekają je w związku z kupnem ziemi. Co trzeba wiedzieć – najlepiej jeszcze przed podpisaniem umowy – by uniknąć ewentualnych kłopotów?
Na co zwrócić uwagę przed zawarciem umowy?
Nawet najatrakcyjniejsze oferty działek budowlanych nie powinny sprawić, by osoba planująca zakup ziemi pod budowę domu zapomniała o tym, co należy sprawdzić jeszcze przed podpisaniem umowy. W pierwszej kolejności – podobnie jak w przypadku nabycia mieszkania lub domu – warto zapoznać się ze stanem prawnym nieruchomości. W tym celu najlepiej sprawdzić księgę wieczystą działki.
Na co należy zwrócić przy tym uwagę? Warto m.in. upewnić się, czy sprzedający faktycznie jest właścicielem wieczystym gruntu. Oprócz tego potencjalny nabywca powinien sprawdzić również, czy działka nie jest obciążona hipoteką (w tym celu należy zajrzeć do działu IV KW) lub czy nie mają do niej prawa osoby trzecie. Może się też zdarzyć, że na działce jest ustanowiona służebność drogi koniecznej, co z kolei umożliwia przejazd innym osobom przez cudze grunty np. w celu dostania się do własnej posesji. Wszystkie tego typu wątpliwości trzeba więc jak najszybciej wyjaśnić z właścicielem.
Plan zagospodarowania przestrzennego oraz wypis i wyrys z ewidencji gruntów
To jednak nie wszystko. Przed dokonaniem zakupu dobrze jest też sprawdzić miejscowy plan zagospodarowania przestrzennego – czyli m.in. upewnić się, że upatrzony teren faktycznie jest działką budowlaną i możliwe będzie wybudowanie tam np. domu jednorodzinnego. Oprócz tego sprawdźmy także dopuszczalne gabaryty nowych budynków.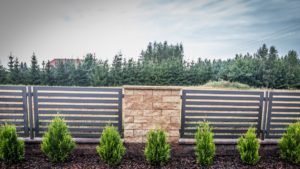 Oprócz księgi wieczystej i miejscowego planu zagospodarowania przestrzennego warto zapoznać się z wypisem i wyrysem z ewidencji gruntów (dokumenty te dostępne są w urzędzie gminy lub w starostwie). W wypisie znajdują się podstawowe dane dotyczące działki, z kolei wyrys to odbitka mapki, na której zaznaczone są jej granice. Dzięki sprawdzeniu tych informacji kupujący ma pewność, że sprzedający podał mu prawdziwe dane dotyczące gruntu.
Umowa kupna-sprzedaży nieruchomości zawsze w postaci aktu notarialnego
Aby umowa kupna-sprzedaży była ważna, konieczne jest jej zawarcie w formie aktu notarialnego. Obie strony, szykując się na wizytę w kancelarii, muszą przygotować dokumenty tożsamości, a sprzedający – dodatkowo wypis z księgi wieczystej (lub inny dokument potwierdzający jego prawo do działki), a także wypis z miejscowego planu zagospodarowania przestrzennego oraz wypis z rejestru gruntów.
Formalności po zakupie działki – pozwolenie na budowę
Osoby, które zakupiły już nieruchomość w postaci działki budowlanej i chcą rozpocząć budowę domu, muszą pamiętać, że konieczne jest też dopełnienie dalszych formalności – takich jak uzyskanie pozwolenia na budowę. Aby je otrzymać, trzeba z kolei przedłożyć wiele dokumentów, dlatego warto jak najwcześniej zdobyć niezbędne informacje na ten temat.
Materiał przygotowany przez eksperta portalu GetHome.pl