Zatrzymać wspomnienia z podróży – 3. odcinek cyklu "Inspiracje Ogrodowe"
Zagraniczne podróże często przywołują w nas miłe wspomnienia. Klimat miejsc, które zachwyciły nas swoim wyglądem, możemy zatrzymać na dłużej, jeśli zdecydujemy się na właściwą aranżację przestrzeni wokół naszego domu. Jednymi z popularniejszych stylów nawiązujących do konkretnych regionów, są styl włoski, śródziemnomorski czy orientalny. Jak stworzyć ogrody utrzymane w takich klimatach w kolejnej odsłonie programu "Inspiracje Ogrodowe" podpowiada architekt krajobrazu, Agata Niedziałek.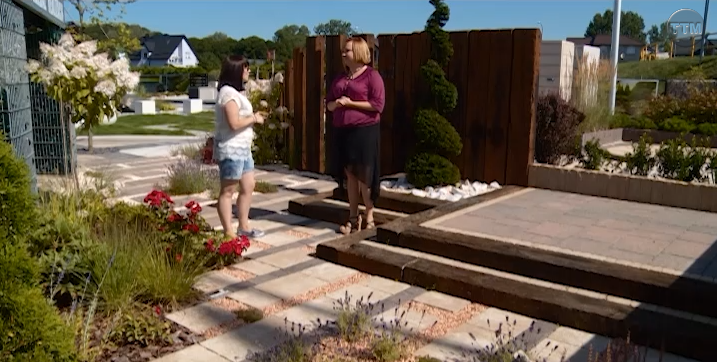 Ogród to miejsce wypoczynku, w którym powinniśmy w pełni się relaksować, ciesząc oko zastosowanymi rozwiązaniami aranżacyjnymi i piękną roślinnością. Jeśli zależy nam, aby stworzyć wyjątkową przestrzeń, która jednocześnie będzie przypominać o odbytych podróżach, warto pomyśleć o wyborze stylu włoskiego czy śródziemnomorskiego. Zarówno jeden, jak i drugi, cieszą się u nas coraz większym zainteresowaniem, co po części  wynika z sentymentu do podróży w tamte rejony. W klimat ogrodu włoskiego i śródziemnomorskiego idealnie wpiszą się produkty z linii Libet Decco Colormix, Decco Antico oraz Libet Impressio.
Styl włoski jest oparty na prostych, ale funkcjonalnych rozwiązaniach. Celowo postarzane czy sprawiające wrażenie podniszczonych przedmioty zyskują "drugie życie". Istotną rolę odgrywają detale, zioła oraz inne rośliny utrzymane w intensywnych kolorach, takich jak róż, fiolet, czy czerwień.
W przypadku ogrodu utrzymanego w stylu śródziemnomorskim kluczową rolę odgrywa duży i przestronny taras, zwykle otoczony pnączami. Trawniki ograniczone są do minimum lub nie występują wcale a zastępują je np. rozsypane kamienie. W tym przypadku stawiamy na rośliny, które przypominają te egzotyczne, np. ozdobne trawy, ostrokrzew, kosodrzewiny, juka.
Osoby, dla których ważna jest strefa wypoczynku, często decydują się na ogród w coraz popularniejszym stylu orientalnym. Rozwiązanie to łączy w sobie nurty japońskie, chińskie i koreańskie. Istotnymi jego elementami są woda oraz intensywne barwy, w tym czerwień. Jeśli chodzi o roślinność, to dominują tu m.in. rododendrony i kosodrzewiny.
Więcej informacji na temat stylów ogrodowych inspirowanych konkretnymi miejscami i wspomnieniami z podróży można znaleźć w trzecim odcinku programu "Inspiracje Ogrodowe".
https://www.youtube.com/watch?v=aQSC4xN7Ca4&list=PLJdB7c5nWKeZdnflmEij6iqnfxKZmdkDX&index=3