Dlaczego warto korzystać ze wsparcia projektanta?
Decyzja podjęta, czas zaaranżować przestrzeń wokół domu. Na dobry początek zaplanujmy sobie, jak i z czego wykonać podjazd, ścieżki, taras, wejścia do budynku, ogrodzenie posesji, altankę, plac zabaw, a może do tego jeszcze basen, outdoorowy salon lub inną bardziej ekstrawagancką strefę. Nic  prostszego, wystarczy tylko… Właśnie – stworzenie funkcjonalnego i spójnego wizualnie otoczenia wcale nie jest takie łatwe. Warto więc pomyśleć o profesjonalnym wsparciu. W czym pomoże nam zlecenie projektu nawierzchni i innych elementów aranżacji?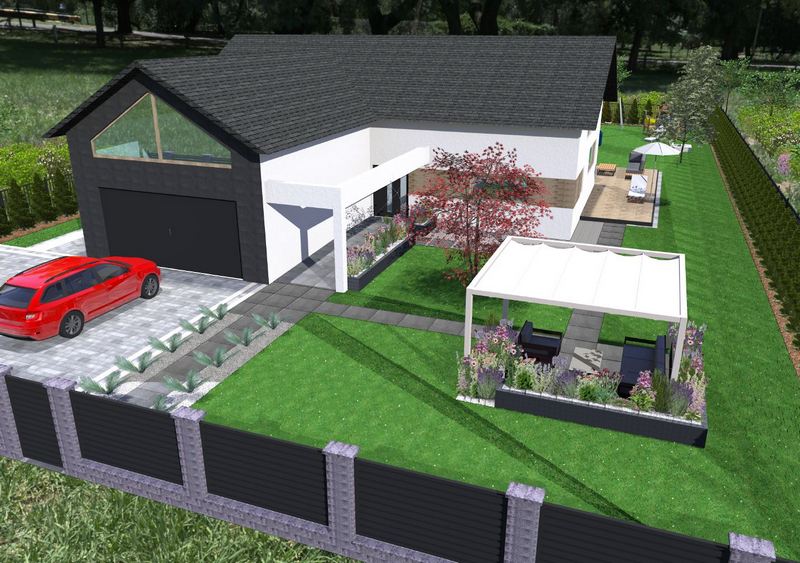 Dobór produktów i nie tylko
Skompletowanie materiałów do wykończenia przydomowych przestrzeni nie ogranicza się dziś do wyboru pasującego nam najbardziej designu. To niełatwa sztuka wymagająca wzięcia pod uwagę wielu czynników decydujących o atrakcyjności, funkcjonalności oraz trwałości realizowanej zabudowy. Koncepcja aranżacji terenu jest więc jednocześnie wnikliwą analizą potrzeb i możliwości związanych z zagospodarowaniem naszej posesji. W zależności od zakresu planowanych prac, uwzględniać ona może takie elementy, jak:
Warunki gruntowe na działce wpływające w dużym stopniu na usytuowanie poszczególnych stref oraz zalecenia dotyczące prac wykonawczych (w tym tworzenie podbudowy)
Ukształtowanie terenu i ewentualne różnice wysokości decydujące o sposobie wytyczania ciągów komunikacyjnych, konieczności budowy murów oporowych, organizacji systemów odprowadzania wody itp.
Charakter przyszłej eksploatacji określonych stref, szczególnie istotny m.in. w przypadku podjazdów, które wymagają zastosowania wytrzymałych kostek o odpowiedniej grubości
Położenie i nasłonecznienie działki umożliwiające optymalne usytuowanie basenu, osłonięcie tarasu czy wybór roślin, które będą miały najlepsze warunki rozwoju w danym miejscu
Wymiary dostępnej przestrzeni, na postawie których można rozplanować m.in. układ oraz długość i szerokość ciągów komunikacyjnych, pozwalające na swobodny wjazd na teren, parkowanie czy poruszanie się po ścieżkach
Wygląd otoczenia, w tym architektura budynku stanowiąca punkt wyjścia do stworzenia spójnej wizualnie aranżacji całej przestrzeni
Aktualne przepisy precyzujące takie wymagania, jak minimalny udział powierzchni biologicznie czynnych
Więcej niż dodatki
Czasem na wstępnym etapie prac nie myślimy o wszystkich niezbędnych lub przynajmniej przydatnych elementach powstającej zabudowy. Niejednokrotnie efekt jest taki, że potem musimy ją modyfikować przy wprowadzaniu nowych udogodnień, np. poprzez ciągnięcie pod powierzchnią trawy czy ścieżki instalacji do oświetlenia ogrodowego. Projektant/ka patrzy natomiast na przestrzeń kompleksowo i może od razu zaproponować rozwiązania, których w natłoku spraw inwestycyjnych nie bierzemy pod uwagę. Nie musimy ich finalnie wybrać, ale warto o nich wiedzieć.
Elastyczność
Nie traktujmy usługi projektowej jak formy narzucenia nam przez specjalistę (który wszystko wie lepiej) jego wizji dotyczącej przestrzeni, w której to my będziemy potem żyć. Przeciwnie, specjalista ten chętnie pozna nasze potrzeby i zaproponuje dostosowane do nich rozwiązania. Co więcej, po zapoznaniu się z efektami jego pracy będziemy mogli porozmawiać o ewentualnych modyfikacjach. Warto wskazywać swoje pomysły i wątpliwości, ale też wysłuchajmy drugiej strony, gdyż może ona uzmysłowić nam wady i zalety poszczególnych opcji.
Przejrzysta wizualizacja
Podstawowym atutem takiej współpracy jest oczywiście klasyczna koncepcja w formie graficznej, zawierająca wytyczne odnośnie rodzaju i ilości potrzebnych materiałów oraz kompozycji, jakie mają z nich finalnie powstać. To także doskonały sposób na zwizualizowanie nam walorów aranżacji, jeszcze przed rozpoczęciem jej realizacji. Projekt zawiera m.in. szkic koncepcyjny prezentujący ogólny wygląd przestrzeni wokół domu, wraz ze wskazaniem usytuowania elementów małej architektury oraz ich szczegółowych wymiarów. Znajdują się w nim także informacje o użytych produktach – od kostek brukowych i płyt tarasowych po takie elementy uzupełniające, jak stopnie schodowe, palisady itp.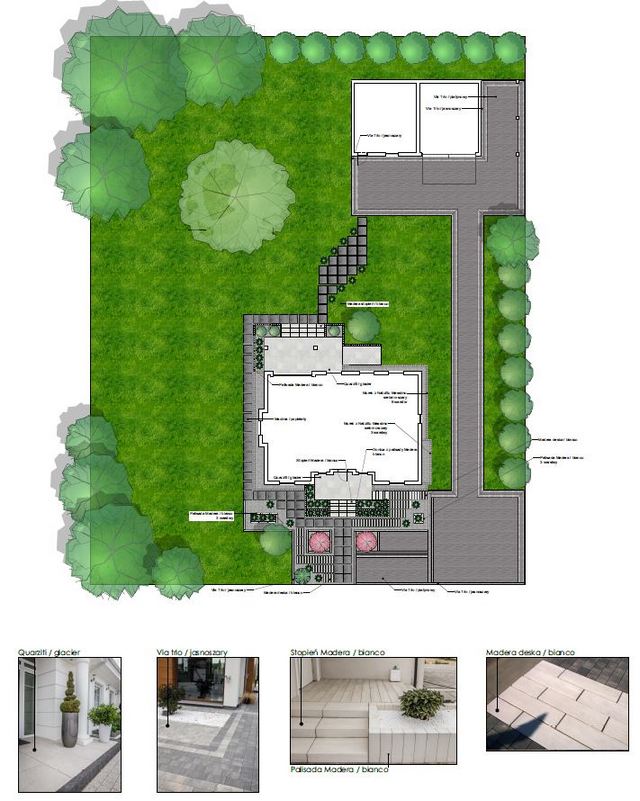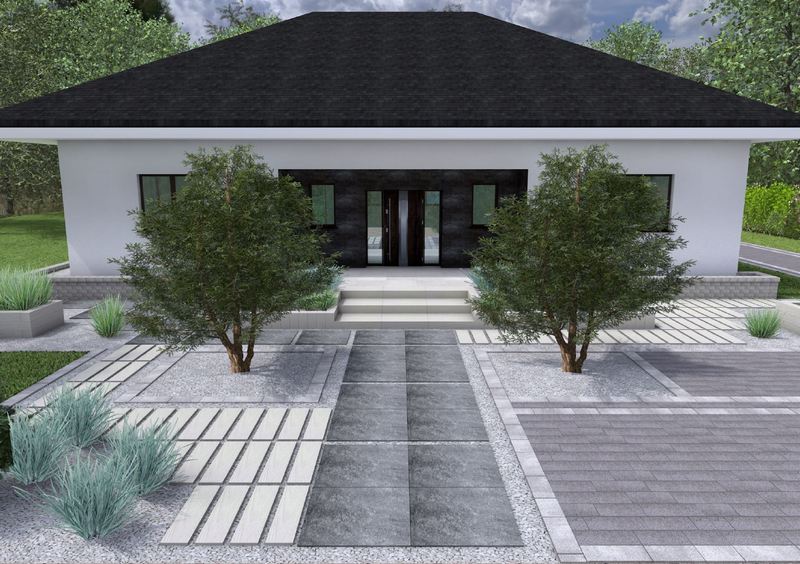 W zależności od wybranej formy współpracy z Libet, dokument ten powstaje:
na podstawie pomiarów dokonanych przez projektantkę bezpośrednio na naszej posesji oraz dodatkowych przekazanych jej materiałów (rzuty budowlane obiektów, zdjęcia inspiracyjne, plan zagospodarowania terenu, sugestie inwestora)
lub, jeśli nie mamy czasu na spotkanie z projektantką albo wolimy współpracę zdalną:
w oparciu o przesłane projektantce wyżej wymienione parametry i dokumenty
W każdym przypadku istotne są nasze własne sugestie i oczekiwania przekazywane na bieżąco w trakcie tworzenia projektu. Warto na koniec podkreślić, że do dyspozycji mamy ciekawe opcje zaprezentowanej nam finalnie koncepcji. Może przybrać ona klasyczną postać rzutu 2D wzbogaconego o przykładowe zdjęcia z inspiracjami lub wersję z dodatkowymi wizualizacjami 3D, które pokazują, jak odmienią się poszczególne strefy naszej posesji po wprowadzeniu proponowanych zmian.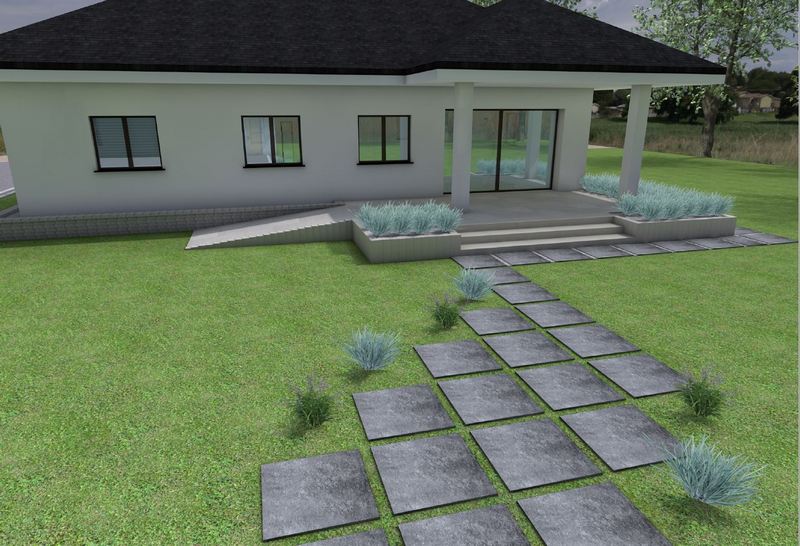 Zachęcamy do zapoznania się ze szczegółami wszystkich dostępnych możliwości oraz do korzystania z pomocy projektantek reprezentujących producenta, którego asortyment zamierzamy użyć na posesji. Mają największe doświadczenie w odpowiednim dobieraniu i łączeniu różnych typów kostek, są na bieżąco z aktualną ofertą, znają specyfikację i przeznaczenie polecanych materiałów oraz wymagania wykonawcze, a do tego… potrafią słuchać.