Elewacja inna niż wszystkie – produkty z kolekcji Libet Fassade
Dopasowana do otoczenia, efektowna i trwała elewacja to gwarancja, że budynek zrobi dobre pierwsze wrażenie nawet na bardzo wymagających przechodniach. W kolekcji Libet Fassade znajdziemy zróżnicowane propozycje produktowe nawiązujące swoim wyglądem do cegieł i naturalnego kamienia. Każda z nich daje inny efekt, ale wszystkie posiadają wysokie parametry techniczne i pozwalają na łatwy montaż.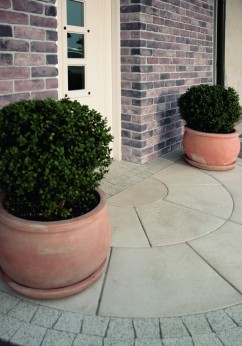 Fasada to wizytówka budynku. Nie zapominajmy jednak, że powinna być ona spójna z elewacją pozostałych obiektów, estetyczna i zadbana. Decydujące znaczenie dla wizualnego odbioru domu ma właśnie jego wygląd zewnętrzny. Co ciekawe, od koncepcji wykończenia ścian zależy w dużym stopniu finalne oblicze całej bryły.W ramach prac wykonawczych, zwłaszcza w przypadku budynków mieszkalnych jedno- i wielorodzinnych, powszechnie korzysta się z tzw. systemów BSO, łączących docieplenie z pokryciem powierzchni tynkiem w wybranym kolorze. Jeśli jednak zależy nam na oryginalnym efekcie, który będzie wyróżniał nasz dom spośród wielu innych, warto pomyśleć o okładzinie elewacyjnej. Wachlarz materiałów, faktur i barw jest tu niezmiernie szeroki. Do materiałów wykorzystywanych na fasadach od wieków należą: kamień i cegła. Podobny efekt możemy jednak osiągnąć bez wysokich kosztów i skomplikowanego montażu. Z pomocą przychodzą bowiem nowoczesne płytki elewacyjne idealnie odwzorowujące tradycyjne budulce.
W bogatej ofercie produktów Libet Fassade znajdziemy rozwiązania zarówno dla klasycznej, jak i nowoczesnej architektury. W przypadku prostej, zgeometryzowanej bryły, ciekawy efekt osiągniemy przy użyciu designerskiego kamienia elewacyjnego Alpamayo. Możliwości aranżacyjne zwiększa fakt, że jest on dostępny w formie niewielkich kwadratowych płytek (10 x 10 cm) lub pokaźnych prostokątnych płyt (30 x 60 cm oraz 10 x 60 cm), które można ze sobą dowolnie zestawiać. Na uwagę zasługują też niezwykle wyraziste elementy Sevilla i Marabella, które przykuwają uwagę trójwymiarową fakturą. Świetnie będą współgrały z charakterystycznymi dla nowoczesnej stylistyki materiałami, takimi jak szkło, beton architektoniczny czy metal. Niezwykle stylowym, klasycznym rozwiązaniem są natomiast płytki Casares, inspirowane wyglądem starej cegły belgijskiej. Swoją niepowtarzalną fakturę i wyjątkową kolorystykę zawdzięczają one specjalnemu procesowi produkcji, bazującym na wykorzystaniu naturalnych składników. Nie brakuje też rozwiązań dla miłośników rustykalnego klimatu, którzy z powodzeniem mogą wykorzystać kamień Cantabria, przypominający włoski wapień. Różnorodność jego rozmiarów sprawia, że kompozycja poszczególnych elementów wygląda niezwykle naturalnie.
Piękny wygląd i możliwość nadawania elewacjom oryginalnych form to nie jedyne zalety produktów Libet Fassade. Dodać do tego należy świetne parametry techniczne – mrozoodporność, wytrzymałość na zmienne warunki atmosferyczne, niewielki ciężar i łatwość montażu. Co więcej, ich kolorystyka została pomyślana tak, aby współgrała z płytami tarasowymi i kostką brukową dostępną w ofercie firmy Libet. Dzięki temu budynek stworzy spójną całość ze swoim otoczeniem.