Harmonia stylu i jakości – płyty gresowe EVO_2/E™
Aby szczególnie wyszukane i wymagające projekty mogły zostać wiernie odwzorowane w rzeczywistości ważny jest dobór innowacyjnych, a zarazem wszechstronnych materiałów. Wybierając płyty gresowe z Linii Ceramic przekonamy się, że możliwości ich wykorzystania sięgają tam, dokąd sięga nasza wyobraźnia. Z ich pomocą stworzymy niepowtarzalną oraz wyjątkowo wytrzymałą nawierzchnię wewnątrz i na zewnątrz domu, podnosząc zarówno aspekt estetyczny, jak i użytkowy całej posesji.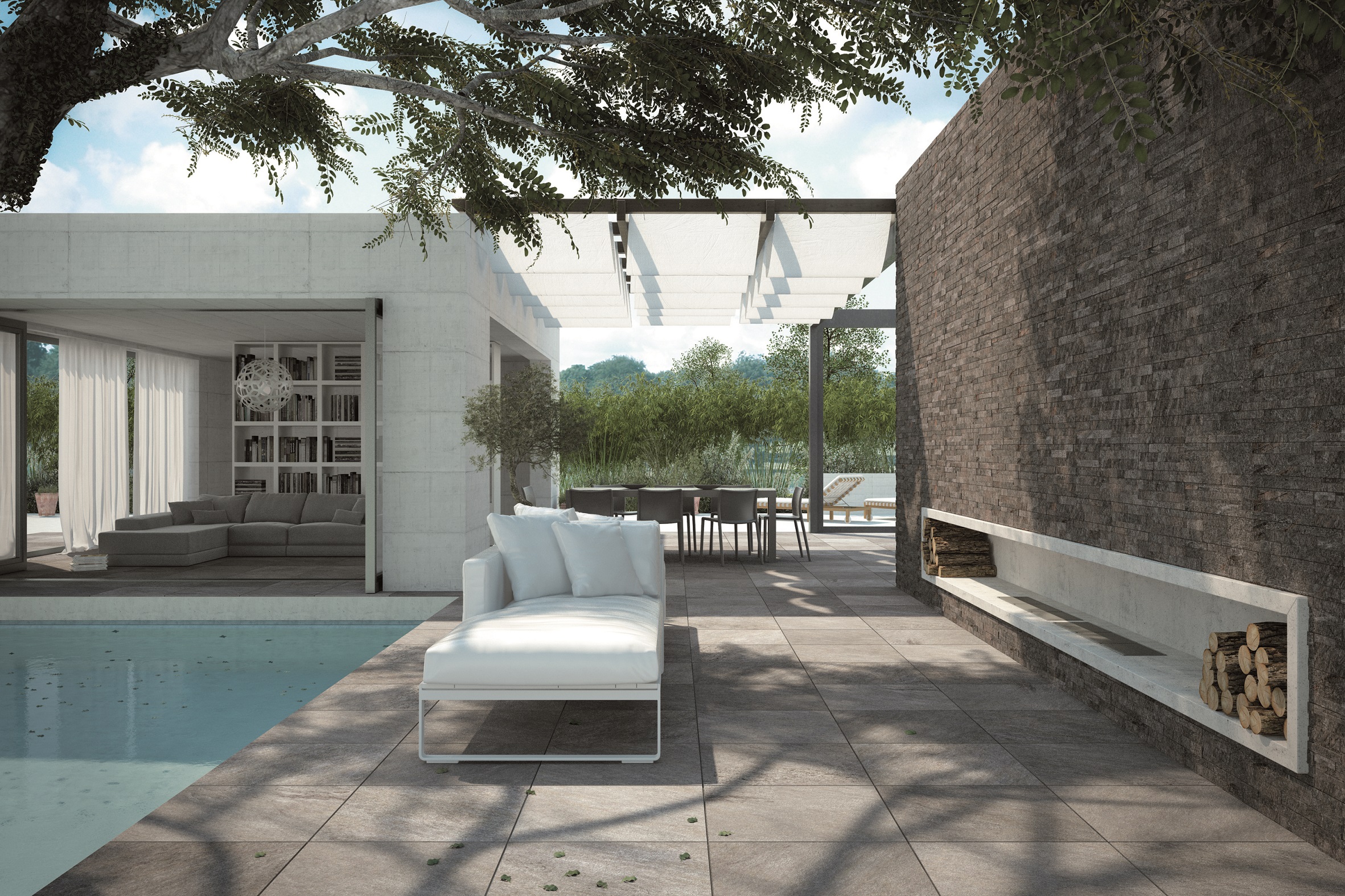 Porcelanowe płyty gresowe z linii Libet Ceramic to kwintesencja stylu, elegancji i jakości. Ten zaprojektowany oraz wykonany z niezwykłą precyzją materiał pozwala efektownie wykończyć nawierzchnię przy obiektach użyteczności publicznej, najbliższe otoczenie domu, a także jego wnętrze oraz fasady. Libet Ceramic to odpowiedź na oczekiwania najbardziej wymagających odbiorców, którzy poszukują nowatorskich rozwiązań z zakresu aranżacji przestrzeni. Wysoka odporność na ścieranie, powstawanie uszkodzeń spowodowanych niekorzystnym działaniem czynników atmosferycznych oraz mrozu, a także bardzo wysoki współczynnik antypoślizgowości (R 11) pozwolą zadbać nie tylko o styl, ale przede wszystkim o bezpieczeństwo osób korzystających z nawierzchni. Ponadto osiągnięta dzięki zaawansowanej technologii produkcji grubość, choć nie przekracza 20 milimetrów to sprawia, że płyty te pozostaną nienaruszone nawet przy obciążeniach o wadze 1 tony. Odporność porcelanowych gresów z linii Libet Ceramic na działanie silnych środków chemicznych oraz soli chroni ich oryginalną barwę i strukturę, nie obniżając z biegiem lat poziomu estetyki naszego domu. W parze z dużą wytrzymałością i odpornością idzie również ekspresowa oraz bezproblemowa pielęgnacja. Wystarczy jedynie regularnie czyścić nawierzchnię za pomocą myjki ciśnieniowej, aby gresy w mgnieniu oka odzyskały swój blask. Z kolei łatwość montażu i demontażu sprawi, że bardzo szybko spełnią się nasze marzenia idealnej nawierzchni, bądź nagłej zmianie dotychczasowego wyglądu otoczenia domu.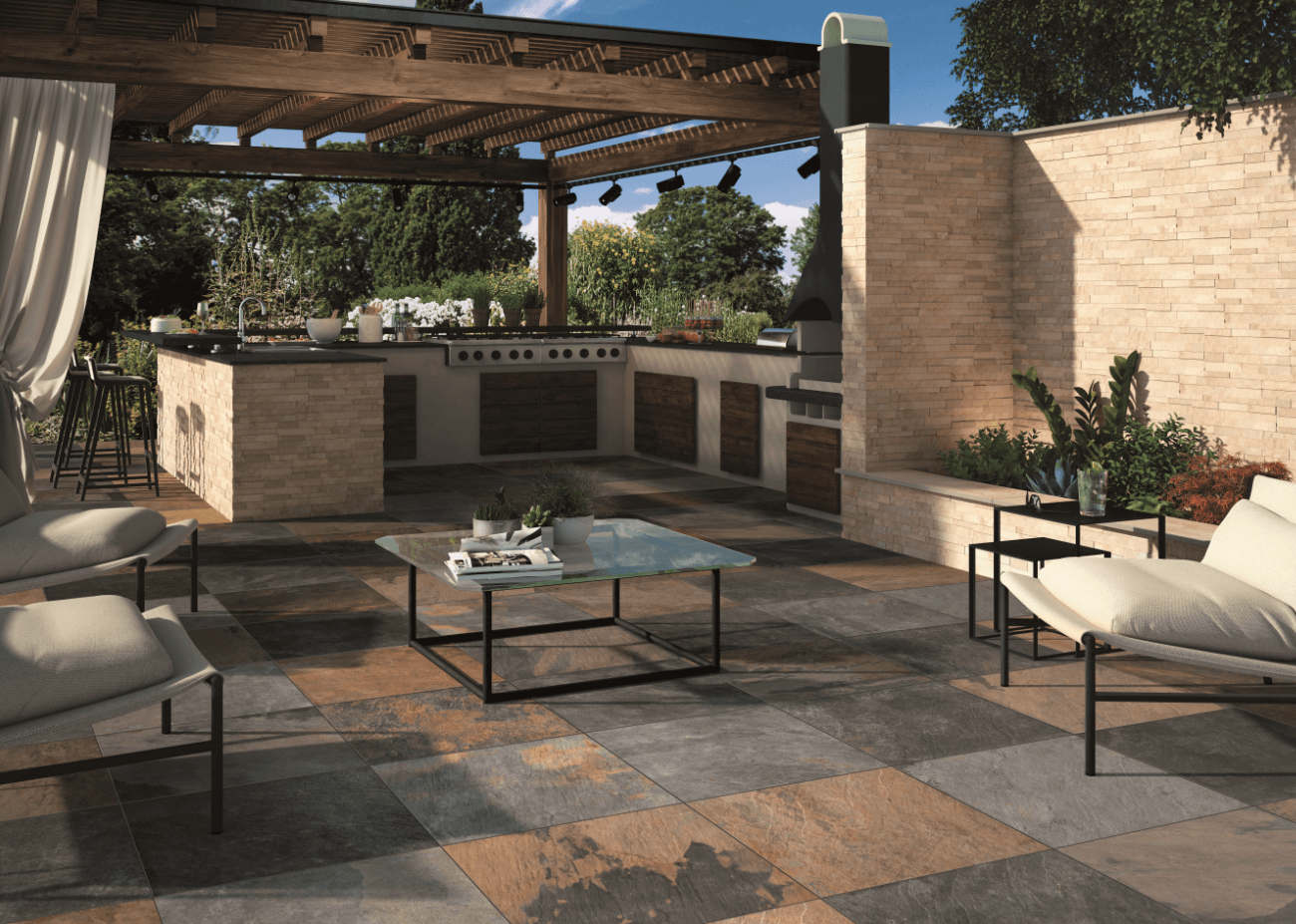 W skład linii Libet Ceramic wchodzą trzy odrębne grupy produktowe – Libet Aristoni, Libet Sedimento oraz niedawno wprowadzona na rynek seria innowacyjnych płyt gresowych EVO_2/E™. Pierwsza z nich, charakteryzująca się stonowaną, bazującą na rozmytych szarościach kolorystyką, stanie się doskonałym uzupełnieniem nowoczesnych oraz minimalistycznych aranży. Druga, swoją ciepłą barwą i rysunkiem zainspirowanym naturalnym pięknem piaskowca, doda szyku ogrodom rustykalnym oraz śródziemnomorskim. Trzecia natomiast, ze względu na niebywałą wszechstronność, dopełni aranż zarówno wnętrz naszego domu, jak i zadba o elegancki wygląd otaczającej go posesji. Ponadto elementy z kolekcji EVO_2/E™ podzielone zostały na trzy grupy, dzięki czemu możemy wybrać model dający efekt kamienia naturalnego, drewna, bądź też betonu. Szeroka gama elementów specjalnych, dostępnych w ramach kolekcji EVO_2/E™ umożliwia także kompletne i bardzo estetyczne wykończenie naszej posesji, bez względu na to czy chcielibyśmy scalić nawierzchnię ze schodami, otoczeniem basenu, czy chociażby z ogrodzeniem.
Płyty gresowe z linii Libet Ceramic to produkty na miarę XXI wieku, które, ze względu na wysokie parametry techniczne, estetyczny wygląd oraz wszechstronne możliwości zastosowania pozwolą nam stworzyć unikatową oraz doskonałą pod każdym względem aranżację zarówno w domu, jak i w ogrodzie.