Jak dobrze dobrać wymiary kostki brukowej do nawierzchni?

Odpowiedni dobór rozmiarów kostki ma niemały wpływ na trwałość wybrukowanej nawierzchni. Jaki ma mieć kostka brukowa rozmiar? Najważniejszym kryterium niech będzie jej grubość. Ma to niebagatelne znaczenie, jeśli chodzi o wybór materiału na konkretną nawierzchnię. To jaki będzie mieć kostka brukowa kształt lub kolor, jest drugorzędną kwestią. Kiedy zatem zwracać uwagę na wymiary?
Podjazd z kostki brukowej – rozmiar przekłada się na trwałość
Wymiary kostki brukowej, a przede wszystkim jej grubość, ważne są zwłaszcza w przypadku zabudowy nawierzchni przeznaczonych pod ruch kołowy. Bez względu na to, czy ma być to podjazd, wjazd do garażu, czy też droga, po której okazjonalnie mają poruszać się auta – musimy postawić na kostkę brukową o grubości minimum 6 (małą) lub 8 cm  centymetrów. Cieńsze elementy w większości przypadków nie poradzą sobie dobrze z ruchem samochodowym i mogą dość szybko ulec uszkodzeniu.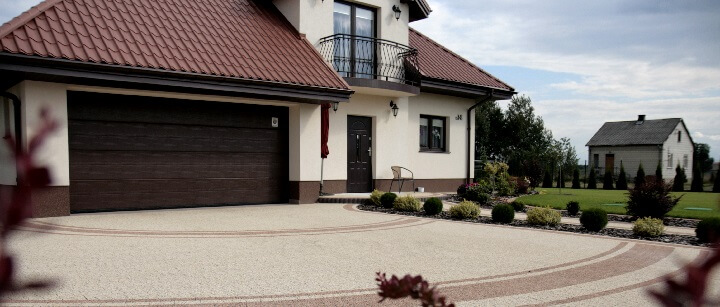 Kolejną kwestią, jeśli chodzi o rozmiar elementów układanych na podjeździe, jest ich długość. Nie zaleca się tam stosowania płyt betonowych lub gresowych. Jednocześnie planując zabudowę miejsc, po których poruszać będą się auta, zwróćmy uwagę na oznaczenia producenta. Dzięki temu będziemy mieć całkowita pewność, że wybrany materiał jest przeznaczony pod ruch kołowy. W niektórych przypadkach producent zezwala na zabudowanie podjazdu kostkami o grubości 6 cm.
Kostka brukowa na taras i ścieżkę ogrodową
Dużo większą dowolność mamy przy zabudowie ścieżki ogrodowej i tarasu. Tutaj może z powodzeniem zostać użyta lżejsza kostka brukowa. Wymiary możemy w tym przypadku dobrać głównie patrząc na nasze upodobania oraz wygodę użytkowania. Na tarasie praktyczniejsze mogą okazać się nieco szersze elementy, choć drobna kostka brukowa też jest tam chętnie wykorzystywana, np. do wykonania elementów owalnych.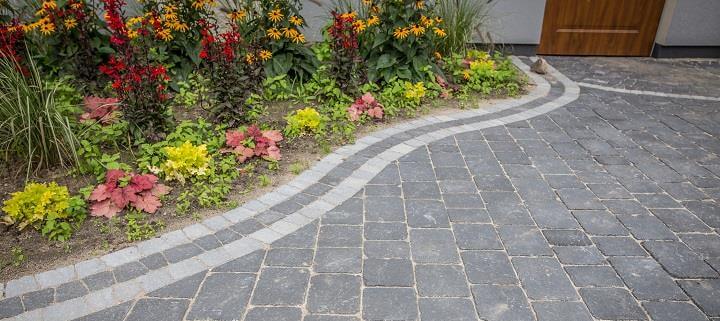 Natomiast w przypadku ścieżki warto zastanowić się nad zastosowaniem kostki bez fazy lub z mikrofazą. Rozwiązanie to zalecamy zwłaszcza dla osób poruszających się na wózku, rodzin z małymi dziećmi oraz miłośniczek wysokiego obuwia. Nawierzchnie wykonane z kostek bez fazy (lub z mikrofazą) mają mniej nierówności, dzięki czemu łatwiej można się po nich poruszać.
Kostka idealna do tworzenia łuków
Jeśli natomiast marzą nam się okrągłe schody z kostki brukowej lub kręta ścieżka ogrodowa, dobrym rozwiązaniem będzie mała kostka o kształcie trapezu. Dzięki temu wykonanie łuków będzie o wiele łatwiejsze. Różne faktury i kolorystyki tego typu kostek ułatwiają jej dopasowanie do tworzonej aranżacji. To zdecydowanie jeden z najchętniej wybieranych rozmiarów kostki brukowej.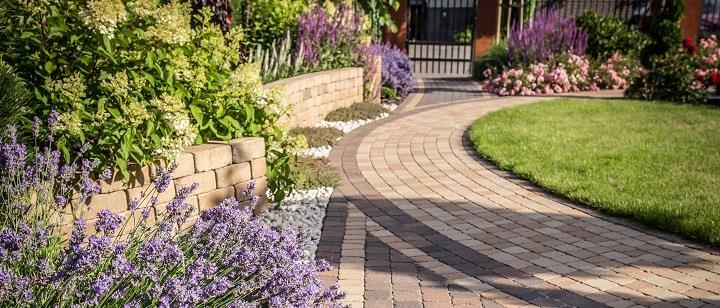 Trapezowa kostka brukowa to także dobre rozwiązanie do tworzenia ciekawych wzorów na brukowanej nawierzchni. Popularne są kształty liści, okręgi oraz rozety, które najpiękniej prezentują się ułożone z tego typu kostki.
Nietypowe wymiary kostki brukowej
Jednak kostka brukowa to nie tylko prostopadłościan lub trapez. Szukając idealnego rozwiązania dla siebie, warto jest poznać wszystkie dostępne możliwości. Coraz częściej w ofercie pojawiają się niestandardowe wymiary kostki brukowej.
Różne formaty kostek brukowych:
prostokąt – najbardziej popularny i najczęściej spotykany kształt kostki brukowej. Sprawdzi się w wielu różnorodnych aranżacjach.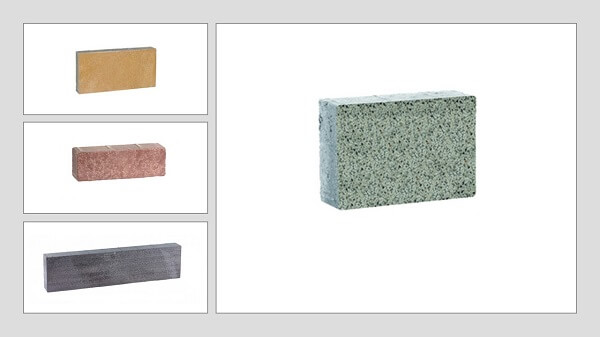 kwadrat – symetryczne kostki brukowe dobrze prezentują się w prostych, geometrycznych układach charakterystycznych dla minimalistycznych nawierzchni. Stanowią również ciekawe uzupełnienie dla większych kostek lub płyt chodnikowych.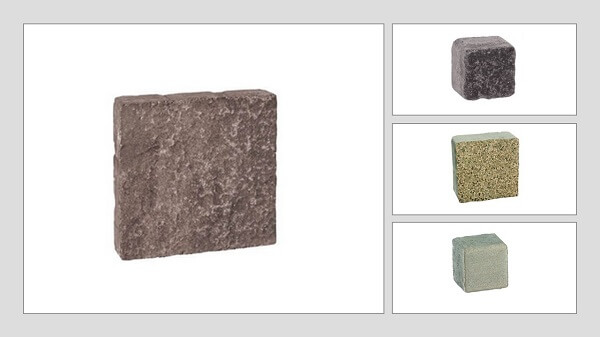 trapez – ułatwia tworzenie łuków i zakrętów. Kształt ten jest też chętnie wykorzystywany do układania kostki brukowej w ciekawe wzory.
sześciokąt – heksagonalny kształt nawiązuje do świata natury tworząc harmonijne aranżacje. Kostka w kształcie plastra miodu jest współczesną propozycją popularnej niegdyś trylinki.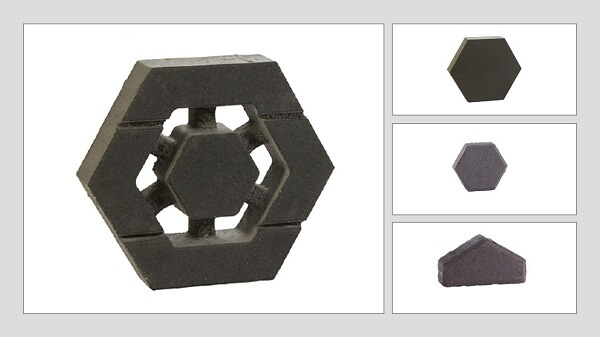 kostki Eko z odstępnikami – pomagają w zachowaniu powierzchni biologicznie czynnej. Odstępy między poszczególnymi elementami można wypełnić trawą lub grysem.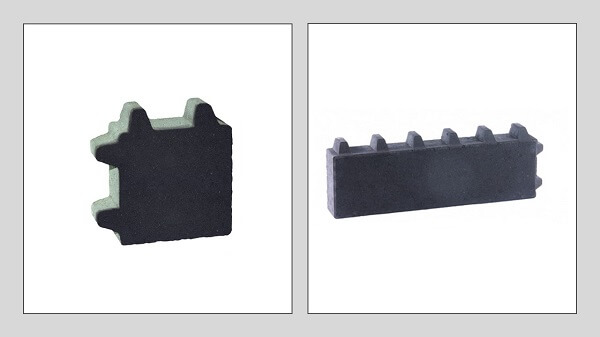 ażur – praktyczna i przyjazna naturze kostka. Chętnie stosowana jest zwłaszcza na parkingach lub podjazdach.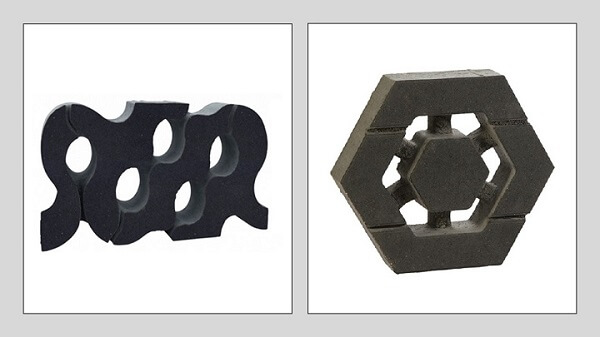 Wykorzystaj różne rozmiary kostki brukowej
Dobrym rozwiązaniem jest łączenie różnych kształtów i wymiarów kostki brukowej. Dzięki temu nawierzchnia zyska niepowtarzalny charakter. Tym samym unikniemy również monotonii. Najważniejsze, o czym musimy zawsze pamiętać, jest łączenie elementów o tej samej grubości.
I choć różnorodność jest ciekawa, konieczne jest zachowanie umiaru. Zbyt wiele różnorodnych elementów, w różnych kolorach będzie sprawiała wrażenie chaosu. Dlatego warto jest najpierw na projekcie sprawdzić, jak prezentują się połączenia różnych rozmiarów kostek, o których myślimy. Natomiast w przypadku kolorów uznaje się, że lepiej ograniczyć się do maksymalnie trzech. Choć równie dobrze prezentują się aranżacje oparte o dwa, kontrastujące kolory.