Jak prawidłowo dobrać kolor kostki brukowej do aranżacji przestrzeni?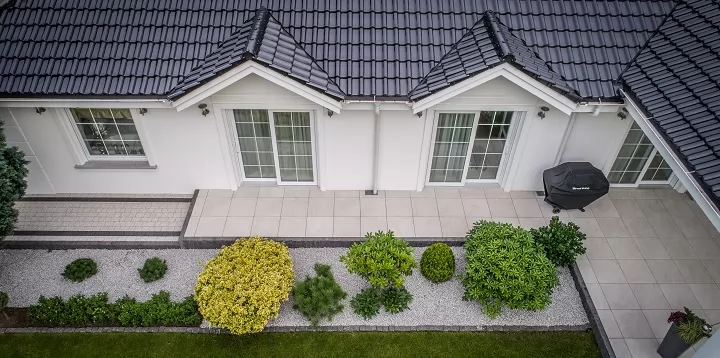 Na rynku dostępny jest cały ogrom rodzajów, kształtów i kolorów kostki brukowej. Wydaje się wręcz niemożliwe, aby poznać wszelkie możliwości, a co dopiero sprawnie połączyć różne elementy w jedną, spójną całość. Nic zatem dziwnego, że wielu właścicieli domów szuka porad, na temat tego jaki kolor kostki brukowej do brązowego dachu sprawdzi się najlepiej. A przecież do otoczenia powinien pasować nie tylko podjazd, ale cały styl budynku, jego elewacja, okiennice, rynny oraz wszystko to, co znajduje się w pobliżu. Trudne zadanie? Na szczęście nie. Jest kilka zasad, które ułatwią nam stworzenie nawierzchni idealnie harmonizującej z otoczeniem.
O tym pamiętaj wybierając kolor kostki brukowej
Podczas projektowania nawierzchni przede wszystkim zwróć uwagę na funkcjonalność wybranych rozwiązań. Na podjeździe najlepiej sprawdzą się ciemniejsze kostki, na których nie będą tak bardzo widoczne zabrudzenia pozostawione przez opony samochodu. Warto wziąć pod uwagę zastosowanie melanżu kolorystycznego, zamiast jednolitego koloru. Sprytnie "ukryje" on plamy chociażby po oleju silnikowym. Takie podejście może w przyszłości oszczędzić sporo pracy, którą inaczej trzeba byłoby poświęcić na częste czyszczenie nawierzchni.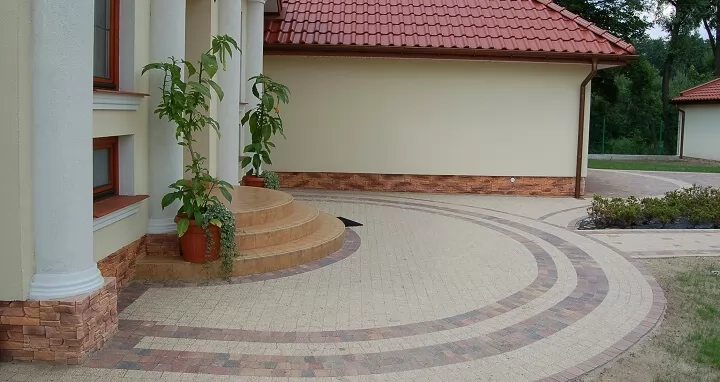 Jasne kolory sprawdzą się natomiast do wyznaczania obrzeży oraz jako ścieżki ogrodowe. Będą również bardzo potrzebne przy ciemnych elewacjach. Rozświetlą je i wprowadzą w kompozycję ciekawy kontrast. To także dobre rozwiązanie, gdy mamy już jasny taras i schody. Ciemna kostka zbyt mocno oddzielałaby się od reszty, tworząc nieprzyjemny zgrzyt kolorystyczny. Jeśli jednak chcemy, choćby ze względów praktycznych, wykorzystać ciemną kostkę – zadbajmy o łagodne przejście kolorystyczne z jasnego tarasu do ciemniejszego podjada.
Złote zasady doboru kolorystyki kostki brukowej
Projektanci zgodnie radzą, aby nie wykorzystywać więcej niż trzech kolorów kostki na jednej płaszczyźnie. I zdecydowanie jest to dobra rada. Warto ograniczać liczbę wykorzystanych w różnych miejscach kolorów oraz rodzajów kostek brukowych. Spójrz na dom, ogród, podjazd i ścieżkę do drzwi jako na całość. Zbyt wielka różnorodność barw i kształtów może wprowadzić nieprzyjemny chaos, który trudno będzie opanować po wybrukowaniu wszystkich nawierzchni.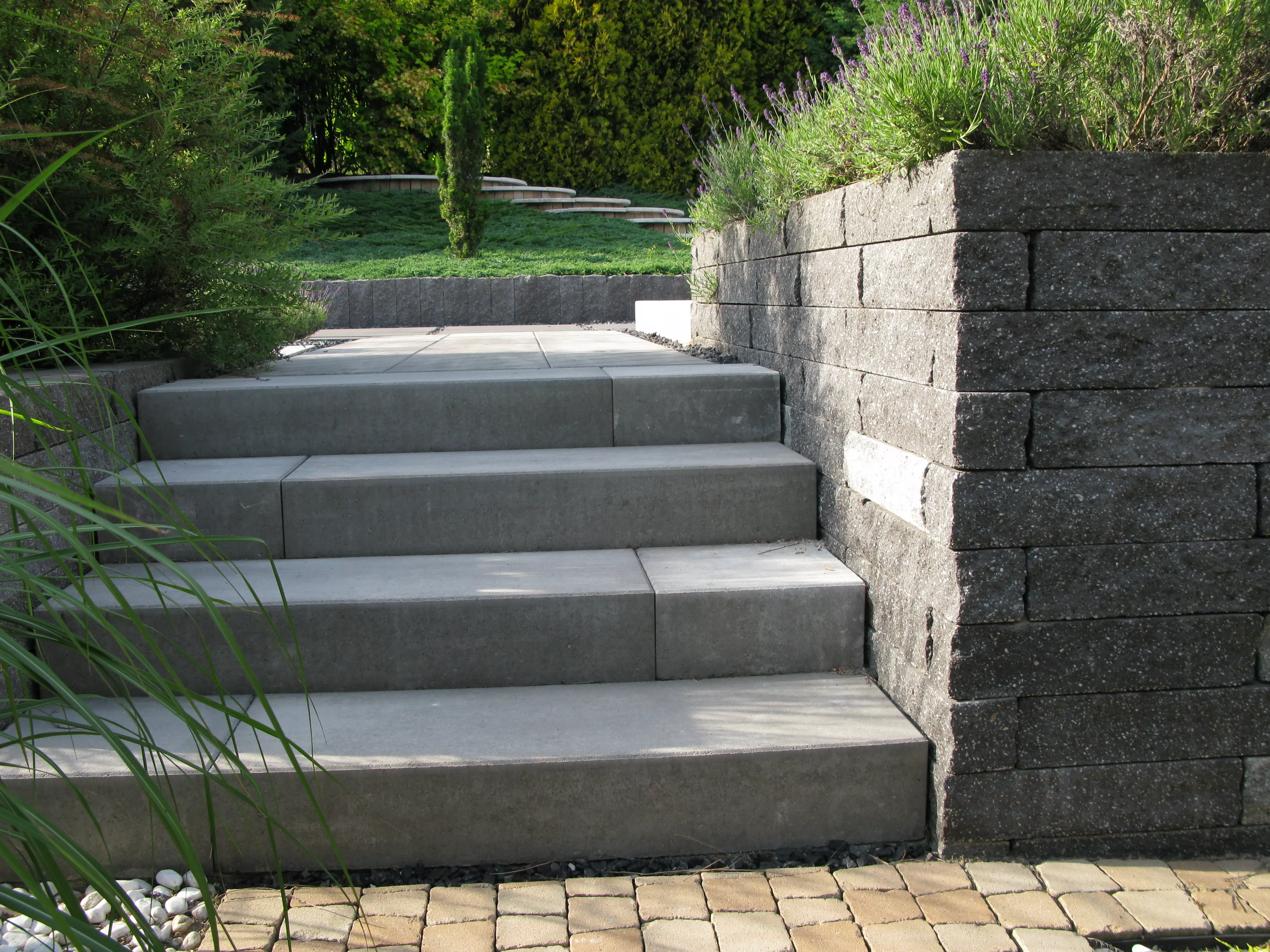 Postaw na zimne lub ciemne kolory i konsekwentnie stosuj je na wszystkich powierzchniach widocznych z zewnątrz. Niech kolor kostki brukowej będzie konsekwencją wcześniej podjętych decyzji. Trzymaj się jednej palety kolorystycznej, a kontrasty stosuj w sposób przemyślany. Są one ciekawym elementem nawierzchni, nadając jej charakteru. Jednak zbyt wiele kontrastujących elementów rozmyje ten efekt oraz wywoła wrażenie braku ładu i przesytu.
Mimo wszystko pozwól sobie na tworzenie kreatywnych rozwiązań. Nie patrz na sztywne reguły odnośnie tego, jaki kolor kostki brukowej do czerwonego dachu powinno się dobrać. Prawda jest taka, że trendy dość mocno się zmieniają, nawet w przypadku powierzchni betonowych. I nie zawsze najlepszym rozwiązaniem będzie dobór kostki pod kolor dachówki. Warto spojrzeć na okolicę jako na całość, której poszczególne elementy powinny ze sobą harmonizować. Wybierz efekt, na jakim Ci zależy i to pod niego zdecyduj, jak powinna wyglądać kostka brukowa. Kolory, choć ważne, nie mogą być jedynym wyznacznikiem projektu. Pamiętaj przy tym o różnorodnym zastosowaniu powierzchni, jakie projektujesz i zwracaj uwagę na parametry techniczne wybranych rozwiązań.
Wybór, którego nie będzie łatwo zmienić
Nie wystarczy zadać pytanie, jaki kolor kostki brukowej do żółtego domu, aby idealnie dobrać kolorystykę. Liczy się również natężenie danego koloru, jego odcień oraz okolica, w jakiej się znajduje. Zbyt wiele żółci i odcieni beżu będzie wyglądać mdło. Natomiast same szarości – smutno.
Potrzeba nieco czasu i wiedzy, aby wszystkie te elementy idealnie ze sobą połączyć. Właśnie dlatego w większości poradników można znaleźć zalecenie, aby oddać projektowanie nawierzchni w ręce doświadczonego projektanta.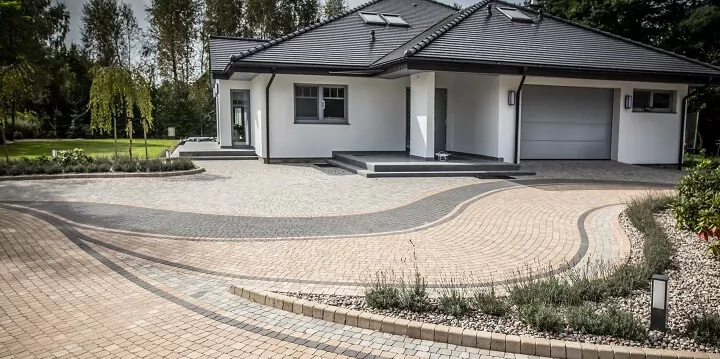 Jest to rada, nad którą warto poważnie się zastanowić. Zwłaszcza, gdy weźmiemy pod uwagę koszt inwestycji oraz czas jej użytkowania. Raz zaprojektowany podjazd zostanie z nami na bardzo długo i z pewnością niechętnie będziemy myśleć o jego rozkopaniu i kładzeniu od nowa. Z tego względu wybór rodzaju nawierzchni w tym miejscu musi być trafiony w punkt. Zdecydowanie lepiej jest poprawiać projekt i nanosić zmiany w programie komputerowym niż po zakupie i położeniu kostki brukowej zauważyć, że jednak nie wszystko ze sobą współgra. Przemyślana i dobre rozplanowana kompozycja pozwoli uniknąć rozczarowania oraz poczucia źle wydanych pieniędzy.