Jak wykonać nawierzchnię ekologiczną?
Nacisk na ekologię we współczesnym budownictwie to znacznie więcej niż tylko moda i nośne hasła. Przy wznoszeniu budynków stosuje się szereg rozwiązań, mających na celu ograniczenie negatywnego wpływu na środowisko. Podejście to realizować można również, zagospodarowując teren działki. W tym celu warto wykorzystać m.in. produkty firmy Libet, które spełniają normy ekologiczne zarówno na etapie produkcji, jak i użytkowania.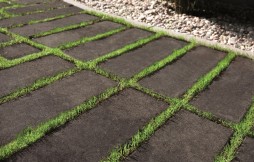 Planując nawierzchnię na posesji, trzeba brać pod uwagę wiele czynników – zapewnienie wygodnej komunikacji i uzyskanie pięknego efektu wizualnego, ale też kwestie formalno-prawne oraz techniczne, jak chociażby odprowadzenie wody. Rozległe powierzchnie utwardzone uniemożliwiają bowiem często wchłanianie wody przez grunt, co przynosi negatywne skutki dla środowiska naturalnego. Uwzględnić też należy zapisy miejscowego planu zagospodarowania przestrzennego, które określają minimalny procent powierzchni biologicznie czynnej. Warte rozważenia są więc nawierzchnie ekologiczne.
Wśród sposobów na eko-nawierzchnie, które umożliwią wnikanie wody do gruntu wymienić można np. urokliwe ścieżki żwirowe. Z kolei miejsca, które chcemy obsadzić trawą, można wzmocnić przy pomocy specjalnych kratek z tworzywa sztucznego. Rozwiązaniem wartym polecenia są specjalne ekologiczne płyty i kostki brukowe. Mają kształt przystosowany do sadzenia między nimi roślin lub charakterystyczne wypustki (odstępniki), dzięki którym w trakcie układania łatwo zachować odstęp między poszczególnymi elementami.
Decyzja o zastosowaniu ażurowych produktów betonowych nie musi oznaczać mało wyszukanych kratownic, których używano powszechnie na publicznych parkingach. W ofercie firmy Libet znajdziemy elementy o designerskiej formie pozwalające stworzyć nie tylko praktyczne, ale i niezwykle ozdobne nawierzchnie. Wyróżniające się pod tym względem są kostki Stream Line, których oryginalny kształt nawiązuje do wijącej się rzeki. Wyjątkowo szerokie możliwości aranżacyjne zapewnia szlachetna kostka Iberia. W zależności od układu można dzięki niej stopniować przepuszczalność wody, uzyskując nawet do 36% powierzchni biologicznie czynnej, a jednocześnie całą gamę różnych sposobów ułożenia. Wiele wariantów kompozycyjnych z dużymi odstępami dają również kostki Vertigo oraz Vertigo Lungo.
Na koniec warto wspomnieć jeszcze o kolekcji Cadena Eco, która znakomicie wpisuje się w aktualne trendy w designie – to 4 produkty o innowacyjnej formie, zarówno pełne, jak i ażurowe.